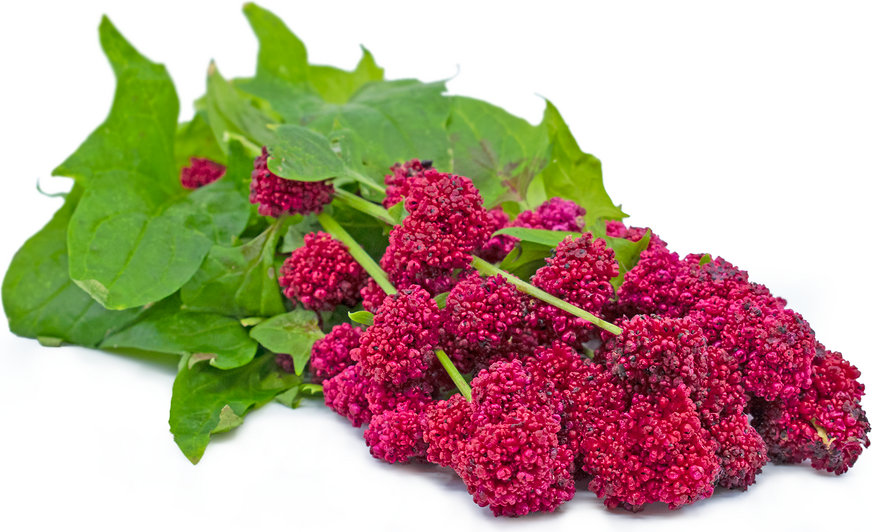 Strawberry Spinach
Inventory, oz : 0
Description/Taste

Strawberry spinach is comprised of arrow-shaped leaves growing in a low rosette with upright, flowering stems that seasonally produce clusters of brightly colored berries. The green leaves are broad, flat, thin, and triangular to spade-shaped, averaging 2 to 10 centimeters in length. The leaves also bear wavy, toothed edges and have a crisp to subtly chewy texture, depending on the leaf's maturity. The densely clustered berries form along fibrous, pale green stems, and the fruits transition from green when young to shades of pink, bright red-pink, to red when ripe. The glossy berries are also made up of tiny fruitlets that encase black seeds, giving the fruits a grainy, aqueous, soft, but succulent consistency. Below the plant, a fleshy, ivory to light brown root develops underground, sometimes marbled with faint red and white hues. Strawberry spinach leaves have a subtly bitter, earthy, and vegetal flavoring reminiscent of common spinach. The berries have a very mild, light sweetness, said to carry faint fruity and floral nuances similar to mulberries or watermelon.


Seasons/Availability

Strawberry spinach is available in the spring through the summer.


Current Facts

Strawberry spinach, botanically classified as Blitum capitatum, is an heirloom leafy plant belonging to the Amaranthaceae family. The herbaceous plant can reach up to one meter in height and is a hardy, self-seeding variety, primarily found growing wild throughout North America and in parts of Europe and New Zealand. Historically, Strawberry spinach mainly was regarded as a wild plant, sometimes viewed as a weed, but some gardeners began cultivating the species on a small scale as a novelty. Strawberry spinach has been slowly appearing in farmers markets as the plants are easy to grow, self-seeding, and are entirely edible from the leaves, berries, to the roots. Despite its name, Strawberry spinach is not related to strawberries or spinach, but the plant is a member of the same family as spinach. The plants get their strawberry moniker from their bright pink-red berries, similar in color to strawberries. Worldwide, the species has acquired several names, including Strawberry Goosefoot, Strawbini, Blight Goosefoot, Beetberry, Strawberry Blite, and Strawberry Stick. Strawberry spinach leaves and berries are the most consumed portions of the plant and can be incorporated into fresh and cooked preparations.


Nutritional Value

Strawberry spinach is a source of vitamin C to strengthen the immune system, fiber to regulate the digestive tract, and vitamin A to maintain healthy organ functioning. The leaves also provide some lutein, a carotenoid with anti-inflammatory properties, iron to develop the protein hemoglobin for oxygen transport through the bloodstream, calcium to build strong bones and teeth, and other nutrients, including B vitamins, vitamin E, and magnesium. It is important to note that the seeds and leaves contain oxalic acid, an organic compound that may sometimes prevent the absorption of nutrients within the body if excessively consumed. Consumers with oxalate sensitivity should consult a medical professional before consuming Strawberry spinach.


Applications

Strawberry spinach is known for its edible leaves, berries, and roots. The leaves have a mild, earthy, and subtly bitter, spinach-like flavor and can be consumed in early or mature stages. When young, the leaves are typically incorporated into fresh preparations, including salads, sandwiches, and as a bed of greens. The young leaves can also be mixed into stir-fries. Mature leaves should be cooked to mellow their flavor and texture, simmered into soups and stews, wilted with butter and salt, or sauteed, steamed, or blanched for main dishes. Strawberry spinach leaves can be used in any recipe calling for ordinary spinach. In addition to the leaves, the berries are consumed fresh and should be washed and checked for bugs before eating. The berries have a very mild taste and offer more color and texture to dishes than flavor. They can be added to salads, sprinkled over yogurt or granola, used as a topping over ice cream, or placed as an edible decoration on other desserts. When preparing, the juices from the flesh will stain hands and clothing. Strawberry spinach berries can also be simmered into jams, jellies, syrups, and other preserves. Beyond the berries and leaves, the plant's fleshy root is edible and has a consistency reminiscent of a parsnip. The roots are mostly incorporated into stews and soups, imparting a faint beet-like flavor. Strawberry spinach pairs well with herbs such as thyme, lovage, basil, and dill, lemons, nuts including walnuts, pine, and almonds, and fruits such as mulberries, blackberries, and raspberries. Unwashed leaves can be stored in a sealed container or plastic bag in the refrigerator for 1 to 3 days. The berries are highly perishable and should be immediately consumed for the best quality and consistency. They can also be frozen for use in smoothies and sauces.


Ethnic/Cultural Info

Strawberry spinach is also known as Indian Ink or Indian dye, as the berries were once used among Native Americans as a coloring. The pigmented berries were prepared as dyes using several methods, depending on the dye's purpose. One method crushed the berries into a paste, and this saturated paste was used to paint on wood or other surfaces. It was also used to draw symbols on the skin, especially markings that identified the individual to their clan. Beyond pastes, Strawberry spinach berries were simmered in water to create varying shades of pink and red. This colored water was used to enhance the color of lips and cheeks, dye fabrics, color basket fibers, or change the color of pottery. In addition to the berries, the leaves and roots were sometimes used as natural dyes, creating green and gold hues.


Geography/History

Strawberry spinach is native to Canada and the United States and has been growing wild since ancient times. The plants thrive in moist soils with ample sunshine and are known for their cold and heat tolerance. Strawberry spinach was later introduced to Europe in the 1600s. Experts believe seeds from the fruits may have been carried unknowingly through birdseed and wool exports. The plants were also taken to New Zealand and were planted in home gardens as a novelty. Today Strawberry spinach grows wild in North America, Europe, and New Zealand and is cultivated on a smaller scale through select growers and home gardeners. Strawberry spinach is mainly found in farmers markets and local neighborhood markets, and the berries appear when the plant experiences periods of hot weather, leading it to bolt. In some regions of the world, Strawberry spinach is considered invasive as its self-seeding nature allows it to naturally spread through animals, wind, and humans.