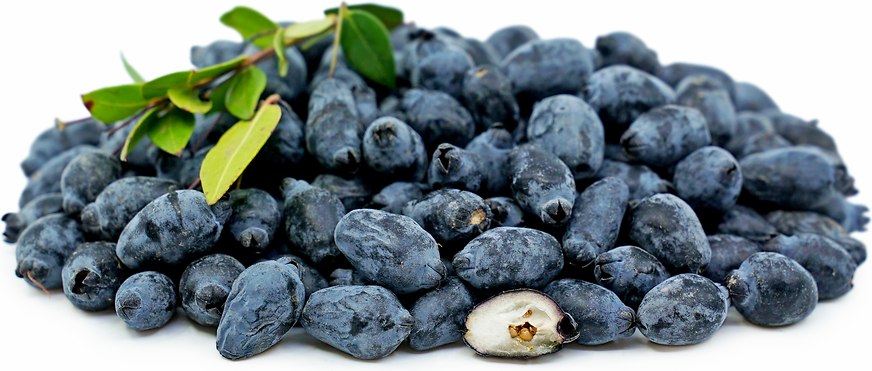 Myrtle Berries
Inventory, lb : 0
Description/Taste
Myrtle berries are small in size, averaging .5 to 2 centimeters in diameter, and have an elongated, oval shape with a broad middle slightly tapering to rounded, bluntly pointed ends. The berry's skin is generally smooth, taut, thin, and delicate, being easily punctured, and sometimes has remnants of the flower blossom on one end. The fruits mature into hues of dark blue when ripe with a faint blue-grey bloom, and a few varieties showcase yellow-white shades. Underneath the surface, the flesh ranges in color from white to red-purple, depending on the variety, and is filled with many tiny, light brown seeds. The flesh is soft, semi-aqueous, and succulent, with an aromatic nature reminiscent of eucalyptus or pine. Myrtle berries have an astringent, herbal, peppery, and subtly fruity flavor with bitter and tannic nuances. The berries are primarily cooked as their raw taste can be overpowering, but when cooked, they develop a rich, tangy, and savory quality.
Seasons/Availability
Myrtle berries are available in the late fall through winter.
Current Facts
Myrtle berries, botanically classified as Myrtus communis, are an ancient species belonging to the Myrtaceae family. The small, elongated berries grow on evergreen shrubs reaching 2 to 5 meters in height and are nestled between oval, glossy dark green leaves. Myrtle plants have been growing wild for thousands of years, and over time, they were domesticated and utilized by civilizations for medicinal, culinary, and spiritual practices. Myrtle berries are known by several names, including Common Myrtle, True Myrtle, Sweet Myrtle, Myrtus, and Roman Myrtle. Since its domestication, Myrtle plants have become popular ornaments for home gardens, city parks, and planned landscapes. The plants are commercially cultivated on a small scale for their berries, leaves, and essential oils, and the berries have a sharp taste predominately used as a flavoring in culinary dishes and mixology.
Nutritional Value
Myrtle berries are a source of calcium to build strong bones and teeth, magnesium to control daily nerve functions, potassium to balance fluid levels within the body, iron to develop the protein hemoglobin for oxygen transport through the bloodstream, and other nutrients, including manganese and phosphorus. The berries also contain anthocyanins, pigments within the fruit that have antioxidant-like properties to protect the cells in the body from the damage caused by oxidative stress and free radicals. Historically, Myrtle berries were used in natural medicines throughout Europe. The berries were utilized for their anti-inflammatory properties and were often ingested to soothe ulcers, consumed as a tea, extracted as an essential oil for topical treatments, or eaten to calm the respiratory tract. In the Middle East, Myrtle berries are harvested and infused into a facial toner nicknamed Angel's Water. The toner is thought to cleanse and purify the skin to prevent impurities and imperfections.
Applications
Myrtle berries have a sharp, savory, and astringent flavor suited for cooked preparations. The berries can be consumed straight out of hand, but their taste is often considered unpalatable and too strong when raw. The berries shine in cooked preparations and are popularly added to sauces and meat-based dishes, especially with poultry, pork, or wild game. Myrtle berries are also commonly simmered into jams with other fruits, such as apples, creating a thick, pigmented, and complex spread. It is important to note that the juice of the berries will stain. The juice was once used as a fabric dye for its saturated coloring. In Sardinia, Myrtle branches are traditionally combined with the bay tree, olive wood, and juniper leaves as a base to roast meats. The smoked branches and leaves impart a distinct aroma, and the leaves were sometimes stuffed into the meat for additional flavor. The berries are also made into a liqueur known as Mirto. The Sardinian liqueur is made by macerating the berries and fermenting them with honey, water, and sugar. Myrtle berries were also used to flavor wine throughout other regions of the Mediterranean and were mixed with black tea as a cold beverage. In the modern day, Myrtle berries are incorporated into savory and sweet preparations, especially into fillings for desserts and baked goods. The berries can also be dried and used as a spice similar to peppercorns. Myrtle berries pair well with aromatics such as garlic, ginger, and onions, herbs including sage, parsley, and rosemary, and fruits such as citrus, blueberries, pomegranate seeds, and strawberries. Whole, unwashed Myrtle berries should be immediately used for the best quality and flavor. The berries can also be frozen or dried for extended use.
Ethnic/Cultural Info
Myrtle appears in mythology throughout the Ancient Roman and Greek Empires. During this time, Myrtle was known as Myrtus and Myrtos and was closely associated with Venus, Aphrodite, and Demeter, leading the plant to symbolize love and fertility. Paintings of Venus often depict her holding a myrtle sprig in her hand or wearing a crown of myrtle twigs. Myrtle leaves were also used in crowns for Olympic Games winners in Greece, and poets later wore Myrtle crowns in Greco-Roman times. The name Myrtle is thought to have been derived from the Greek mythological story of Myrsine. Legend has it that Myrsine was a young, athletic girl who beat several male competitors in the Olympic Games. The competitors were outraged and sought to kill her. Athena saw what was taking place and turned Myrsine into a shrub that was fragrant, strong, and loved by many, now known in the modern day as Myrtle.
Geography/History
Myrtle berries grow on bushy shrubs native to the Mediterranean, Middle East, and North Africa and have been growing wild since ancient times. The species was believed by experts to have been utilized throughout Ancient Egypt, and some of the first official written records of the plant can be traced back to the Ancient Greeks. Myrtle leaves and berries are extensively mentioned in Greek and Roman mythology, and the bushes were planted near temples, along city streets, and in gardens. Myrtle slowly expanded outside of the Mediterranean into the rest of Europe and was grown as a medicinal, culinary, and ornamental plant. It also spread throughout Western Asia and was planted in Islamic gardens on the Iberian Peninsula during the Middle Ages. In 1585, explorer and statesman Sir Walter Raleigh reintroduced Myrtle into England despite being introduced unsuccessfully several times before. By the 17th and 18th centuries, Myrtle became a popular plant featured in curated gardens among the upper class in England, and it was also carried to the New World, where it was planted as a home garden species. One of Myrtle's most famous historical records is intertwined with the Royal Family of England. In 1845 Queen Victoria was presented with a nosegay of Myrtle, given to her by Prince Albert's grandmother. The Queen was familiar with the flower and liked it so much that she had her eldest daughter, also named Victoria, use Myrtle flowers in her wedding bouquet in 1858. The royal bride also dawned orange blossoms and Myrtle flowers on her dress, and after the wedding, a sprig of the Myrtle was planted at the Osborne House, a country residence of the Royal Family on the Isle of Wight. Queen Victoria later decreed that Myrtle should be planted at the Osborne House to commemorate each future royal wedding, and it is said there is still Myrtle growing on the property to this day. Myrtle plants thrive in temperate regions and favor areas within proximity to bodies of water, especially the ocean. Today Myrtle is still found growing wild in its native regions and has expanded as a landscape plant to select areas of Asia, Australia, South America, and North America.
Recipe Ideas
Recipes that include Myrtle Berries. One

is easiest, three is harder.