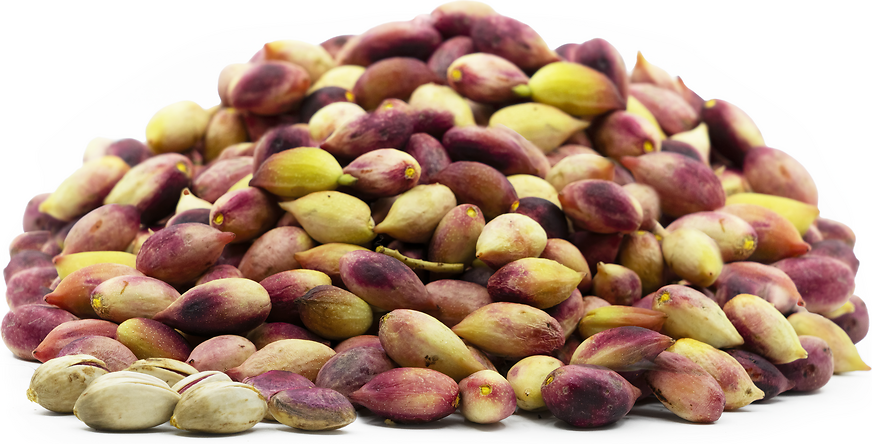 Raw Pistachio Nuts
Inventory, lb : 0
This item was last sold on : 05/06/21
Description/Taste

Raw Pistachios are consistently sized, measuring approximately two centimeters in length, and have an ovate to teardrop-shaped appearance with smooth, curved edges. The fruits are enveloped in a soft yellow outer hull blushed with pink, maroon, and purple-red hues. The hull also showcases tiny yellow sunspots, appearing in an irregular pattern across the surface. Beneath this soft hull is a semi-soft, beige shell, protecting the bright green, raw Pistachio. Raw Pistachios have a starchy texture, similar to a fresh bean, and have a buttery and milky consistency. The nuts emit a citrus aroma and have a mild and greener flavor compared to dried pistachios, with slightly bitter and tropical nuances.


Seasons/Availability

Raw Pistachios are available for a short season in the late summer through early fall.


Current Facts

Fresh, also known as Raw Pistachios, are the fruit of the Pistachio tree, botanically classified Pistacia vera, and are related to sumac, poison ivy, and mangos. The fruits are harvested at the end of summer or beginning of fall, gathered before pistachios meant for drying and roasting. The fruits are also collected before the hull begins to crack, and the sugars have fully developed in the fruit, resulting in a starchier and more tannic consistency. Fresh Pistachios are not dried like other pistachios found in the store but are sold intact, with the hull and shell still surrounding the seed. The hull and shell of the Pistachio fruit should be removed, and the bright green seed is enjoyed. This hull is exceptionally delicate and can bruise and discolor easily, however, this bruising will not affect the flavor of the nut inside. The hull of the fruit is also edible, possessing a pleasantly acidic taste that can be used to make sauces, relishes, and chutneys.


Nutritional Value

Raw Pistachios contain high amounts of protein, unsaturated fat, and dietary fiber. The nuts are incredibly rich in vitamin B6, which helps with blood cell production and regulates blood sugar. Raw Pistachios are also a good source of many vitamins and minerals, including phosphorus, thiamine, potassium, manganese, and copper, used by the body to maintain blood vessels and connective tissues. The protein structure within Pistachios can cause an allergic reaction in some people, especially those with a peanut or tree nut allergy, or those allergic to other members of the Anacardiaceae family like poison ivy, sumac, and mangos.


Applications

Raw Pistachios are often enjoyed straight out of hand as a nutritional snack, especially in Iran and other parts of the Middle East during their short season. They can also be processed and used in a variety of ways. One everyday use for the raw nut is Pistachio milk, plant-based milk that is created by blending the nuts with water and then straining, leaving behind milk. This can be used as a base in ice creams, cakes, and sauces. They can also be blended into nut butter or combined with basil, garlic, and olive oil to make fresh pesto. Raw Pistachios can be used a lot of the same ways as dried pistachios, including to flavor baklava, top cakes and quick bread, or sprinkled over pasta and salads. Fresh Pistachios pair well with fresh herbs, asparagus, peas, other green vegetables, and pork, lamb, and beef. Raw Pistachios should be stored in the refrigerator and used within seven days for optimal flavor.


Ethnic/Cultural Info

In Greece, the Aegina Pistachio variety is a rare and unique pistachio that has a Protected Designation. Each year, beginning in 2008, the people of Aegina Island hold a festival to celebrate the harvest of the prized Pistachio. This festival, known as the Aegina Fistiki Festival, lasts for three days in September, during which time people come from all over Europe and other parts of the world to sample this delicious Pistachio in many different forms, including fresh, roasted, and in recipes like Pistachio ice cream, nut butter, pesto, and even liqueurs. The festival is celebratory and educational, holding agricultural seminars focusing on growing techniques, climate change, and greenhouse gas admission reduction. The festival is full of creative workshops for children where they can make their own Pistachio printed t-shirts and decorate the town square with Pistachio leaves. Whether it's through art, food, or music, the Fistiki Festival focuses on celebrating the Pistachio and what the Pistachio industry has brought to the Aegina Island in terms of culture, commerce, and global recognition.


Geography/History

Pistachios are native to the Asia Minor region, including Turkey, Iran, Syria, and Lebanon, with archeological evidence showing that they have been enjoyed as a food source since 7000 BCE. They were a famous tree in the hanging gardens of Babylon during the reign of King Merodach-Baladan in 700 BCE, and by the first century CE, the nuts had reached Greece and Rome. Pistachios were a vital food source for early explorers and traders who snacked on the nuts and sold them along the Silk Road and through Levant trade routes. The high cost of the nuts made them an ingredient mainly enjoyed by royalty and the upper class throughout Europe. Pistachios were imported to the United States in the mid-1850s and gained popularity during the 1880s as more Middle Eastern immigrants entered the country. Today, California, Arizona, and New Mexico grow all commercial Pistachios in the United States, accounting for almost 50% of global supply, followed by Turkey and Iran. Raw Pistachios can be found at farmer's markets in California, select Middle Eastern markets, specialty stores, and through online purveyors.