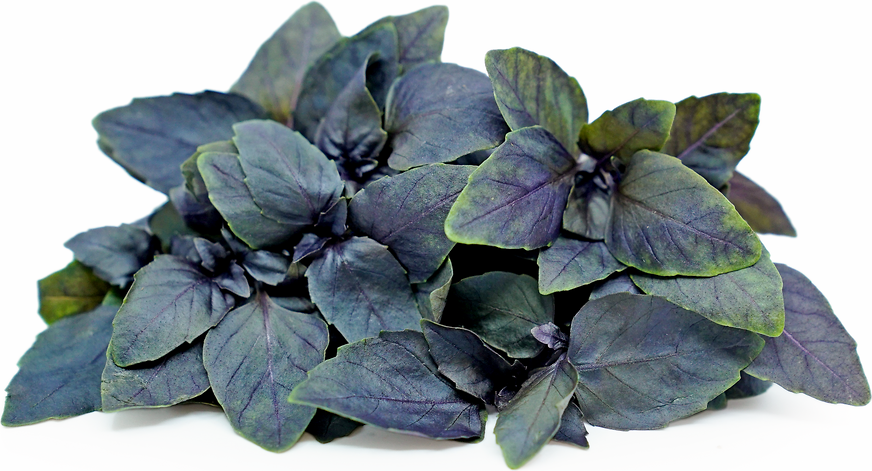 Petite® Opal Basil
Inventory, 4 oz : 0
This item was last sold on : 07/29/23
Description/Taste
Petite® Basil Opal is a tender green comprised of small, oval to lanceolate-shaped leaves that taper to a rounded point and are attached to slender, straight stems. The leaves are broad, flat, smooth, and semi-glossy, showcasing prominent veining, creating a grooved appearance across the surface. The leaves also have lightly serrated edges and display variegated dark purple and green hues, while the stems are crisp and succulent. Petite® Basil Opal emits a clove-like aroma and has a mild, sweet, and earthy flavor with citrus, savory, and spice-filled undertones.
Seasons/Availability
® Basil Opal is available year-round.
Current Facts
Petite® Basil Opal is a part of a specialty line of boutique edible greens grown by Fresh Origins Farm in San Diego, California. Petite® Greens are more mature versions of microgreens, harvested approximately 4 to 6 weeks after sowing, and Fresh Origins currently grows over 125 varieties in-house. Petite® Basil Opal is an innovative creation developed for chefs to reimagine the way purple basil is used in culinary dishes. Opal basil is a relatively new variety of basil, created in 1962, and the cultivar was developed in the United States. The purple basil plant was selected for its very dark hue, aromatic nature, and bright flavoring. Like its mature counterpart, Petite® Basil Opal can be used in culinary preparations and mixology, and the Petite® Green's small size modernizes dishes and captures a unique flavoring in a compact, edible green. Chefs value Petite® Basil Opal for its ability to add color, flavor, and texture to culinary preparations. In addition to Petite® Basil Opal, Fresh Origins also offers Micro Basil Opal as a younger, more delicate alternative.
Nutritional Value
Petite® Basil Opal has not been studied for its nutritional properties. Like mature opal basil leaves, Petite® Basil Opal is a source of vitamin C to strengthen the immune system, vitamin K to assist in faster wound healing, and vitamin A to maintain optimal organ functioning. The purple-hued basil also contains potassium to balance fluid levels within the body, calcium to protect bones and teeth, and other amounts of magnesium and iron. The dark-purple pigments within the leaves provide anthocyanins, which have antioxidant-like properties to guard the cells against free radical and external environmental damage.
Applications
Petite® Basil Opal has an aromatic, spice-filled, and subtly citrusy flavor well suited as a finishing element for a wide array of fresh and cooked culinary preparations. The herb can be lightly torn and tossed into salads, mixed into fruit bowls, layered whole onto sandwiches, blended into sauces such as pesto or marinara, or infused into dressings, marinades, or oils. The fresh leaves can also be used as an edible garnish over pizza, pasta, slow-roasted peppers, and rice dishes, sprinkled over cooked vegetables, chopped for bruschetta, gently folded into casseroles, or placed over grilled meats as a pop of fresh flavor. Petite® Basil Opal can be used as a substitute for mature opal basil and is an attractive garnish for charcuterie plates, caprese, or seafood dishes. The tender greens can also be incorporated into cocktails, mocktails, tea, and infused juices, or they can be placed on the rim of the glass for increased visual appeal. Petite® Basil Opal pairs well with other herbs such as thyme, oregano, parsley, and savory, heirloom tomatoes, dark leafy greens, zucchini, potatoes, meats including turkey, beef, lamb, and poultry, seafood, and cheeses such as mozzarella, feta, parmesan, and goat. Petite® Greens will keep 5 to 7 days when stored in the original clamshell in the refrigerator. It is recommended to consume the greens immediately for the best quality and flavor.
Ethnic/Cultural Info
Opal basil was one of the first dark-colored basil varieties to be created within the United States. The plant was released to the public in the 1960s and received nationwide recognition as a culinary and ornamental cultivar, especially favored by chefs for its unusual and dramatic appearance. Beyond culinary preparations, dark opal basil is also commonly used in decorative flower arrangements. Florists incorporate opal basil in summer floral designs and value the variety for its striking visual appearance, clove-like scent, and long-lasting nature, keeping 7 to 10 days when given ample water. Opal basil plants are also easy to grow and produce large amounts of leaves, allowing florists to create volume and height within arrangements. In wedding bouquets in the modern-day, opal basil is incorporated as a symbol of love. Historically, basil plants represented hate in the Ancient Greek and Roman Empires, as many growers believed you had to shout curses at the plant while sowing to get it to grow. Whether this folk tale has been dramatized over time is unknown, but basil was not highly regarded among the Greeks and Romans until Pliny, a Roman naturalist, claimed that basil seeds were robust aphrodisiacs. This theory began changing the public's perspective on basil, and through literature, spiritual rituals, and years of naturalist claims, the plant's image slowly transformed into a symbol of love. Basil was also used as a symbol of good health and will during the Victorian Era.
Geography/History
Petite® Basil Opal was developed at Fresh Origins Farm in San Diego, California, the leading American producer of naturally grown microgreens and Petite® Greens since the mid-1990s. Fresh Origins has been using the mild Southern California climate year-round to produce robust, healthy, and flavorful Petite® Greens, and the farm closely partners with chefs to create innovative varieties with unique flavorings. Fresh Origins also has the highest level third-party-audited food safety program and is a certified member of the California Leafy Greens Marketing Agreement, which follows science-based food safety practices to promote transparency and honesty in production. Today Petite® Basil Opal can be found through select distribution partners of Fresh Origins across the United States, including Specialty Produce, and are also found through partners in Canada.
Recipe Ideas
Recipes that include Petite® Opal Basil. One

is easiest, three is harder.