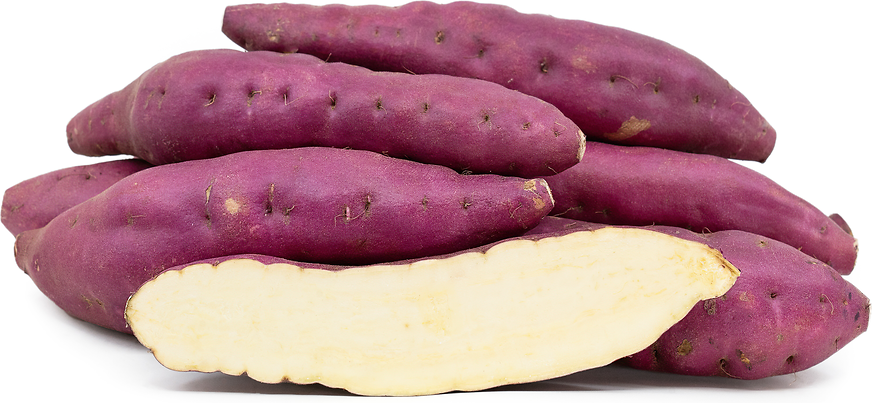 Naruto Kintoki Sweet Potatoes
Inventory, lb : 0
Description/Taste

Naruto Kintoki sweet potatoes are small to medium in size, averaging 20 to 22 centimeters in length and 5 to 6 centimeters in diameter, and are elongated, somewhat straight, tapered, and slender in shape. The tuber's skin is semi-smooth with some rough patches and is firm, taut, and uniform. The brightly colored violet to dark purple surface also bears a few shallow eyes and ridging. Underneath the skin, the flesh is yellow to ivory, darkening to a golden-yellow hue when heated. The flesh also has a dense, powdery, starchy, and slippery feel when raw, softening into a moist, flakey, and fluffy consistency when cooked. Select Naruto Kintoki sweet potatoes with a uniform appearance and brightly colored skin free of blemishes and scars. The sweet potatoes must be cooked before consumption and are known for their high sugar content, contributing to a subtly sweet, rich, and nutty taste with chestnut-like nuances. Naruto Kintoki sweet potatoes are also favored for their mild, lingering, sweet aftertaste.


Seasons/Availability

Naruto Kintoki sweet potatoes are harvested in the late summer through early winter and can be stored through the spring. The variety's peak season in commercial markets occurs in the winter through spring, as the sweet potatoes have been stored for a few months and are said to taste the sweetest after storage.


Current Facts

Naruto Kintoki sweet potatoes, botanically classified as Ipomoea batatas, are a Japanese variety belonging to the Convolvulaceae family. The vibrantly colored sweet potatoes were released as a commercial variety in the late 20th century and are one of the most famous cultivars in Japan. The name Naruto Kintoki was developed from Naruto, a city in the potato's native growing region, and "kin," the Japanese word for "gold." This golden moniker was given for the sweet potato's gold-hued flesh, a signature trait of the variety. Naruto Kintoki sweet potatoes are favored by consumers for their purple-red skin, subtly sweet taste, and fluffy, moist flesh. One distinct characteristic of the variety is the sweetness concentrating with extended storage in the flesh. Naruto Kintoki sweet potatoes become sweeter as the moisture decreases from the flesh, and the variety is harvested and sold at different stages throughout the year. The cultivar is in high demand in the late winter through early spring as it is thought the sweet potatoes have been stored for enough time to develop a sweeter taste. Naruto Kintoki sweet potatoes are given as gifts during this time of year, and the potatoes are cooked in various culinary applications as a sweet and savory ingredient. It is important to note that some regions in Japan also sell Naruto Kinto sweet potatoes under specific brand names. Common names include Matsushige Bijin, Satomusume, and Amahime, with Satomusume being the top luxury brand sold at the highest price points.


Nutritional Value

Naruto Kintoki sweet potatoes are a source of fiber to regulate the digestive tract, vitamin C to strengthen the immune system, and vitamin A to maintain healthy organ functioning. The variety also provides potassium to balance fluid levels within the body, vitamin E to reduce inflammation, calcium to build strong bones and teeth, copper to develop connective tissues, and other nutrients, including phosphorus, magnesium, iron, B vitamins, and thiamin.


Applications

Naruto Kintoki sweet potatoes have a subtly sweet and nutty taste suited for cooked preparations such as steaming, frying, roasting, and boiling. The tubers can be steamed whole, sliced, and sprinkled with salt and citrus juice as a side dish or roasted and broken into chunks. In Japan, Naruto Kintoki sweet potatoes are popularly added to salads, soups, and stir-fries or sliced into small pieces and fried into tempura. Naruto Kintoki can also be incorporated into rice and noodle dishes, mixed into steamed bread, or simmered into satsumaimo niku-jyaga, a dish of onion, meat, potatoes, soy sauce, and carrots served over rice. In addition to savory dishes, Naruto Kintoki is often added to sweet preparations, including ice cream and gelato. Deep-fried potato skin slices are also used as a topping over ice cream. Try adding sweet potatoes to parfaits, tarts, pies, or fillings for pastries or candying the tubers as a sweet treat. The sweet potatoes can also be used in a Japanese dessert known as tosui, flavored with ginger and brown sugar. Naruto Kintoki sweet potatoes pair well with flavorings such as sriracha, sesame, miso, and soy, aromatics such as ginger, scallions, and garlic, meats such as poultry, pork, and beef, eggs, mushrooms, rainbow chard, lentils, coffee, and green tea. Whole, unwashed Naruto Kintoki sweet potatoes should be wrapped in newspaper and stored in a cool, dry, and dark location, where they will last for a few weeks to months, depending on age. Steamed sweet potatoes can be cooked and frozen for extended use.


Ethnic/Cultural Info

Naruto Kintoki sweet potatoes are famously used to make daigaku-imo, or "university potatoes." There are several theories for the dish's unusual name, but it is primarily thought that the honey-glazed tubers were sold by a potato vendor called Mikawaya near Tokyo University sometime during the Showa Era, from 1926 to 1989. Mikawaya was located near the Todai red-gate entrance of Tokyo University, and the fried sweet potatoes attracted the students' attention with their rich, sweet aroma. Other theories claim that daigaku-imo was created by Tokyo University students who sold the sweet dish as a method to pay for tuition. Regardless of its origins, daigaku-imo increased in popularity as a cheap, filling, and college-friendly snack, and the dish spread throughout Japan, becoming a widespread culinary staple. The dish is often distinguished from other recipes by black sesame seeds, an indispensable topping used to complement the savory soy sauce-flavored candy coating.


Geography/History

Naruto Kintoki sweet potatoes are native to Japan and were developed in the northern Tokushima Prefecture near the Naruto Strait. The variety was created just outside of Naruto City in 1979 and is an improved variety of the Takakei No. 14. Naruto Kintoki sweet potatoes thrive in Tokushima's warm, mild climate. The variety is also planted in sandy soils filled with sea minerals from the Naruto Strait, a trait thought to enhance their vibrant skin coloring. Today, Naruto Kintoki sweet potatoes are primarily cultivated in the Tokushima Prefecture in Naruto City, Matsushige Town, Kawauchi Town, Satoura Town, and Itano Town. The variety is sold throughout Japan, and a large portion of the sweet potatoes produced are offered through vendors, grocers, and distributors in the Kansai region. Naruto Kintoki sweet potatoes are also exported and occasionally grown in Malaysia, Taiwan, China, and Singapore.