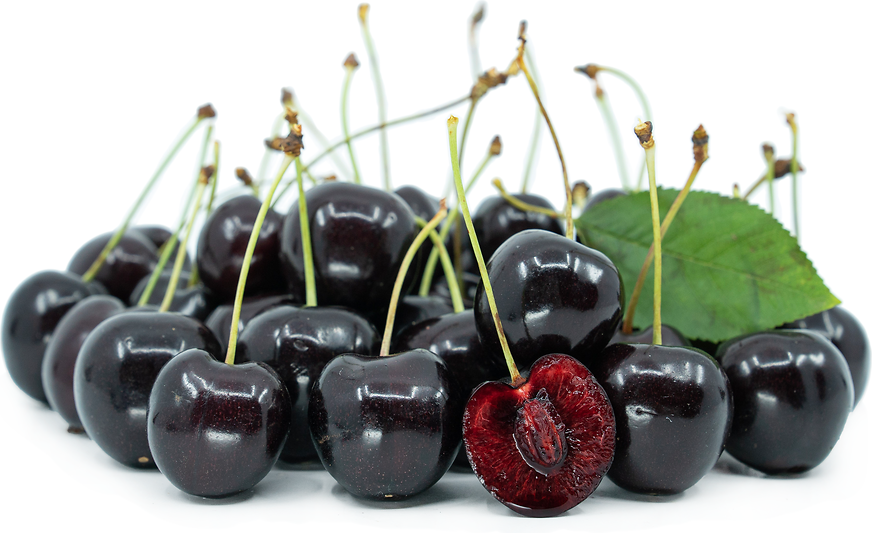 Stella Cherries
Inventory, lb : 0
Description/Taste

Stella cherries are a medium to large varietal, averaging 2.5 to 3.5 centimeters in diameter, and have a round to cordate shape with small shoulders and a curved bottom. The cherries are attached to long, slender, and fibrous green stems extending 4 to 4.5 centimeters in length, and the dark purple, almost black skin is thin, smooth, taut, and glossy. Underneath the surface, the crimson to purple-red flesh is semi-firm, dense, and plump with an aqueous, succulent consistency. The flesh has a bursting mouthfeel when punctured and contains a central hard, brown stone that should be discarded. Stella cherries will feel heavy for their size and be full of pigmented juice that will stain clothing, skin, and absorbent fabrics. The cherries have balanced sugar and acidity levels, creating a sweet-tart, tangy flavor.


Seasons/Availability

Stella cherries are available in the summer, typically ready for harvest in late June or early July.


Current Facts

Stella cherries, botanically classified as Prunus avium, are a commercial sweet cherry belonging to the Rosaceae family. The variety was created in the mid-20th century and received international fame as the first self-fertile cherry tree, meaning it did not require another type of cherry to pollinate the flowers to produce fruit. This self-fertile nature allowed growers to plant fewer trees, streamlining the cultivation process and forever changing the commercial cherry industry. Stella cherries also grow on deciduous trees in full and dwarf sizes, ranging from 3 to 9 meters in height, and can fruit in as little as 1 to 4 years, an unusual but valued trait among fruit-producing trees. Since its creation, Stella cherries have forever changed the nature of cherry breeding and commercial production. The variety became a parent cultivar to several other famous cherries, including Lapins, Sunburst, Sonata, and Santina. Stella cherries are a type of black cherry favored for their productive nature, resistance to disease and cracking, and sweet-tart flavor. The cherries are a versatile variety commonly used in fresh and cooked preparations.


Nutritional Value

Stella cherries are a source of potassium to balance fluid levels within the body, fiber to regulate the digestive tract, vitamin A to maintain healthy organ functioning, and vitamin C to strengthen the immune system while reducing inflammation. The cherries also provide calcium and phosphorus to build strong bones and teeth, vitamin K to assist in faster wound healing, and other nutrients, including magnesium, folic acid, vitamin E, copper, and antioxidants to protect the cells against free radical damage.


Applications

Stella cherries have a sweet and tangy flavor suited for fresh and cooked preparations. The cherries are popularly consumed straight out of hand and are often displayed in fruit bowls, on appetizer platters, and sliced as a garnish. Stella cherries are also tossed into salads, pressed into smoothies, juices, and cocktails, or blended and frozen into sorbets, granitas, and popsicles. In addition to fresh preparations, Stella cherries can be baked into cobbler, crisps, pies, cakes, scones, tarts, and bread, or they can be simmered into syrups and sauces for roasted meats and desserts. The cherries can also be canned, preserved, or dried for extended use. Dried cherries can be incorporated into salads, baked goods, and other desserts. Stella cherries pair well with vanilla, maple syrup, chocolate, brown sugar, nuts such as pecans, hazelnuts, and almonds, herbs including mint, basil, sage, and thyme, and fruits such as coconut, raspberry, pear, plum, and watermelon. Whole, unwashed Stella cherries are perishable and should be immediately consumed for the best quality and flavor. The cherries will keep for a few days when stored in the refrigerator with the stems still attached.


Ethnic/Cultural Info

Stella cherries arose from one of the first global partnerships between research programs in England and Canada. In the 1950s, Dr. Dan Lewis at the John Innes Institute in England was crossing Napoleon cherries with Emperor Francis cherries in an effort to create a self-fertile variety. While the English institute was raising several test seedlings, the Summerland Research and Development Center was recently established in 1936 from a partnership between the British Columbia Fruit Growers Association and the Canadian Federal Government. At the Summerland Research and Development Center, Dr. Charles Lapins, a Latvian refugee, had worked his way up from being a farm laborer, research center laborer to a fruit breeder and was working on developing a self-fertile variety. Dr. Lapins had heard about the seedlings being created at the John Innes Institute and reached out to Dr. Lewis in England. Dr. Lewis sent pollen from the seedlings, allowing Dr. Lapins to produce the first self-fertile cherry tree. Most cherry varieties created at the Summerland Research and Development Center were traditionally named with an "s" in honor of Summerland. Dr. Lapins named the new self-fertile cultivar Stella, using his wife's name, Ella, and adding an "st" at the beginning to keep in line with the center's practices. Since Stella's creation, self-fertile cherry trees have revolutionized the cherry industry. Dr. Lapins also continued his research, eventually using Stella to create the famous Lapins cherry, one of the few cherries from the Summerland Center that was not named with an "s." The center deemed Lapins cherries such an important discovery in cherry breeding that they felt it was fitting to honor the breeder by naming the variety after him. Stella cherries also launched the Summerland Research and Development Center to international acclaim, and the center has been responsible for almost 80% of the commercial varieties found in markets in the modern day.


Geography/History

Stella cherries were developed in British Columbia at the Summerland Research and Development Center in the mid-20th century. The variety was created by Dr. Charles Lapins from a cross between Lambert cherries and a seedling known as JI 2420. Dr. Dan Lewis bred this numbered seedling at the John Innes Institute in Norwich, England, in the 1950s from a cross between Napoleon and Emperor Francis cherries. Dr. Lewis sent pollen from two seedlings, JI 2420 and JI 2434, to the Summerland Research and Development Center, and in 1956, the crossing determined that JI 2420 produced more favorable qualities. Stella cherries were eventually released in 1968 and were the first self-fertile variety created for commercial markets and home gardens. Initially, Stella cherries were met with some resistance among growers as they felt the trees would produce small fruits, but as they were planted in commercial orchards, growers accepted and appreciated the self-fertile variety. In 1973, a dwarf version of Stella cherry trees was released by the Brookhaven National Laboratory in New York, allowing home gardens a compact cherry tree for smaller gardens. Stella cherries were also given the Royal Horticultural Society's Award of Garden Merit in 1993, reconfirmed in 2014. Today Stella cherries are a widespread cultivar grown in commercial orchards and home gardens worldwide. When in season, the cherries are sold through distributors, grocers, farmer's markets, and direct from farmers. The Stella cherries featured in the photograph above were sourced from Brogdale Farm in Faversham, England.