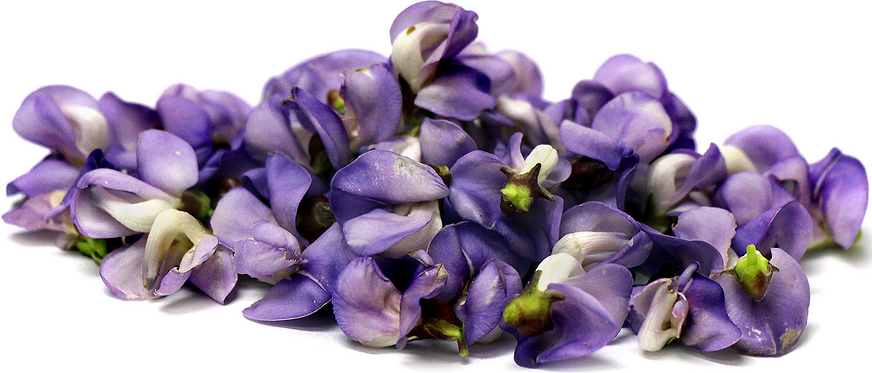 Parda Flowers
Inventory, bskt : 0
Description/Taste

Parda flowers are small blooms, averaging 1 to 2 centimeters in diameter, that grow along leafy climbing vines. The flowers form in clusters of 2 to 10 blooms and are similar in appearance to common pea blossoms, showcasing a few curved, broad, and flat petals. Each blossom will vary in color, depending on the variety and range in variegated hues of violet, white, pink, blue-purple, and red. The petals are soft, pliable, and velvety with a delicate and crisp consistency. Parda flowers emit an aromatic scent and have a mild, vegetal, nutty, and slightly grassy flavor with fresh cucumber and pea nuances.


Seasons/Availability

Parda flowers are available in the mid-summer through fall.


Current Facts

Parda flowers, botanically classified as Lablab purpureus, are colorful, fragrant blooms belonging to the Fabaceae family. The small flowers grow along trailing vines that can extend between 3 to 9 meters in length and thrive in tropical to subtropical climates, originally native to Africa. Parda flowers are also botanically known as Dolichos lablab and are labeled under several names worldwide, including Hyacinth bean, Bonavist bean, Field bean, Egyptian bean, and Lablab. Over time, the vining legume spread worldwide in cultivation, and many new varieties have been created, utilized as an ornamental, culinary, and medicinal plant. In the United States, the fast-growing vine is commonly found throughout home gardens as a decorative variety, valued for its colorful blooms, and is planted along walls, fences, and trellises. In Asia and Africa, the plants are grown as a culinary ingredient and are favored for their edible leaves, flowers, roots, and pods.


Nutritional Value

Parda flowers contain flavonoids such as luteolin, which have ant-inflammatory and antioxidant-like properties. The flowers are also used in natural medicines throughout Asia to stimulate digestion, reduce fevers, and relieve digestive issues.


Applications

Parda flowers are not a common culinary ingredient worldwide, but in Southeast Asia, the blossoms are favored as a colorful edible garnish for sweet or savory preparations. The flowers can be consumed raw or lightly cooked, and the petals are the central portion of the bloom used. Parda flowers can be sprinkled over salads, vegetable medleys, stir-fries, soups, curries, and stews. The petals can also be scattered across roasted meat dishes, tropical beverages, or used as decoration over desserts and baked goods. In India, Parda flowers are sometimes used as a topping for mung bean soup. The flowers are also combined into coconut-based dishes in the Philippines. Parda flowers pair well with bell peppers, potatoes, beans, broccoli, carrots, zucchini, meats such as poultry, beef, and pork, and seafood such as fish, scallops, and shrimp. The flowers have a delicate nature and should be used immediately for the best quality and flavor.


Ethnic/Cultural Info

In the Philippines, Hyacinth bean plants are known as Bataw and are a popular home garden vine grown as an ornamental and food source. The peas, leaves, roots, flowers, and seeds are all edible, and the fast-growing, prolific nature of the plant allows for families to use elements of the vine in culinary preparations daily. One of the most popular Filipino dishes that Bataw is incorporated into is pinakbet, a savory meat stew served over steamed rice. The pods and seeds of the Bataw plant are mainly cooked with squash, eggplant, sweet potatoes, or other vegetables, but Bataw flower petals are also sometimes scattered into the dish as an edible garnish and additional source of nutrients. Bataw flowers are used as a finishing element and are often valued for their colorful nature and mild legume flavor. In addition to culinary dishes, Bataw is so common in gardens throughout the Philippines that it is also mentioned in Filipino nursery rhymes, specifically one rhyme known as Bahay Kubo or Nipa Hut. Bahay Kubo is a traditional rhyme that features a small hut with a variety of common household garden plants surrounding it to help teach children about the importance of edible and widely available food sources.


Geography/History

Parda flowers grow on a vining plant commonly known as the Hyacinth bean. Hyacinth bean plants are native to Africa and have been growing wild since ancient times. Experts believe the plants were spread across Africa into Asia during the Neolithic times, and the plants eventually became a widely cultivated legume for culinary and medicinal use. Hyacinth beans were also brought to Europe in the 18th century, and in the 19th century, they were transported to North America, where they were planted in Thomas Jefferson's Monticello Garden. Today Hyacinth beans are grown worldwide in tropical to subtropical climates. In the United States, Europe, and Australia, the plants are primarily cultivated as an ornamental landscape vine, and the flowers are left on the plant, but in Asia, Africa, and the Caribbean, Parda flowers are utilized as a food source, foraged from wild and home garden plants.