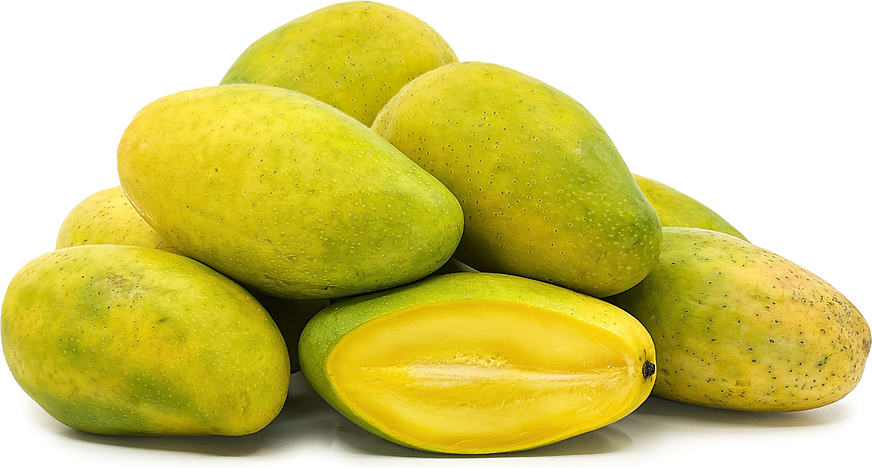 Raspuri Mangoes
Inventory, lb : 0
Description/Taste

Raspuri mangoes are a small to medium-sized varietal, averaging 10 to 15 centimeters in length, and have an oval, slightly tapered shape with a small, pointed non-stem end. The variety's skin is thin, smooth, and taut, showcasing variegated shades of yellow-green with dark brown-black speckling. If the mangoes are exposed to ample sunlight, they develop a faint, red-orange blush. Raspuri mangoes are also distinct from other varieties as they ripen from the inside out. The skin may still be green when ripe, and maturity should be determined by the softness of the flesh. The golden yellow flesh is aqueous, dense, soft, and fibreless, with a succulent, tender consistency. The flesh also encases a thin and flat monoembryonic seed. Raspuri mangoes release a sweet, floral fragrance and should feel soft to the touch when ripe. The flesh can be consumed raw and has a sweet, subtly tart, and acidic taste with fruity, floral nuances reminiscent of honey, peaches, and apricots.


Seasons/Availability

Raspuri mangoes are available in the summer and monsoon season in India, with a peak season in late May through July.


Current Facts

Raspuri mangoes, botanically classified as Mangifera indica, are a South Indian variety belonging to the Anacardiaceae family. There are more than 1,500 varieties of mangoes grown in India, and mangoes are the country's national fruit. Raspuri mangoes are nicknamed the "Queen of Mangoes" in India, and the variety is also known as Payari, Pairi, Paheri, and Sweet mango. The fruits develop on fast-growing, vigorous trees with a spreading growth habit and are an early-season cultivar arriving in Indian markets before other prominent commercial cultivars. Raspuri mangoes are found in the summer and are favored for their sweet and tangy taste, primarily consumed in fresh preparations.


Nutritional Value

Raspuri mangoes are a source of fiber to regulate the digestive tract, calcium to build strong bones and teeth, and potassium to balance fluid levels within the bloodstream. The variety also provides vitamin C to strengthen the immune system, vitamin K to assist in faster wound healing, magnesium to control optimal nerve functioning, and other nutrients, including iron, vitamin E, folate, and B vitamins. In Ayurvedic medicine, mangoes are used as a natural diuretic and are believed to add shine and radiance to the skin and hair.


Applications

Raspuri mangoes have a sweet, subtly tart taste suited for fresh and cooked preparations. The variety is typically consumed straight out of hand, discarding the skin and seed, and it is recommended to wash the fruit's surface before slicing to remove resinous sap. Raspuri mangoes can be sliced and served on fruit platters, tossed into salads, mixed into fruit medleys, or used as a fresh garnish over seafood and roasted meats. The variety can also be blended into smoothies, shakes, juices, and various refreshing beverages. In addition to raw uses, Raspuri mangoes are popularly simmered into jams, marmalades, chutney, and syrups or used to flavor baked goods. The mangoes can be added to puddings, pureed and frozen into sorbet, ice cream, and yogurt, or cooked into cakes and muffins. Beyond ripe fruits, Raspuri mangoes are used in their crunchy, green stage to make sweet and tangy pickles. Green mangoes are also incorporated into curries. Raspuri mangoes pair well with other fruits such as bananas, coconuts, and pineapples, herbs including cilantro, parsley, and mint, vanilla, ghee, and spices such as cardamom, cinnamon, and ginger. Whole, unwashed Raspuri mangoes should be ripened at room temperature and generally take 2 to 4 days to mature, depending on the degree of ripeness when harvested. Once ripe, Raspuri mangoes should be immediately consumed for the best quality and flavor and can be stored for a few days in the refrigerator. The variety can also be peeled, sliced, and frozen in a sealed container for extended use.


Ethnic/Cultural Info

Raspuri mangoes are one of the most popular summer varieties in Gujarati, India. The Gujarati people claim that if you don't eat and enjoy Raspuri mangoes in the summer, a year will be missed of life. Raspuri is derived from the word "rasa," translating to "juice," and the mango variety was given this name for its juicy flesh. Rasa is also used in the word aamras, a mango-centric dessert consumed throughout Gujarati. Aamras means "mango juice" and is a popular summer treat comprised of pureed mango combined with sugar, milk, and ghee. The blended mango puree is lightly chilled and traditionally served with chapatis or pooris, types of Indian bread. Aamras is customarily served in the summer as a refreshing dish, and it is commonly offered during special occasions. Raspuri mangoes are incorporated into the dish for their tanginess and juice, and it is often blended with alphonso mangoes to increase the depth of flavor.


Geography/History

Raspuri mangoes are native to India and are prevalent in the southern Indian states. The exact history of when the variety appeared in cultivation is unknown, but over time, Raspuri mangoes became extensively grown as an early-season mango. In 1899, Raspuri mangoes were introduced to Hawaii and were later planted in Florida in 1900, where they became a favored cultivar for home gardens in South Florida. Today, Raspuri mangoes are still widely produced throughout southern India and are primarily found in Karnataka, Maharashtra, and Gujarat. In Karnataka, Raspuri mangoes are cultivated in Old Mysore, Tumakuru, Kolar, Ramanagara, Bangalore, and Chikkaballapur. In Maharashtra, the variety is mainly found in the Konkan region. When in season, Raspuri mangoes are sold through fresh markets and roadside vendors throughout India. The variety is also grown as a small-scale cultivar in other parts of Southeast Asia and the United States.