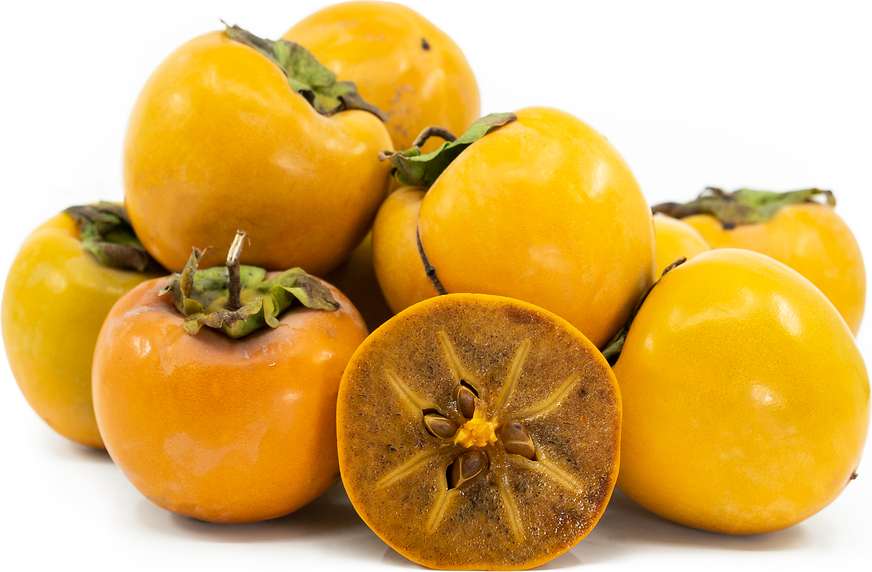 Hyakume Persimmons
Inventory, lb : 0
Description/Taste
Hyakume persimmons are a medium to large varietal with an oval to bell shape, tapering slightly from the flat, broad shoulders towards the curved base. The persimmon's skin is smooth, semi-thin, and taut with a faint sheen, showcasing vibrant shades of orange, golden-orange, and dark orange-red hues. The fruit is also capped with 3 to 4 flat green-brown dried leaves, having a papery and leathery consistency. Underneath the surface, the flesh ranges in texture depending on maturity and treatment, initially firm, dense, and crisp when harvested, softening into a tender, aqueous, and jelly-like feel. The flesh is generally pale orange, sometimes speckled with tiny brown marks, if the fruit has been pollinated, and encases a few oval light brown seeds. Hyakume persimmons will have varying flavors and textures depending on pollination. If the persimmons have been pollinated, they can be eaten in their firm or soft state, but if the fruits are unpollinated, they can only be consumed when soft or after manually treating to remove astringency. Hyakume persimmons have a rich and mild flavor reminiscent of dried apples and pears with a hint of spiced sugar.
Seasons/Availability
Hyakume persimmons are available in the late fall through early winter.
Current Facts
Hyakume persimmons, botanically classified as Diospyros kaki, are rare fruits that grow on deciduous trees belonging to the Ebenaceae family. The mild, sweet-tasting fruits are native to East Asia and are a type of pollination variant non-astringent persimmon, meaning pollination will change the composition of the flesh. When Hyakume persimmons are unpollinated, their flesh remains hard and filled with astringent tannins. These persimmons must be manually treated to sweeten the flesh or left on the counter for several days to weeks to allow the tannins to break down, developing a sweeter taste and softer flesh. Pollinated Hyakume persimmons can be consumed firm or soft, and the fertilized seeds secrete small amounts of alcohol, causing the chemical compounds in the flesh to clump together, speckling the flesh with brown spots. These brown spots are what give Hyakume persimmons their other well-known names, Cinnamon and Brown Sugar persimmons, named in honor of the speckling's resemblance to a sprinkling of spiced sugar. The term Hyakume encompasses several varieties of persimmons that showcase brown-speckled flesh, and these varieties include Yashiro, Kinglet, Edo, Koshu, and Fuji. Hyakume persimmons are versatile and can be incorporated into fresh or cooked preparations, contributing color, flavor, and texture.
Nutritional Value
Hyakume persimmons are an excellent source of fiber to regulate the digestive tract and vitamin A to improve skin complexion, protect against vision loss, and maintain overall organ health. The persimmons are also a good source of vitamin C to strengthen the immune system while reducing inflammation and contain other nutrients, including vitamins B6, E, and K, potassium, folate, manganese, phosphorus, and copper.
Applications
Hyakume persimmons have a sugary-sweet and mild flavor well suited for fresh and cooked preparations. The persimmons can be consumed straight out of hand when left to soften, or they can be eaten firm if the fruits are pollinated. The persimmons can be sliced and tossed into salads, chopped and stirred into fruit bowls, cut and displayed on appetizer plates with soft cheeses, fruits, and nuts, or mixed into grain bowls as a sweet accent. Hyakume persimmons can also be grilled, broiled, or poached and served with roasted meats and vegetables, or they can be served with cream sauces, ice cream, or syrups. Try blending Hyakume persimmons into smoothies with warm spices as a festive fall beverage. Hyakume persimmons can also be incorporated into desserts such as tarts, cakes, bars, and pudding, or simmered into compotes, syrups, and jams. Hyakume persimmons pair well with spices such as nutmeg, cinnamon, and cloves, fruits including pomegranate seeds, bananas, pears, and apples, nuts such as walnuts, pecans, and almonds, maple syrup, vanilla, and honey. Whole, unwashed Hyakume persimmons will keep 4 to 10 days at room temperature to soften, or they can be stored in the refrigerator for several weeks to maintain a crisper texture.
Ethnic/Cultural Info
Hyakume persimmons are often treated with alcohol vapors to remove the astringency from the flesh before the fruits are sold in markets. This process was created by Japanese farmers and is known as awasu, a method now used by growers worldwide. To remove astringency, the Hyakume persimmons are stored in barrels that once contained sake, lightly sprinkled with a few drops of vodka, or are stored in a sealed basin with various alcohol fumes for a few days. This process allows the alcohol to be absorbed into the fruit in small quantities, breaking down the tannins without affecting the persimmon's texture, appearance, or flavor. Treated Hyakume persimmons that are unpollinated can be consumed when firm and will have a sweet, pleasing taste. This process is also used on the first harvested persimmons of the season to create a quick supply of edible fruits for local markets. In addition to curing the fruits, Hyakume persimmons are popularly dried in Japan. Drying the persimmons concentrates the sugar content in the flesh, developing a rich, sweet flavoring. Dried persimmons are commonly sliced and consumed as a sweet accompaniment to afternoon tea or incorporated into desserts and baked goods.
Geography/History
Hyakume persimmons are descendants of persimmons native to regions of Eastern Asia and have been cultivated since ancient times. The pollination variant non-astringent persimmon has been present in Japan for centuries and is a rare cultivar, primarily planted in home gardens and offered through select specialty growers. Experts believe the brown-fleshed persimmon was introduced to the United States sometime in the late 19th century when the United States Department of Agriculture imported grafted trees from Japan. The trees were planted in California and the Southern United States for cultivation, and over time, many Japanese immigrants and private family farms also began growing the unique fruits in their home gardens. Today Hyakume persimmon varieties are rare and difficult to find in commercial markets, primarily grown in Japan, China, Korea, and California. When in season, Hyakume persimmons can be found through select retail chains, distributors, and specialty grocers, but they are more likely to be discovered at local farm stands and farmer's markets.
Recipe Ideas
Recipes that include Hyakume Persimmons. One

is easiest, three is harder.