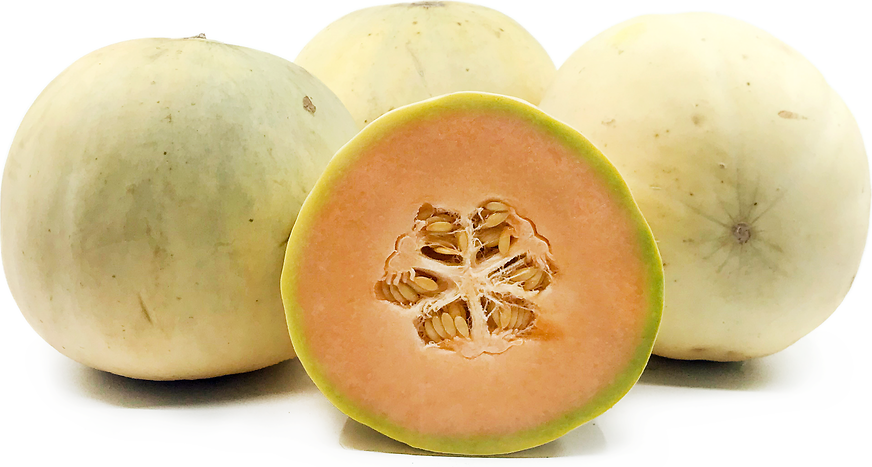 Liscio Mantovano Melon
Inventory, ea : 0
Description/Taste

Liscio Mantovano melons are a small to medium-sized varietal and have a round, oval, to ovate shape with a uniform, curved appearance. The rind is semi-thin, smooth, taut, hard, and dense, showcasing cream to grey-green hues, transitioning to a slightly yellow coloring as it ripens. Underneath the surface, the orange flesh is thick, aqueous, and soft with a tender, succulent consistency. The flesh also encases a small central cavity filled with ivory, oval seeds enveloped in a gelatinous coating suspended between stringy orange and white fibers. Liscio Mantovano melons release a fragrant, sweet, and subtly herbaceous aroma when sliced and have a high sugar content, ranging from 12 to 16 degrees Brix. This content creates a mild, refreshing, sweet, and sugary taste with a lingering honeyed aftertaste.


Seasons/Availability

Liscio Mantovano melons are available in the summer, with a peak season from May through August.


Current Facts

Liscio Mantovano melons, botanically classified as Cucumis melo, are a specialty variety of muskmelon belonging to the Cucurbitaceae family. The name Liscio Mantovano translates to mean "Smooth Mantuan," a descriptor given for the melon's smooth rind and place of origin in Italy. Liscio Mantovano melons are also known as Mantuan melons, Melone Mantovano, and Smooth Mantuan melon. There are two types of Mantovano melons, smooth or netted varieties, and both categories of melons are grown in Italy for their fragrance, sweet flavor, and tender flesh. Liscio Mantovano melons are rare and tend to have a more intense flavor compared to the delicate, less sugary taste of the netted varieties. The smooth melons are a signature melon of the Lombardy region and have acquired a PGI or Protected Geographical Indication, a label that recognizes the importance of terroir and climate in producing the variety. Liscio Mantovano melons are cultivated in select regions of Italy and are popularly sold through local markets for fresh preparations. The melons are also exported as a seasonal delicacy throughout Europe.


Nutritional Value

Liscio Mantovano melons contain high water content, providing a natural source of hydration, and are a source of mineral salts to help maintain soft tissues and skeleton support. The melons also offer vitamin C to strengthen the immune system, potassium to balance fluid levels within the body, beta-carotene to maintain healthy organ functioning, and other nutrients, including phosphorus, folate, and calcium.


Applications

Liscio Mantovano melons have a sweet taste and tender, soft flesh suited for fresh preparations. The melon's refreshing nature is often consumed as a palate cleanser between meals and can be served in sweet and savory dishes. The melons should be washed before slicing to remove bacteria from the surface, and the flesh can be easily cut from the rind, creating wedges, slices, and pieces. Sliced Liscio Mantovano melons can be served on charcuterie boards, mixed into fruit bowls, tossed into salads, or chopped into chutneys and dips. The sweet melons can also be wrapped in prosciutto, a traditional summer appetizer in Italy. Historically, Italian cuisine contained a mix of warming and cooling foods to create a balanced diet. The practice of consuming foods with various elements of water, air, fire, and earth would help the body fight off sickness and protect the immune system's delicate nature. Cured meats and fruit were thought to strengthen the immune system, inspiring the famous prosciutto and melon combination. Liscio Mantovano melons can also be incorporated into chilled soups, cut and mixed into ravioli or risotto, or served with seafood dishes as a mild and sweet component. In addition to appetizers and main dishes, Liscio Mantovano melons are used to flavor desserts such as sorbet, popsicles, gelatins, and cheesecakes. The melons can also be blended into smoothies and shakes or infused into meloncino, a popular summer liquor. Liscio Mantovano melons pair well with cheeses such as gorgonzola, burrata, and parmesan, seafood including prawns, white fish, lobster, and scallops, herbs such as mint, cilantro, and basil, and nuts including almonds, pecans, pine, and walnuts. Whole uncut Liscio Mantovano melons have a short shelf life and can be stored in the refrigerator for 2 to 3 days. It is recommended to consume the variety immediately after ripening for the best quality and flavor.


Ethnic/Cultural Info

Mantova, Italy, also known as Mantua, was awarded the 2017 European Capital of Gastronomy. This annual title is bestowed by a panel of experts belonging to the International Institute of Gastronomy, Culture, Arts, and Tourism, or IGCAT. The international committee comprises agriculture, tourism, and hospitality professionals, and the awarded title is given to regions with diverse cultural and gastronomical identities. IGCAT hopes to raise awareness of regions worldwide and help build identities for historic areas that may not be widely known to increase tourism. Mantova was also listed as a World Heritage Site in 2008 through UNESCO, a title given in honor of the Gonzaga dynasty, ruling from 1328 to 1708. The Gonzaga family influenced the region to become one of the main cultural and artistic centers of northern Italy. The chefs of the family's household also created many of the famous dishes still consumed in Mantova today; a cuisine referred to as the "cuisine of princes and people."


Geography/History

Liscio Mantovano melons are native to Italy and have been cultivated for thousands of years. Melons, in general, were introduced to Italy from Central Asia in the 1st century CE and were planted in the Mantova region sometime during the Renaissance period, beginning in the 14th century. Liscio Mantovano melons were first recorded in written documents in the 15th century during the Gonzaga family rule, and initially, melons were so valued they were accepted as gifts for nobility. Over time, smooth varieties of melons were bred and planted throughout Mantova, and the melons quickly became recognized for their flavors, textures, and cultivation habits. The region was known for its unique microclimate with extended summer sunshine periods with low rainfall and cold winters. The soil is also fertile, filled with rich nutrients, contributing to the melon's sweet flavor. Liscio Mantovano melons were granted a Protected Geographical Indication or PGI in 2003. A Mantovano Consortium was also established to protect and maintain the quality of the specialty melons grown in the region. Today Liscio Mantovano melons are cultivated in open fields, greenhouses, and tunnels in forty-one municipalities in the Mantua and Cremona provinces of the Lombardy Region. They are also grown on a smaller scale in Ferrara, Modena, and Bologna in the Emilia-Romagna province.