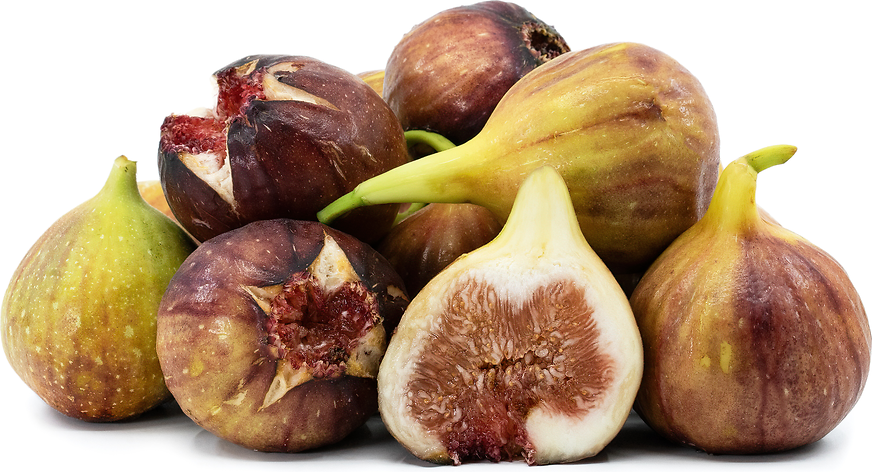 Toyomitsuhime Figs
Inventory, lb : 0
Description/Taste

Toyomitsuhime figs are a medium to large varietal, averaging 6 to 6.5 centimeters in diameter, and have a tear-drop shape with a bulbous, curved base tapering to a narrow neck. The skin is thin, elastic, and delicate, being easily punctured or torn open, and has a smooth, taut, and semi-firm consistency. The variety's skin also showcases variegated red, purple, brown, and yellow-green hues, and the base of the fig may be closed or slightly opened. Underneath the surface, a thick layer of pale yellow to white flesh envelops a central chamber filled with tiny seeds. The pale yellow flesh has a springy, light mouthfeel, and the flesh encasing the tiny seeds is dark red to burgundy. The edible seeds provide a crunchy consistency contrasted with the sticky, melting red flesh. Toyomitsuhime figs have dense, solid, and chewy flesh, distinct from other varieties that typically have a hollow cavity. The variety releases a subtly sweet fragrance when ripe. Select Toyomitsuhime figs that have undamaged skin and saturated coloring. The figs are known for their high sugar content, ranging from 17 to 20 Brix, creating a mild, sugary, sweet, and honeyed taste.


Seasons/Availability

Greenhouse-grown Toyomitsuhime figs are available in the late spring through summer in Japan. In open fields, the figs are harvested in the summer through late fall.


Current Facts

Toyomitsuhime figs, botanically classified as Ficus carica, are a Japanese variety belonging to the Moraceae family. The mid-season cultivar is a rare fig only produced in the Fukuoka Prefecture in Southern Japan and was commercially released in the early 21st century. Toyomitsuhime figs have thin skin and are delicate when ripe, making them difficult to transport outside their native growing region. Despite their fragile nature, the variety's dense, honeyed flesh and large size are a prized summer and fall delicacy sought after in fresh markets. Toyomitsuhime figs are nicknamed "Sweet figs" in Japanese markets, and the figs are harvested ripe and ready to eat. Growers in the Fukuoka Prefecture harvest the figs using the light of headlamps in the early morning while the temperature is still cool. The figs are immediately sterilized using infrared and ultraviolet light and are packed in a special container known as a "cradle" for shipment in cold temperatures to maintain the freshness of the figs. Toyomitsuhime figs are consumed raw or cooked and are utilized in a wide array of sweet and savory culinary preparations.


Nutritional Value

Toyomitsuhime figs are a source of fiber to regulate the digestive tract, potassium to balance fluid levels within the body, and calcium to build strong bones and teeth. The figs also provide iron to develop the protein hemoglobin for increased oxygen transport through the bloodstream, magnesium to control nerve functioning, vitamin A to maintain healthy organs, and other nutrients, including vitamin K, zinc, copper, and manganese.


Applications

Toyomitsuhime figs have a sweet, sugary taste suited for fresh and cooked preparations. The variety is traditionally consumed straight out of hand and can be eaten in its entirety. Some consumers may choose to peel the skin before consumption, but the skin is so thin that it is mostly unnoticeable. When peeling, it is recommended to peel from the stem towards the base like a banana. Toyomitsuhime figs can be served on cheese platters, wrapped in prosciutto as an appetizer, or sliced and tossed into salads. The flesh can also be spread over toast or crostini, used as a fresh topping over breakfast dishes, or presented as an edible garnish on desserts. In addition to raw preparations, Toyomitsuhime figs are popularly simmered into jams, compotes, and other preserves, cooked into sauces for grilled meats, or used as a filling for tarts and baked goods. The variety can also be incorporated into cakes, cookies, and bars, glazed in honey butter, or heated and served over ice cream as a decadent treat. Beyond culinary dishes, Toyomitsuhime figs can be infused into liqueurs. Toyomitsuhime figs pair well with balsamic vinegar, brown sugar, caramel, meats such as ham, poultry, duck, and lamb, and spices such as cinnamon, cardamom, rosemary, and nutmeg. Whole Toyomitsuhime figs are sold ripe and should be immediately consumed for the best quality and flavor. The figs will keep for 2 to 3 days at room temperature and for up to five days in the refrigerator.


Ethnic/Cultural Info

The name Toyomitsuhime is derived from a combination of several words in Japanese. "Toyo" is the first part of the name of the Buzen Agriculture Research Station in Japanese, "mistu" translates to "honey," and "hime" means "princess." Toyomitsuhime figs, also known as the "Princess fig," are sometimes labeled in markets as Toyomitsu Hime, Hakata Toyomitsu Hime, and Ichijiku, a general name for figs. The large, specialty figs are favored as a seasonal gift. In Japan, figs are regarded as the "fruits of perpetual longevity" and are touted for their nutritional properties. Figs are viewed as having anti-aging benefits and are given to friends and family as a token of friendship and care. Toyomitsuhime figs are chosen as gift figs as the variety is rare and challenging to find in markets outside of Fukuoka.


Geography/History

Toyomitsuhime figs are native to Japan and were developed in the Fukuoka Prefecture. The variety was created at the Buzen branch of the Fukuoka Agricultural Experiment Station in 2005 in Yukuhashi City and was registered as a new variety in August 2006. Fukuoka Prefecture is Japan's third-largest producer of figs, and Toyomitsuhime is one of the region's main varieties, along with Masui Dauphine and Horaishi figs. Within Fukuoka, Toyomitsuhime figs are primarily grown in the city of Asakura in the Chikugo Plain near the Chikugo River. Chikugo is known as the "home of water" due to its abundant sources of clean water used to irrigate the figs, and the varying temperature differences between the day and night allow the figs to develop their signature sweet taste. Today, Toyomitsuhime figs are a licensed variety only approved for cultivation in Fukuoka, Japan. When in season, the figs are locally sold through fresh markets and select distributors in Fukuoka. The variety is also occasionally exported to Tokyo. The Toyomitsuhime figs featured in the photograph above were sourced through Ito Sai Sai Farmer's Market in Fukuoka, Japan.