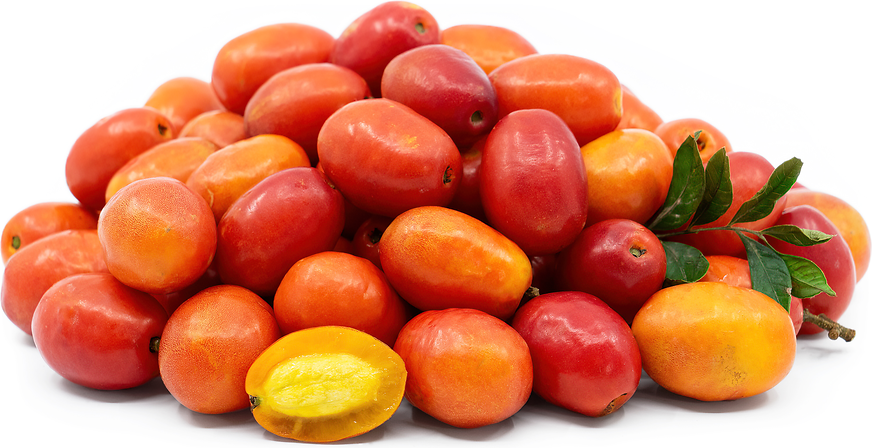 Ciruela
Inventory, lb : 0
This item was last sold on : 07/01/23
Description/Taste
Ciruela is a small fruit, averaging 2 to 5 centimeters in length, and has an elongated, obovoid, to oblong shape. The fruits have blunt, curved ends, and some varieties may also bear an irregular knob at one end. The skin is thin but tough, smooth, waxy, taut, and edible, allowing the fruits to be eaten out of hand. When young, Ciruela bears shades of green, and as it ripens, it transitions into yellow-green, yellow-red, to red, orange, yellow, and purple hues. Underneath the skin, the yellow pulp is firm, acidic, slightly fibrous, and sour when unripe, softening and developing an aqueous, creamy, pudding-like texture when ripe. The flesh also encases a large, inedible stone ranging from 1 to 1.8 centimeters in length, enveloped in a fibrous outer layer with 1 to 5 seeds inside. When selecting Ciruela, unripe fruits should feel firm but not overly hard to the touch, while ripe fruits will have some give when gently squeezed. Unripe Ciruela has a sour, sometimes sharp, vegetal, green taste. Ripe Ciruela develops a sweeter tropical flavor with mango, cashew fruit, and subtle citrus nuances.
Seasons/Availability
Ciruela is available year-round, with varying peak seasons in tropical regions worldwide.
Current Facts
Ciruela, botanically classified as Spondias purpurea, is a tropical species native to the Americas belonging to the Anacardiaceae or cashew family. The small fruits grow individually or in groupings of 2 to 3 fruits along the tree's stems, and the trees typically reach 3 to 10 meters in height, sometimes as high as 15 meters. The name Ciruela translates from Spanish to mean "plum," but it is important to note that this species is distinct from Prunus domestica, the fruits more commonly known as plums in North American and European consumer markets. Many varieties of Ciruela have been domesticated worldwide, and experts believe there are over 180 names for the fruits. The prominent alternate names include Jocote, Mombin, Hog's Plum, Spanish Plum, Makok, and Siniguelas. Ciruela is hand-harvested from trees to protect the thin skin from being damaged, and the fruits have been grown on a small scale for commercial cultivation to sell in fresh markets. Ciruela is also grown in home gardens and gathered in its unripe and ripe stages for fresh and cooked culinary preparations.
Nutritional Value
Ciruela is a source of vitamin A to maintain healthy organ functioning, calcium to build strong bones and teeth, and iron to develop the protein hemoglobin for oxygen transport through the bloodstream. The fruits also provide potassium to balance fluid levels within the body, phosphorus to assist in tissue repair, fiber to regulate the digestive tract, and other nutrients, including vitamins C and B. In Central America, Ciruela fruits and leaves are boiled in water, made into a paste, and applied topically to sores and wounds, used as a poultice for headaches, consumed as a natural laxative, or ingested to soothe sore throats.
Applications
Ciruela is edible unripe and ripe, and the fruits are suited for raw and cooked preparations. Unripe Ciruela fruits are green and have an astringent, vegetal, and sometimes sour taste. The fruits can be consumed out of hand, and some consumers choose to coat the fruits in lime juice, salt, vinegar, or sugar to help balance flavors. The fruits can also be chopped and pureed to make a green sauce for roasted meats, juiced and mixed with sweeteners as a refreshing beverage, stewed whole with sugar, or pickled for extended use. Ripe Ciruela fruits are popularly mashed and mixed with water and sweeteners to create refreshing beverages. The ripe fruits can also be consumed fresh, discarding the stone, and have a sweeter, tropical flavor. In Central America, ripe Ciruela fruits are commonly cooked into jams, jellies, and other thick spreads, or they are boiled in sugar to create a sweet syrup drizzled over ice cream and other desserts. They are also sold whole in plastic bags and are coated in toasted pumpkin seeds and red pepper sauce as a street snack. Try adding ripe, sliced Ciruela fruits over porridge, salads, or mixing fruit pieces into slaws. The fruits can also be fermented into wine and vinegar. Outside of the Americas, Ciruela is cooked into sinigang in the Philippines, a sour, savory, meat-filled soup. Unripe Ciruela fruits are also prepared in kinilaw, a raw dish comprised of seafood, vegetables, and fresh-squeezed, tangy fruit juices. Ciruela fruits pair well with spices such as cinnamon, cloves, tamarind, and chile peppers, brown sugar, panela, vanilla, and tropical fruits. Fresh, ripe Ciruela will generally keep for 3 to 5 days when stored in a plastic bag in the refrigerator's crisper drawer. Some fruits may store for as long as 14 days, depending on when they were harvested and the variety. Ciruela can also be boiled and dried for extended use.
Ethnic/Cultural Info
There are over fifty varieties of Ciruela found in Nicaragua, and the fruits are commonly sold at roadside stands and in fresh markets. The fruits often evoke fond memories for Nicaraguans, reminiscing when they would eat the bite-sized, juicy fruits on hot, humid days during childhood, and the ripe fruits are also traditionally used in a dessert served for Easter. Almibar is a Nicaraguan dish of fruits served in a sweet syrup, and the most common fruits used are Ciruelas, papayas, coconuts, and pineapples. Almibar is also known as curbasa, and spices such as cloves and cinnamon are used to enhance the sweet treat. During Holy Week, the week before Easter Sunday, almibar is customarily made in almost every household, and each family has their own recipe that they serve to friends and houseguests. Beyond culinary use, the wood from the species is used to make paper, and the trees are planted to define property lines and reduce soil erosion.
Geography/History
Ciruela is native to tropical regions of Southern Mexico, extending south through Central America into Northern Brazil. The species has been growing wild since ancient times, and the fruits and leaves have been used by Mesoamerican and Pre-Hispanic cultures for medicinal and culinary applications, and over time, many domesticated varieties of Ciruela were developed using natural selective breeding techniques. Spanish explorers introduced Ciruela to the Caribbean, the Philippines, and Africa, where it became a popular culinary ingredient for soups and beverages. Today, wild Ciruela populations are still found in Mexico and Central America, and the trees typically grow in thickets and forests. Local wildlife, including iguanas and monkeys, consume the fruits, and the species thrives in subhumid to tropical climates less than 2,000 meters in elevation. Domesticated Ciruela is planted in pastures, home gardens, public parks, and as a natural fence. In the 19th century, Ciruela was planted in the United States, but the species did not become widely cultivated. Only a small population is found in Southern Florida. Today Ciruela is grown on a small scale through select farms and home gardens and is also foraged from wild trees when in season. The fruits are sold through local farmer's markets and specialty grocers and are available in Central America, South America, Mexico, the United States, the Caribbean, Africa, and Southeast Asia.
Recipe Ideas
Recipes that include Ciruela. One

is easiest, three is harder.