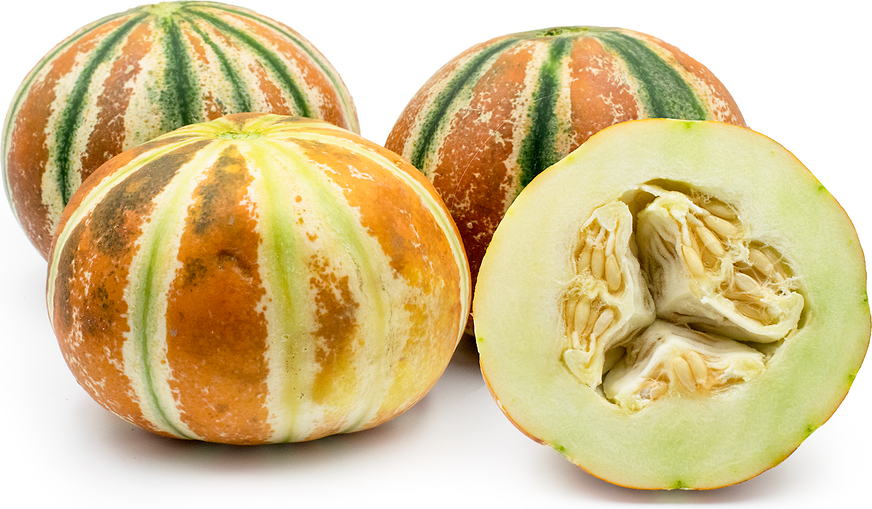 Kajari Melons
Inventory, lb : 0
Description/Taste

Kajari melons are a small varietal, averaging .9 to 1.4 kilograms in weight, and have a round to oblate appearance with smooth, curved edges. The melon's rind is semi-thin, taut, and hard, covered in unique striping. When young, Kajari melons will showcase green and ivory-hued broken striping. As it matures, the striping will change to a blend of green, ivory, and orange striping. Underneath the surface, the flesh ranges in color from pale green to light orange and is thick, dense, and aqueous with a tender, succulent consistency. The flesh also encases a central cavity filled with elongated, oval, cream-colored seeds suspended in a gelatinous liquid and stringy white fibers. Kajari melons release a strong, sweet fragrance filled with notes of honey and nectar. When ripe, the flesh has a sweet taste reminiscent of honeydew with mild, musky, and apple-like nuances.


Seasons/Availability

Kajari melons are available in the summer.


Current Facts

Kajari melons, botanically classified as Cucumis melo, are a rare variety belonging to the Cucurbitaceae family. The heirloom melon is an early-season cultivar from India that was introduced to the United States in the early 21st century. Kajari melons are grown as an ornamental and fresh eating variety and are generally harvested 60 to 70 days after sowing. The small melons grow on highly productive vines, with each plant developing up to nine melons per season, and the variety is favored for its disease resistance, easy-to-grow nature, unusual appearance, and sweet, mild flesh. Kajari melons are not commercially produced and are specialty melons only available in limited quantities through select farms. The variety is also grown in home gardens as an unusual heirloom cultivar.


Nutritional Value

Kajari melons have not been extensively studied for their nutritional properties. Like other melons, they are a source of vitamin C to strengthen the immune system, potassium to balance fluid levels within the body, and fiber to regulate the digestive tract. The melons also provide vitamin A to maintain healthy organ functioning, vitamin K to assist in faster wound healing, and other nutrients, including folate, iron, calcium, and B vitamins.


Applications

Kajari melons have a sweet, honeyed flavor suited for fresh preparations. The variety tastes similar to honeydew but sweeter and is primarily consumed straight out of hand. Kajari melons can also be sliced and tossed into salads, wrapped in cured meats, served on appetizer platters, or mixed into fruit and grain bowls. In addition to cutting the melons, Kajari melons can be halved and filled with cottage cheese as a breakfast dish, consumed with yogurt, or used as a fresh topping over pancakes and French toast. They can also be blended into smoothies, pressed into juice, or used to flavor cocktails. Kajari melons can be used in any recipe calling for fresh honeydew or cantaloupe. Kajari melons pair well with herbs such as mint, basil, or cilantro, fruits such as strawberries, coconut, and blueberries, vanilla, chocolate, and cheeses such as feta, ricotta, cottage, and burrata. The melons will continue to ripen after they are picked and can be stored on the counter at room temperature until they mature. Once ripe, whole, unwashed Kajari melons should be stored in the refrigerator. Sliced Kajari melons will keep 1 to 3 days when stored in a sealed container in the fridge.


Ethnic/Cultural Info

Joseph Simcox is a botanical explorer responsible for saving many rare varieties of fruits and vegetables. Ever since Simcox was young, he has been fascinated with seeds and plants. He even asked for a squash as his present on his seventh birthday. In his professional career as an ethnobotanist and ecologist, Simcox has traveled the world several times in search of unusual plant species. During his expeditions, Simcox identifies, documents, and preserves seeds for species that may be in danger of extinction. He also introduces some of these varieties to farmers and rare seed catalogs as a method to expand biodiversity. Simcox believes if more of the public is mesmerized by the diversity found in nature, they will become more involved in preserving and taking care of the world they live in. Since the early 21st century, Simcox has traveled with a team to over 100 countries and is partnering with organizations and people groups worldwide to build a connective network to study, save, and expand rare varieties.


Geography/History

Kajari melons are believed by experts to be native to the Punjab region in northern India. Much of the variety's history is unknown, but Kajari melons were introduced to the United States through botanical explorer and ecologist Joseph Simcox. The plant explorer heard about the rare variety and spent over eight years tracking the melons down in India. Simcox worked closely with a man in Delhi who referred him to a seed dealer. The dealer eventually gave him a small amount of Kajari melon seeds. The melon seeds were transported with Simcox back to the United States and were given to select growers. Over time, Kajari melons have expanded in production among specialty farms and home gardeners, protecting the variety from extinction. Kajari melons thrive in hot, sunny climates with slightly acidic soil. Today the melons are offered through online seed catalogs for home garden use and are grown as a novelty in gardens across America. Kajari melons are also specialty melons cultivated by select farms. The Kajari melons featured in the photograph above were sourced through Murray Family Farms in Bakersfield, California.