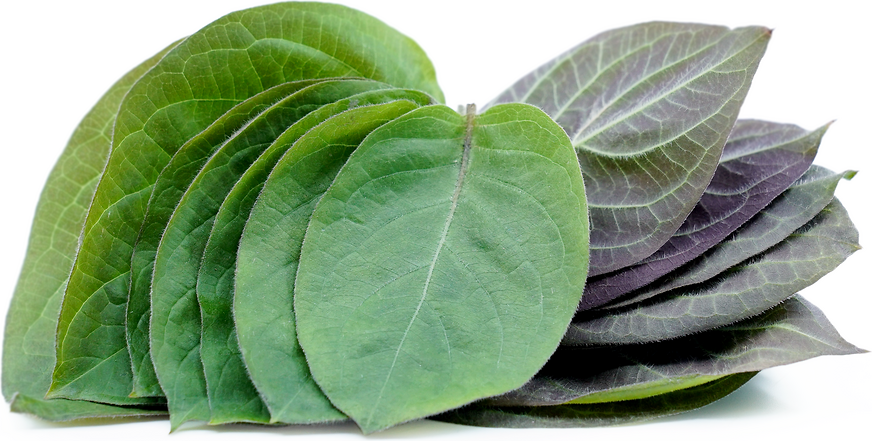 Cheese Leaf™
Inventory, 50 ct : 0
Description/Taste

Cheese Leaf™ is medium to large in size, measuring approximately 6 to 8 centimeters in length and 5 centimeters in width. The leaves are ovate to heart-shaped, tapering to a point opposite the stem end, and are deep green with an ashy to plum purple underside and prominent webbed veining. The leaves are succulent in nature and are covered in a thin fuzz, creating a velvety texture. Cheese leaf™ has a pungent musky and earthy scent that can seem sour on the nose and a rich, nutty, and earthy flavor with a fermented quality.


Seasons/Availability

Cheese Leaf™ is available year-round.


Current Facts

Cheese Leaf™ is a vining tropical and subtropical plant botanically classified as Paederia lanuginosa, a member of the Rubiaceae or coffee family. The plant is also known as plante fromage and skunk weed because of its pungent and sour aroma, as well as la mo long in Vietnam, where the plant is popular for both culinary and medicinal applications. The Paederia genus has about fifteen species of plants, all with the same olfactory qualities. Cheese Leaf™ is a part of a boutique line of specialty greens developed by Fresh Origins Farm in San Marcos, California. The plants are grown year-round and in-house in sprawling, sustainably-minded greenhouses. The leaves are designed to enhance the visual presentation of various dishes while also adding a rich earthy and nutty flavor and aroma reminiscent of aged cheese.


Nutritional Value

The nutritional composition of Cheese Leaf™ has not been thoroughly studied, but the leaves are used in Vietnam to treat a variety of ailments. The juice of the leaves is used to treat diarrhea in children, as well as other digestive and intestinal issues. The leaves have also been used to treat toothache, swelling, and bruising.


Applications

Cheese Leaf™ can be used in both raw and cooked applications such as stir-frying, sautéing, or boiling. They are used as wraps for rice, barbecued meats, sushi, and vegetables. The leaves can be pureed in pesto and other sauces to add a nutty flavor, similar to parmesan cheese, or floated atop soups, curries, and braised dishes. Cheese Leaf™ can be sliced raw and added to salads or cut and mixed into savory pancakes, bread, and stir-fries. They can be blended into salad dressings, marinades, and cream-based sauces or used as a decorative garnish on appetizer plates and charcuterie platters. They can also be deep-fried in batter consumed as a crunchy side dish. The flavor of Cheese Leaf™ pairs well with chili, garlic, soy sauce, tofu, grilled meats such as fish, chicken, and beef, citrus, plums, green tea, and soft cheeses. Cheese Leaf™ will keep for a couple of days when wrapped in a damp paper towel and stored in a plastic bag in the refrigerator.


Ethnic/Cultural Info

Paederia Lanuginosa is native to Vietnam, where it is known as la mo long and has been used for millennia for both medicinal and culinary purposes. The leaves are believed to aid in digestion and are often paired with rich meats to help relieve indigestion and gastrointestinal discomfort. The leaves can be found garnishing soups, rice dishes, and mixed with cooked vegetables or served with cooked or raw fish. Cheese Leaf™ is the ideal garnish for dishes that feature Vietnamese ingredients, adding visual and textural appeal as well as an intense aroma and bold flavor.


Geography/History

Paederia lanuginosa is a perennial plant native to Asia that grows mainly in Vietnam but can also be found throughout Southeast Asia, India, and China. The plant has been cultivated primarily as an ornamental and medicinal plant outside of Vietnam but has gained in popularity recently as chefs and food enthusiasts search for interesting ingredients. Cheese Leaf™ was developed at Fresh Origins, a farm in San Marcos, California, the leading producer of naturally grown microgreens since the mid-1990s. Fresh Origins also has the highest level of a third-party-audited food safety program and is a certified member of the California Leafy Greens Marketing Agreement, which follows science-based food safety practices to promote transparency and honesty in production. The temperate climate of southern California allows Fresh Origins to produce their high-quality greens year-round, supplying produce retailers and chefs directly throughout the United States and Canada.