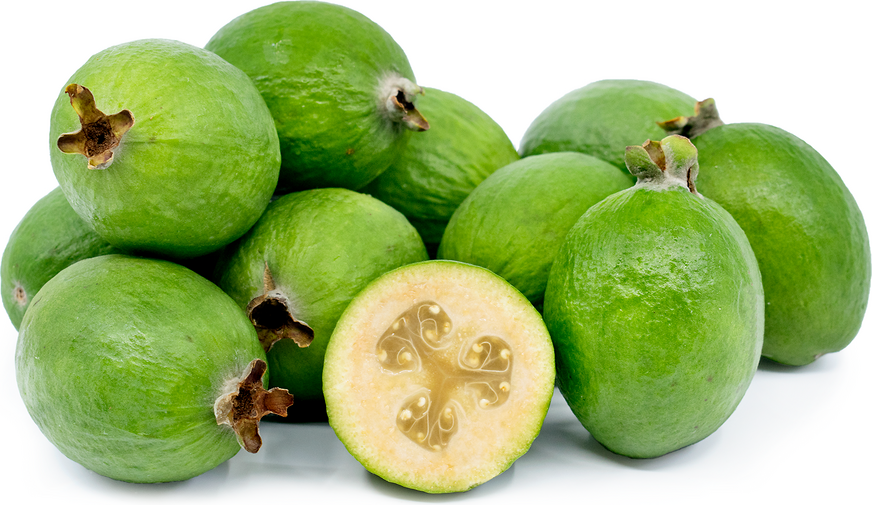 Feijoas
Inventory, 36 ct : 1.90
This item was last sold on : 10/28/23
Description/Taste
Feijoas are small in size, averaging 4 to 6 centimeters in length and 2 to 5 centimeters in diameter, and have an ellipsoidal to slightly pyriform shape. The fruit's skin is thin, waxy, and delicate, being easily bruised, and has a smooth, taut, and lightly ridged texture, weighing 80 to 120 grams. The skin also has a dull green to yellow-green coloring, sometimes blushed with red-orange patches, and is covered in a pale grey-white bloom. Underneath the skin, the white to opaque flesh is dense, tender, and aqueous with a granular, gritty consistency, similar to pears. The flesh also encases a central cavity of translucent, gelatinous pulp with 20 to 40 tiny edible seeds. Feijoas release a robust, perfumed aroma with floral, sweet, tropical, and bubblegum-like nuances. Ripe Feijoas are entirely edible and can be consumed raw or cooked. Select fruits that give slightly under pressure and have a strong aroma as a sign of maturity. Feijoas have a sweet-tart, tropical, and floral taste with nuances of strawberries, pineapples, quince, and apples with eucalyptus and mint undertones.
Seasons/Availability
Feijoas are available in the late summer through fall.
Current Facts
Feijoas, botanically classified as Acca sellowiana, are aromatic fruits belonging to the Myrtaceae family. The species is native to South America and has been spread throughout history as an ornamental and home garden plant in subtropical climates worldwide. Feijoas are also known as Pineapple Guavas, Guavasteen, Brazilian guavas, Fig guavas, and Guayabo Del Pais. Despite their name, Feijoas are not true guavas but belong to the same botanical family, consumed in similar preparations to standard tropical guavas. Feijoa is a general descriptor for multiple varieties within the species, and the fruits are commercially cultivated on a small scale. The fruits appear on the plants approximately 5 to 6 months after blooming and grow on evergreen shrubs reaching 3 to 6 meters in height. The name Feijoa was given to the species by German botanist Ernst Berger who named the fruits after Portuguese naturalist João da Silva Feijó. In the modern day, Feijoas are primarily a home garden species favored for their disease resistance, ornamental nature, and ability to be grown in containers and small spaces. The fruits are consumed fresh and cooked and are used in culinary dishes and mixology.
Nutritional Value
Feijoas are a source of fiber to regulate the digestive tract, vitamin C to strengthen the immune system while reducing inflammation, vitamin A to maintain healthy organ functioning, calcium to build strong bones and teeth, and magnesium to control blood pressure. The fruits also provide potassium to balance fluid levels within the body, vitamin E to protect the cells against the damage caused by free radicals, copper to develop connective tissues, and other nutrients, including B vitamins, manganese, vitamin K, and folate. The fruit's aromatic scent stems from methyl benzoate, ethyl benzoate, and other compounds and volatile oils. These oils give the fruits their eucalyptus and berry-like nuances. In South America, Feijoas are sometimes used as a digestive aid, and parts of the plant are steeped into a medicinal tea.
Applications
Feijoas have a tropical, fruity, and floral taste suited for fresh and cooked preparations. The small fruits can be eaten straight out of hand and have a semi-firm to soft consistency, depending on maturity, and a slightly gritty texture. Feijoas are popularly consumed raw and can be eaten with or without the skin, as the skin can sometimes carry a bitter taste. Raw Feijoas can also be sliced and tossed into salads, chopped into salsa, and mixed into fruit bowls. When incorporating Feijoas into fresh preparations, it is recommended to soak the flesh in salt water or lemon juice to prevent the flesh from oxidizing. In addition to raw preparations, Feijoas can be cooked into sauces for roasted meats, pickled for extended use, or fried into fritters. The fruits can also be used as a filling in pastry fillings, jams, jellies, and chutney or baked into cakes, muffins, tarts, pies, and bars. Try adding Feijoas into custards, puddings, and panna cotta for a distinct flavor addition or blending and freezing into sorbets, ice cream, or gelatos. Beyond culinary dishes, Feijoas can be mixed into smoothies, muddled into cocktails, or milkshakes. Beyond the fruits, the seasonal flowers are edible and have a fruity, tangy, and subtly minty taste. The petals can be plucked and tossed into salads, sprinkled over grain bowls, porridges, or soups, or used as a decorative garnish for cocktails, iced teas, and smoothies. Feijoa flowers are also edible and appear in pink, white, red, and yellow hues. Each flower has four fleshy oval petals with a floral, subtly minty, and musky taste. The flowers can be used as an edible decoration or plucked and tossed into salads. Feijoas pair well with nuts such as almonds, walnuts, and hazelnuts, fruits including papaya, pears, strawberries, pineapple, and citrus, cheeses such as aged cheddar, feta, and brie, spices including cinnamon, ginger, cumin, and nutmeg, honey, and meats such as pork, duck, and poultry. Whole, unwashed Feijoas should be left to ripen at room temperature and will last 3 to 7 days. Once ripe, the fruits can be stored in the refrigerator and consumed within 5 to 7 days. Feijoas can also be peeled, blended into a puree, and frozen in the freezer for extended use.
Ethnic/Cultural Info
Feijoas have been adopted into the lifeblood of New Zealand. Despite the fruits not being native to the country and having been introduced relatively late in history in the 20th century, Feijoas have become widespread in home gardens and landscapes. Feijoas are often referred to as a fruit representative of New Zealand and became successful in the country due to what they often symbolize. Feijoas come into season for a few weeks, and during this time, the plants produce an overabundance of fruits. This abundance leads growers to freely share their crops with friends, family, and food charity organizations, connecting Feijoas with the idea of joy, compassion, and selflessness. The fruit's fragrance also invokes nostalgia for summer days and picking the fruits as children. New Zealand is one of the largest commercial producers of Feijoas, developing more than 800 tonnes, and breeders within the country have created over twenty new varieties of the fruits for improved cultivation. As a part of the blossoming Feijoa industry, a Feijoa Festival was established in Auckland, New Zealand, in the early 21st century to promote the fruits. The festival is traditionally held at the end of March and is a one-day event where Feijoa enthusiasts share their favorite recipes, sample curated dishes, and enjoy live entertainment. The festival also features products from local companies that incorporate Feijoas into wine and spirits, a favorite use of the fruits in New Zealand.
Geography/History
Feijoas are native to South America, specifically regions of Brazil, Paraguay, Uruguay, and Argentina, and have been growing wild since ancient times. According to some experts, an archaeological site in Santa Catarina, Brazil, is thought to have been the place where the Southern Je peoples resided and where Feijoas were first consumed. Over time, the fruits were naturally spread throughout South America through animals and migrating peoples. In 1815, German naturalist Fredrich Sellow was one of the first European scientists to collect the fruits in Brazil and Uruguay. In the mid to late 19th century, botanist M. de Wette in Switzerland acquired the fruit and began growing the species in Europe. In 1890, horticulturist Dr. Edouard Andre planted Feijoas on the French Riviera. Dr. Andre sourced the plants from La Plata, Brazil, and grew the trees in his garden, first bearing fruit in 1897. Nurserymen later purchased plant seedlings in the 1890s, leading Feijoas to be sown across the Riviera in Spain, France, and Italy. Later in 1901, Dr. F. Franceschi of Santa Barbara, California, acquired seedlings from Dr. Andre's plants and planted the trees throughout California. He also gathered more varieties from other French growers, which can be seen throughout the state. Feijoa seedlings were sent from California to Florida around 1903. Feijoas were also introduced to New Zealand in the early 20th century. The exact history of the species' introduction is unknown, but the two leading theories are that the fruits were imported into New Zealand from Australia in 1908 or that the fruits were acquired and grown by Alexander Allison of Whanganui. After being planted in New Zealand, Feijoas spread across the country and became a popular home garden plant and protective windbreak in orchards. Today Feijoas thrive in subtropical climates worldwide and are grown in various quantities in New Zealand, Australia, Africa, Asia, Europe, the United States, the Caribbean, and Central and South America. New Zealand is one of the top commercial producers of Feijoas and exports the fruits to Malaysia, Singapore, Japan, and Australia.
Recipe Ideas
Recipes that include Feijoas. One

is easiest, three is harder.