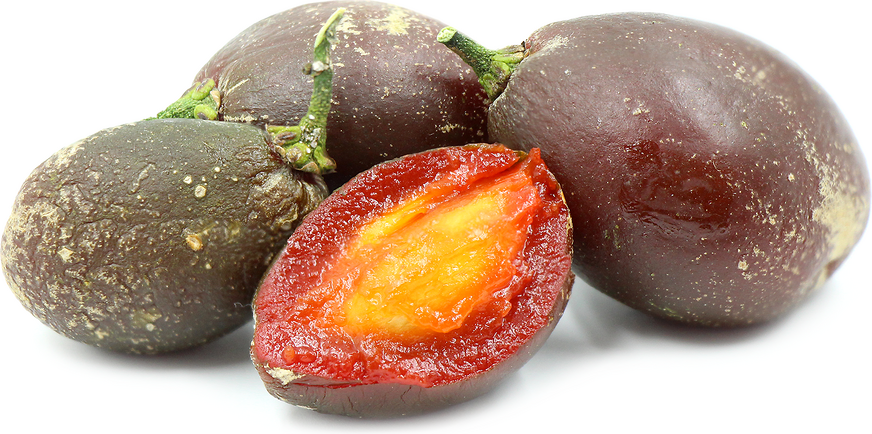 Peanut Butter Fruit
Inventory, bskt : 0
Description/Taste

Peanut Butter fruits are petite and oblong, about the size and shape of a large olive. Its skin is thin and turns from orange to deep red when fully ripe. The internal pulp of the Peanut Butter fruit is very thick and slightly sticky similar to that of soft persimmon and surrounds a large central seed. The fruit offers an aroma reminiscent of peanut butter and a sweet flavor which has been compared to that of sweet potato and dried fig. Once ripe, Peanut Butter fruits must be harvested immediately to prevent them from spoiling on the tree. Due to the delicate nature of the fruit, they are not suitable for shipping.


Seasons/Availability

Peanut Butter fruit is available in the summer and fall.


Current Facts

Peanut Butter fruit, botanically known as Bunchosia argentea or Bunchosia armeniaca, is a tropical fruit tree and a member of the Malpighiaceae family. Also known as Bunchosia fruit tree, the Peanut Butter fruit tree is grown as an ornamental for its vibrant yellow blooms and red fruit which it produces simultaneously. The Peanut Butter tree is also grown for its edible fruit though it has never experienced commercial success due to the delicate and perishable nature of the fruit.


Nutritional Value

In 2013 the Peanut Butter fruit was the focus of a study in Brazil to determine the fruit's antioxidant potential. Studies proved the fruit to be an excellent source of carotenoids, specifically lycopene offering nearly ten times that found in tomatoes.


Applications

Both the skin and pulp of the Peanut Butter fruit are edible and popularly eaten fresh as is, enjoyed for the fruit's unique peanut aroma and sweet flavor. The pulp can be combined with milk and made into a milkshake, or it can be added to cakes and pastries. The fruit is also popularly made into preserves such as jams and jellies. Once ripe, Peanut Butter fruit will have a short shelf life and should be refrigerated and used within a few days or it can be separated from its seed and frozen.


Ethnic/Cultural Info

Peanut Butter fruit has long been cultivated in Brazil where it is also known as cafezinho, caferana, ciruela, ameixa-do-pará, caramela, and ameixabrava. A Brazilian study recently revealed Peanut Butter fruit to be an incredible source of Lycopene, a carotenoid which has been shown to have high concentrations in prostate tissue. Considering prostate cancer is the second most common cancer among Brazilian men there is great hope in the medical community there that this unique fruit may be able to help reduce the risk of prostate cancer in Brazilian men.


Geography/History

Peanut Butter fruit is native to the South American Andes region where it is still predominately grown today. Additionally, it is grown by rare fruit enthusiasts in Australia as well as in the United States in Florida, California, and Hawaii. Trees prefer warm weather, and full sun exposure though can tolerate partially shaded conditions. When grown in warm climates Peanut Butter fruit trees will consistently set fruit with each flower stem producing two fruits.