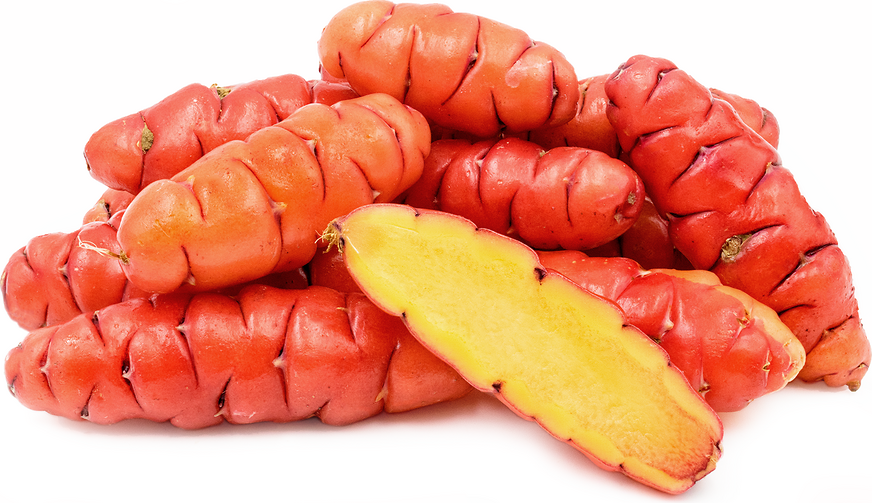 Cherry Red Oca
Inventory, lb : 0
This item was last sold on : 05/03/23
Description/Taste
Cherry Red oca is small in size, averaging 2 to 15 centimeters in length, and has a cylindrical appearance similar to that of a wrinkled fingerling potato. The tuber's skin showcases fiery shades of red and orange and has a waxy, smooth, firm, and semi-glossy nature. The surface is also covered in fragmented lines or indentations, giving the tubers a slightly textured, bumpy feel. Underneath the surface, the golden yellow flesh is dense, dry, and crisp with a snap-like consistency. Once the tubers are cooked, they soften in texture and retain a tender, starchy nature. Cherry Red oca has a sweet, sour, acidic, and subtly tart taste with a mild, nutty nuance. Along with the tubers, Cherry Red oca leaves can be harvested and consumed similarly to sorrel. The clover-like leaves have a vegetal, green, and sour taste with lemon-like nuances.
Seasons/Availability
Cherry Red oca is available year-round, with a peak season in the fall and spring.
Current Facts
Cherry Red oca, botanically classified as Oxalis tuberosa, is a New Zealand oca variety belonging to the Oxalidaceae or wood sorrel family. The late-season tubers grow underground beneath a perennial, upright-branching plant with clover-like leaves. The plants typically reach 20 to 30 centimeters in height and also have a sprawling nature. Oca is a traditional tuber of the Andean region of South America, known as Oqa and Uqa, and is widely consumed in its ancestral home as a filling, nutritious ingredient in culinary preparations. Outside of South America, New Zealand is the only country to commercially produce the tubers, sometimes referred to as Yams and New Zealand Yams. Cherry Red oca is a specialty variety favored for its easy-to-grow nature, bright coloring, high yields, and large size. Each plant produces up to 41 tubers, are the variety is valued by oca enthusiasts, planted in home gardens or specialty farms, and sold as a culinary ingredient for fresh and cooked preparations.
Nutritional Value
Cherry Red oca is a source of fiber to regulate the digestive tract, vitamin C to strengthen the immune system while reducing inflammation, and iron to develop the protein hemoglobin for oxygen transport through the bloodstream. The tubers also provide calcium to build strong bones and teeth, potassium to balance fluid levels within the body, phosphorus to produce genetic material such as DNA and RNA, and other nutrients, including vitamin A, riboflavin, niacin, zinc, and amino acids.
Applications
Cherry Red oca has a mild, starchy, and subtly tart taste suited for fresh and cooked preparations. The tubers can be eaten raw, often sprinkled with pepper, lemon, and salt, and do not need to be peeled, but some consumers may peel the skin to reduce bitterness. Cherry Red oca can also be grated into slaws, chopped into salsas, sliced into sandwiches, or mixed into salads. In addition to raw dishes, Cherry Red oca is popularly cooked, and oca, in general, is nicknamed "potatoes that don't need sour cream." The tubers develop a soft, subtly crisp consistency and can be treated similarly to potatoes, steamed, boiled, baked, and roasted. It is important to note that Cherry Red oca will lose its red coloring when cooked and transition into a muted yellow-orange hue. Cherry Red oca can be steamed and wrapped in bacon, simmered into soups and stews, roasted and added to warm and cold salads, or used as a topping for flatbreads and pizza. The tubers can also be cooked and served with butter and salt as a mash. When fried, Cherry Red oca makes excellent chips or fries. The high dry matter content of oca also allows them a viable source for making starches or alcohol. While less common, oca can be incorporated into sweet preparations and are cooked into marmalades, jams, and puddings. The plant's leaves can also be consumed, mainly in salads, and taste similar to sorrel. Cherry Red oca pairs well with aromatics such as onions, garlic, and capers, spices including cumin, tarragon, and thyme, white wine vinegar, corn, other root vegetables, and meats such as beef, pork, and poultry. Whole, unwashed Cherry Red oca will keep for a few weeks when stored in the crisper drawer of the refrigerator or in a cool and dark location with air circulation.
Ethnic/Cultural Info
Oca is a treasured, seasonal crop in Cusco, Peru. The tubers are traditionally sold through street and fresh market vendors throughout the city, and when oca is in season, cries of food vendors ring out through the streets, translating to "Buy from me! Fresh oca hot from the oven, buy it hot!" Oca is also cooked and served with baked mashua, banana, or sweet potato as a popular street food. The tubers have been cultivated since before the Incas in Cusco, and farmers tenderly dig out each tuber by hand to protect their delicate nature during the harvest. Oca is only available for a limited season, and it is often said harvesting oca tubers is similar to uncovering colorful gems that are so vibrant it's as if they were "born into the air." The tubers are also left to "sunbathe," an affectionate local nickname given to the process of leaving the tubers out in the sun to reduce the bitter flavors found in some varieties. Throughout history, oca has been relatively unknown outside of South America, but within Cusco, it is an anticipated season favored for its diversity, nutritional elements, and ease of preparation. Cusco is also home to the Coleccion de Ocas, a collection of over 400 different types of oca, acting as a site to protect, study, and preserve oca diversity.
Geography/History
Cherry Red oca is a variety developed in New Zealand from oca cultivars introduced from South America in the 19th century. Much of the variety's history is unknown, but experts believe it may be related to or derived from Sunset oca, a well-known heirloom variety among oca enthusiasts. New Zealand Oca varieties are descendants of tubers first discovered and domesticated in South America. Oca is an ancient crop that has been growing wild for thousands of years in the Andean region from Venezuela to Argentina. Remnants of tubers have been found in tombs along the northwestern South American coastline, and the tubers have been featured on ceramics that pre-date the arrival of the Spanish and Portuguese in the late 15th century. Oca was also revered by the Incas and was used as a nutritious food source, and over time, the tubers were domesticated. In South America, the area with the most Oca diversity is thought to be central Peru and northern Bolivia. Later in the mid to late 18th century, Oca was introduced to Mexico and was carried to Europe and the United States in the early to mid-19th century, where it was planted in France. Oca experienced a small degree of popularity in Europe, but in New Zealand, the tubers would achieve the most commercial success outside of South America. Oca was brought to New Zealand in the late 19th century and became a commercially cultivated crop in the late 20th century. Today New Zealand is one of the only regions outside of South America to breed, cultivate, and promote oca as a viable commercial crop. Cherry Red oca was a variety developed in New Zealand, and the cultivar was introduced as a specialty home garden plant in the United States. When in season, Cherry Red oca is mostly grown in New Zealand, but the specific variety is also found in the United States and rarely in Australia and Europe.
Recipe Ideas
Recipes that include Cherry Red Oca. One

is easiest, three is harder.