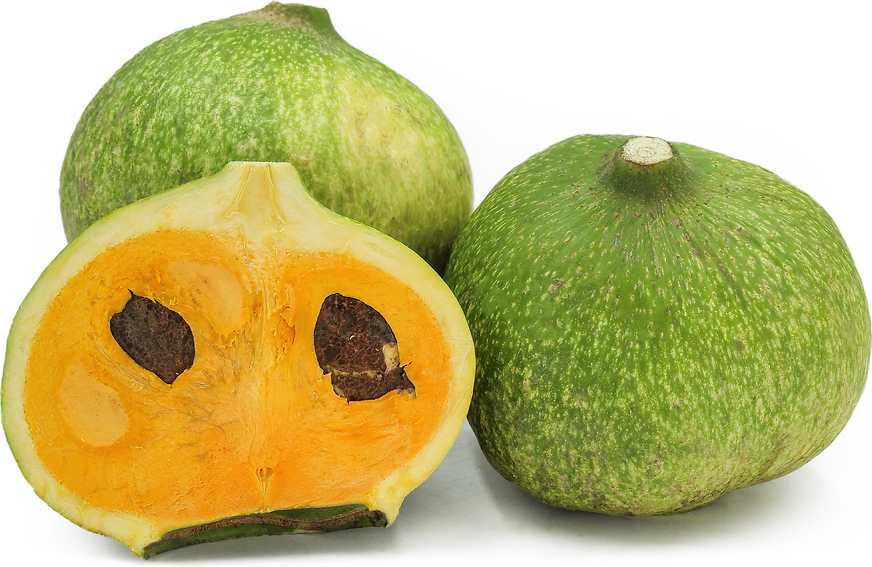 Paco Fruit
Inventory, ea : 0
Description/Taste

Paco fruits are medium to large in size, averaging 9 to 10 centimeters in diameter, but the fruits can sometimes expand up to 25 centimeters in diameter, depending on growing conditions. The fruits have a round, elliptical, to somewhat flattened, squat shape and have a broad base tapering to a slightly pointed top. The skin is hard, semi-smooth, and thick, showcasing variegated hues of yellow and green, becoming more yellow with maturity. The surface is also covered in speckled yellow flecks and shallow vertical depressions that extend the length of the fruit. Underneath the skin, the bright orange flesh is solid, firm, and oily, encasing a few to many dark brown, irregularly shaped seeds. When cooked, the flesh softens into a texture reminiscent of squash but with a denser nature. Paco fruits can be consumed raw or cooked, discarding the skin, and have a bittersweet, vegetal taste.


Seasons/Availability

Paco fruit is available year-round, with a peak season in January.


Current Facts

Paco, botanically classified as Gustavia superba, is a rare species belonging to the Lecythidaceae family. The fruits grow from the trunks of evergreen trees reaching up to 10 meters in height and are primarily a wild fruit gathered from forests and woodlands. Historically, Paco has been a traditional fruit of communities throughout Colombia and other regions of Central and South America and was used as a food source. Paco fruits and the species as a whole is known by several other names, including Pungol, Quince, Chupo, Bolero, Canutillo, Membrillo, Sachamango, Heaven Lotus, Membrillo Hembra, Bolero, and Tupu. Despite its presence in home gardens and community landscapes, Paco has been overshadowed by the introduction of other commercial crops over time, especially the potato. The tradition of cultivating the fruits has also been lost between generations, leading Paco to become a rare, disappearing species in the present day.


Nutritional Value

Paco has not been extensively studied for its nutritional properties. The fruits are said to be a source of vitamin C to strengthen the immune system while reducing inflammation, phosphorus to produce genetic material such as DNA and RNA, and other nutrients, including beta-carotene, carotenoids, B vitamins, and fatty acids. Beyond the fruits, the leaves and bark from the tree are used in natural medicines to reduce pain. Legend has it that in 1533 in the battle of Turbaco, Colombia, soldiers wounded by poison arrows were saved from death by drinking a tea that included Paco leaves.


Applications

Paco has a bittersweet flavor suited for fresh and cooked preparations. It is customary to always peel the fruits before eating, and the flesh can be eaten raw, but it is mostly preferred in its cooked state. Raw Paco can be lightly shaved into salads, chopped into grain bowls, or shredded as an edible decoration or garnish. The flesh can also be cooked, softening in texture and developing a sweeter flavor. Cooked Paco is customarily added to soups and stews, mixed into rice, folded into arepas, or added to sandwiches and wraps. The flesh can also be prepared with fish and vegetables, used as a filling in tortillas, or served with plantains as tapas. In Colombia, Paco is commonly simmered in sancocho, a soup comprised of cheese and dried meats. The fruits are also cooked and combined with rice, nicknamed "poor man's meat." In addition to savory dishes, Paco fruits can be incorporated into syrups, blended into juices, frozen into sorbet, or added to other desserts. Paco pairs well with corn, rice, aromatics such as onions, garlic, and shallots, plantains, salty cheeses, and roasted meats such as beef, pork, or poultry. Whole, unopened Paco should be immediately consumed for the best quality and flavor and will keep for a few days when stored in the fridge.


Ethnic/Cultural Info

Paco is a traditional fruit of the Quibdó region within the Chocó province of western Colombia. Quibdó is also the name of the region's capital city and is considered one of Colombia's most isolated cities. Within the city, Paco is a heritage fruit celebrated during the festival of San Pacho, an annual event recognized by UNESCO as an experience of Intangible Cultural Heritage. The festival in Quibdó honors Saint Francis of Assisi, known as San Pacho in Colombia, and for several weeks in September or October, the city is filled with traditional foods, live entertainment, cultural practices, and religious offerings. During the celebration, communities within the region wear clothing unique to their neighborhood, showcasing their colorful outfits in a parade. Various fruits and vegetables are also incorporated into desserts and fresh juices, including Paco, to celebrate local diversity and the crop's importance throughout the region's history.


Geography/History

Paco fruit is native to Central and South America, extending from Costa Rica to Panama, Venezuela, Colombia, and Ecuador. The species thrives in coastal habitats, humid forests, woodlands, swamps, to lowland tropical regions and typically grows between 600 to 1,000 meters in elevation. Paco fruit has been growing wild since ancient times and has remained a foraged crop. The fruits are not commercially cultivated and are primarily planted in home gardens, parks, or beside villages as an ornamental tree. In Colombia, Paco fruit is viewed as a wild crop and was historically used as an alternative food source. The fruits are also a natural food for native animals such as monkeys and rodents. Over time, the species has faded from popularity as other fruits and vegetables have been introduced from global markets and is localized to its native growing regions. Today Paco fruit is rare and found throughout fresh markets in Central and South America. In Colombia, Paco fruit is grown in the departments of Santander, Atlántico, Chocó, and Antioquia. Outside of the Americas, there are a few trees planted in botanical gardens in Singapore and Australia, but these trees are grown as an ornamental and not for the fruits.