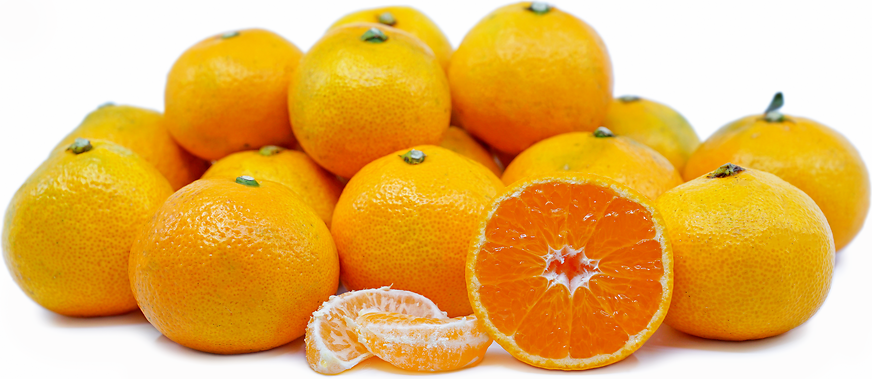 Jeju Mandarins
Inventory, lb : 0
Description/Taste
Jeju mandarins are a small varietal with a round to oblate, slightly flattened appearance. The mandarin's peel is smooth, glossy, thin, and bright yellow-orange, covered in sunken oil glands creating a textured, pebbled surface. The peel is easy to remove, revealing dark orange flesh, divided into 10 to 11 segments by thin white membranes. The flesh is tender, aqueous, pulpy, and seedless with a soft, chewy consistency. Jeju mandarins should feel heavy for their size and have a gentle give when squeezed, but the surface should not be wrinkled. The fruits will also emit a bright, pleasant, and fresh aroma when rubbed, scratched, or peeled. Jeju mandarins contain low acidity and high sugar, creating a sweet, subtly tart, and tangy flavor.
Seasons/Availability
Jeju mandarins are available in the fall through winter in South Korea.
Current Facts
Jeju mandarins, botanically classified as Citrus reticulata, are sweet-tart fruits belonging to the Rutaceae family. The mandarins are exclusively grown on Jeju, an island off the coast of South Korea, and are considered the most popular citrus cultivated and sold throughout South Korea. Jeju mandarin production boomed on Jeju island in the early 20th century, and the fruits are highly favored for their rich flavor, brightly colored appearance, and aromatic nature, created from the island's unique terroir. Approximately 95% of the citrus sold throughout Korea is grown on Jeju island, and there are over 40 different varieties cultivated in home gardens and commercial orchards. The name Jeju mandarin is also used for several types of mandarins grown on the island, including Gyul, Hallabong, Hwanggeumhyang, Redeuhyang, and Cheonhyehyang. In the modern-day, Jeju mandarins are mainly consumed fresh, out of hand, but the easy-to-peel fruits are also incorporated into beverages, desserts, and candies as a specialty flavoring.
Nutritional Value
Jeju mandarins are an excellent source of vitamin C to strengthen the immune system while reducing inflammation and provide vitamin A to maintain healthy organ functioning. The fruits also contain potassium to balance fluid levels within the body, calcium and phosphorus to protect bones and teeth, and other nutrients, including zinc, manganese, folate, and B vitamins.
Applications
Jeju mandarins have a sweet, subtly tart flavor well suited for fresh and cooked preparations. The mandarins are easy to peel and can be consumed straight, out of hand, or they can be segmented and displayed on cheese boards. Jeju mandarins can also be tossed into green salads, mixed into fruit bowls, segmented and dipped into chocolate, or used as a decorative, edible garnish over cakes and ice cream. In addition to consuming the fruits in segments, Jeju mandarins can be juiced and used to flavor dressings, vinegar, oils, and sauces. The mandarins also provide bright and zesty flavors to chocolate, cakes, muffins, bars, scones, and other desserts. In Korea, Jeju mandarins are dried and layered over ghang-jeong rice cookies, zested over rice cakes, or flavored in baked goods. It is common to see tangerine and mandarin-centric stores in Jeju that serve citrus-flavored soba noodle dishes, tangerine-flavored slushies, mandarin-flavored cakes, and various desserts zested with candied citrus peels. Jeju mandarins can also be blended into lemonades, cocktails, fruit drinks, and sparkling beverages, or the peel can be dried and as a flavoring in soups, decoration on desserts, or garnish for drinks. Jeju mandarins pair well with herbs such as thyme, rosemary, mint, and basil, vanilla, chocolate, fruits including bananas, strawberries, cherries, and pineapple, and spices such as ginger, cinnamon, star anise, and cardamom. Whole, unwashed Jeju mandarins will keep for two weeks when stored in the refrigerator.
Ethnic/Cultural Info
Jeju island is known for its unique terrain and favorable climate, earning itself the nickname "mandarin paradise." Hallasan, a 1,950-meter-tall volcano, is the central feature of the 73-kilometer-wide island, contributing a rich volcanic soil that is critical for giving the mandarins their sweet flavor. The island is also the warmest region of South Korea, sometimes referred to as "Korea's Hawaii," and has a tropical, oceanic climate with ample sunshine. Since Jeju island became the center for citrus production in the 20th century, the island has established a reputation as a food and vacation destination among South Koreans. Many of the citrus farms host u-pick mandarin opportunities when the fruits are in season, and visitors can harvest their own mandarins while sampling the fruits straight from the tree. The farms also sell homemade marmalades, juices, jams, and dried goods as mandarin-centric souvenirs. Beyond the farms, Jeju island has an entire museum dedicated to the history of mandarin production. The museum chronicles the island's journey to becoming a citrus mecca and also maintains a comprehensive list of the available varieties on the island.
Geography/History
Jeju mandarins are exclusively cultivated on Jeju Island, the largest island in South Korea located in the Korea Strait below the Korean Peninsula. Citrus has been grown on the island since ancient times, and some of the earliest records can be traced back to 1052 CE in Koryosa, a text from the Goryeo Kingdom. These records mentioned that tangerines were a specialty fruit offered as a gift to the king and that orchards were planted solely for the king's consumption. For many years, tangerines and other citrus varieties were reserved for the royal family, eventually becoming a medicinal ingredient and offering in religious ceremonies. Citrus production was initially difficult on Jeju island in the early ages, but over time, the soil became rich with volcanic nutrients, providing an ideal climate for citrus growth. In the early 20th century, mandarins were planted on Jeju island through a French Catholic priest Esmile J. Touge. Fifteen mandarin trees were imported from Japan and planted in an orchard on the island in 1911, and it is rumored that one of these trees is still alive in the present day. Once the mandarin trees were established, the Japanese fruits were cross-pollinated with the native island citrus, producing several mandarins with a pleasing, sweet-tart flavor. The new mandarins were quickly recognized for their improved flavor, appearance, and texture, launching Jeju island as a top citrus-producing region. Jeju mandarins were commercially cultivated in the 1960s and were sold across Korea, highly favored for their flavor and easy to peel nature. In 2003, approximately 47% of the island's income came from growing and selling Jeju mandarins. Today Jeju mandarins are one of the most popular types of citruses grown in South Korea and are exported on a limited scale to other parts of Asia, Europe, and the United States.
Recipe Ideas
Recipes that include Jeju Mandarins. One

is easiest, three is harder.