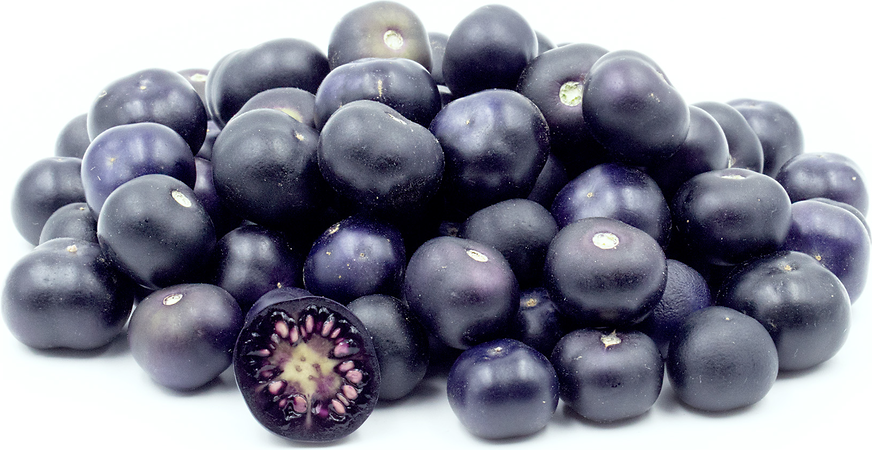 Jaltomato Berries
Inventory, bskt : 0
Description/Taste

Jaltomato berries grow on medium-statured, green leafy shrubs like those of an eggplant. The small fruits begin green with some striations and then mature to a dark purple or almost black. They are about the size of a blueberry, around 1 and a half centimeters in diameter. The skin is thick and the fleshy pulp within is translucent to white. Clustered around the center of the fruit (around a 'placenta') are small, one-millimeter long seeds. Jaltomato berries have a strong aroma, reminiscent of grapes. The flavor is described as a mix between that of a grape and a tomato, with a sweet and a tart taste.


Seasons/Availability

Jaltomato berries are available in the late summer and fall months.


Current Facts

Jaltomato berries (pronounced yall-to-MA-te) are members of the nightshade family, related to tomatoes and eggplant. Botanically classified as Jaltomata procumbens, these small dark fruits are not not tomatoes and nor are they true berries. Jaltomato berries are relatively rare in the United States; however, they have been found in Arizona and are grown and studied by the biology department of Central Connecticut State University. The plant is sometimes referred to as Creeping False Holly, Garden Huckleberry, or Black Nightshade. It is sometimes confused with another small black tomato-like fruit, also called garden huckleberry, but a different genus and species, Solanum nigrum, Jaltomatoes are safe to eat when fully ripe. Unripe, green Jaltomato berries contain the toxic alkaloid, solanum.


Nutritional Value

Jaltomato berries are a good source of fiber, protein, and carbohydrates. They also contain copper, iron and zinc. The small, dark fruits contain pectin, which is desirable when making jams and jellies.


Applications

Jaltomato berries can be eaten fresh, raw, or cooked. The small fruits are most often used to make jams and jellies. They can be baked into pies, tarts or crumbles along with other fruits like apples or peaches. Jaltomato berries can be dried to preserve, or freeze fresh Jaltomatoes for up to 3 months. Store unwashed Jaltomato fruit in the refrigerator for up to a week.


Ethnic/Cultural Info

Jaltomato berries were used by the Tarahumara peoples in northwestern Mexico and by the Kamsa peoples of Colombia for medicinal purposes. All parts of the plant are used for medicinal purposes, but they must not be ingested due to the presence of the toxic alkaloid solanum. Aside from the fruits, the roots of the Jaltomato plant grow large within the span of a season and are said to be eaten raw or boiled, often prepared with radishes.


Geography/History

Jaltomato berries are native to Mexico and Central America. They are considered a tropical perennial fruit, but can easily adapt to climates where the weather doesn't get too cold and will grow as an annual. The dark fruits can be found growing from Arizona in the United States to Colombia and Ecuador in South America. The common name for this species comes from the Nahuatl words "xalli" and "tomatl" which translates to "sand tomato". The people in various Mexican states still refer to the fruit as Xaltotomatl. The word has the same pronunciation as the English version. Jatomatl plants were originally classified under the species name Saracha in 1799 by botanists studying the flora of Peru and Chile. Confusion regarding the nomenclature arose when botanists in other countries demonstrated greater variability among species. The genus was officially recognized and restored to Jaltomata in 1973; however, it is still listed under Saracha procumbens in some South and Central American literature. Jaltomato berries are often cultivated for private use or gathered in the wild. Cultivation methods require hand harvesting which is very labor-intense. They are rarely seen in stores, though they may be spotted at farmer's markets as a specialty item from small farms.