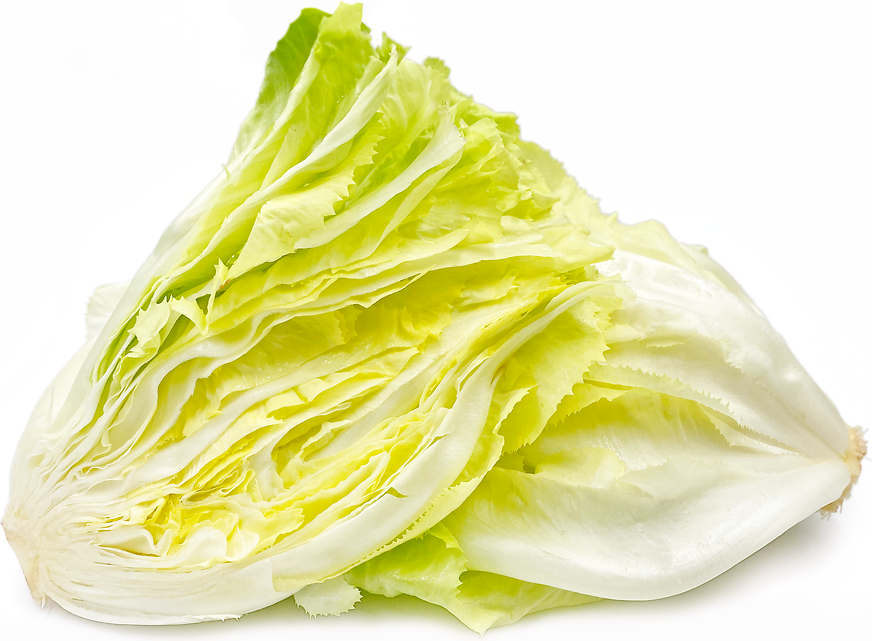 Bleached Escarole
Inventory, bunch : 0
Description/Taste

Bleached Escarole varies in size, depending on the variety and growing conditions, but generally grows in a loose rosette of layered, broad leaves. The pale green leaves have a straight shape with slightly wavy, jagged edges, and the white, central midrib is crunchy, aqueous, and firm. Bleached Escarole, when raw, is crisp with a mildly bitter, vegetal, and subtly sweet flavor. The leaves can also be cooked, which mellows the bitter taste and softens the firm, crunchy texture.


Seasons/Availability

Bleached Escarole is available year-round, with a peak season in the fall through spring.


Current Facts

Bleached Escarole, botanically classified as Cichorium endivia, is a specialty variety that belongs to the Asteraceae family. Escarole is one of the most popular greens consumed in the Mediterranean region and has been cultivated since ancient times for its unique bitter flavor. With continued advancement in cultivation, it was discovered that the greens could also be grown in such a way to naturally reduce the bitter taste. In the process known as bleaching or blanching, the heads of escarole are covered during cultivation to prevent exposure to sunlight. Without sunlight, the plant cannot develop large quantities of chlorophyll, which is the green pigment present in the leaves that also creates a bitter flavor. Bleached Escarole can also be created by tying up the large, loose heads to prevent the leaves in the center from being exposed to sunlight. There are many different varieties of escarole that can be transformed and sold under the Bleached Escarole name. In the present-day, Bleached Escarole is highly favored in Europe, especially in Italy, as a specialty cultivar and is primarily consumed fresh to highlight the green's mellow, sweet, and subtly bitter flavor.


Nutritional Value

Bleached Escarole is a source of vitamin A, which can help improve skin complexion and rebuild soft tissue. The leaves also provide vitamin K, which aids the body in blood clotting, and contain folate, vitamin C, fiber, calcium, potassium, and iron.


Applications

Bleached Escarole is best suited for raw applications as its tender consistency, and mild, bitter-sweet flavor are showcased when consumed fresh. The leaves can be torn, tossed into salads, and can withstand heavier dressings without wilting. They can also be incorporated into salads with stronger flavored ingredients such as fruits, cheeses, and nuts, served as a bed of greens for roasted meats, or layered into sandwiches and wraps. In addition to fresh applications, Bleached Escarole can be lightly cooked in soups, stirred into bean or pasta dishes, or battered and fried as an appetizer. Bleached Escarole pairs well with fruits such as apples, persimmons, strawberries, citrus, and pears, nuts such as almonds, walnuts, pine nuts, hazelnuts, and pecans, meats such as sausage, bacon, prosciutto, duck, and tuna, cheeses such as goat, blue, parmesan, feta, and gruyere, potatoes, butternut squash, chickpeas, and raisins. The fresh greens will keep 5-7 days when stored unwashed and whole in the crisper drawer of the refrigerator.


Ethnic/Cultural Info

In southern Italy, vegetable-focused dishes are traditionally consumed on holidays, and ingredients such as escarole are favored for their versatility and bitter flavor. In Salerno, pizza di scarola, or escarole pizza, is a prevalent dish cooked on Christmas Eve. Escarole pizza consists of a mixture of cooked raisins, olives, escarole, pine nuts, and anchovies, which is then spread between two layers of pizza dough and baked. It is widely believed that consuming a lighter meal the night before Christmas can help cleanse the body and prepare it for the heavier meat-filled meal the following day. In addition to consuming lighter meals, many Italians believe bitter ingredients like escarole can help cleanse the liver, and the health of the liver largely contributes to an individual's happiness and overall well-being.


Geography/History

The process of bleaching escarole was developed in Europe, and the many escarole varieties used in cultivation stem from the Mediterranean region. While the exact dates of when Bleached Escarole was created is unknown, the tender, bittersweet greens are widely grown in Italy and are exported to the United States and other regions within Europe. Bleached Escarole is also produced in limited quantities in France, Belgium, and other areas of Europe, and can be found through online seed catalogs for home garden use.