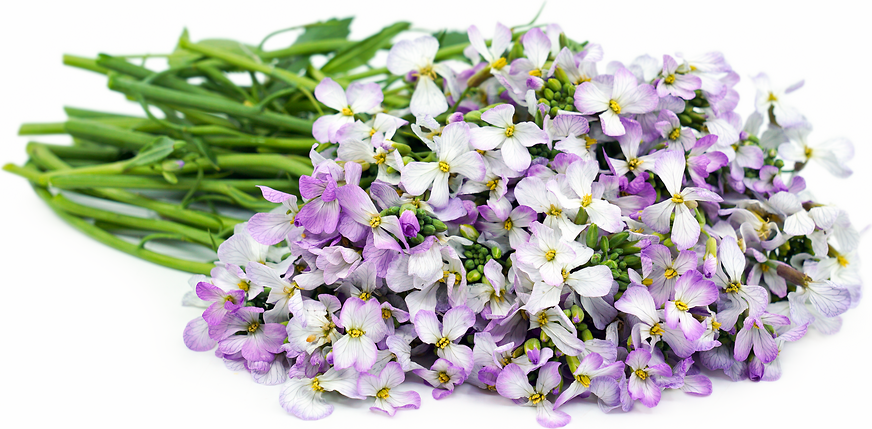 Daikon Radish Blossoms
Inventory, bunch : 0
This item was last sold on : 06/28/23
Description/Taste

Daikon Radish blossoms are small, measuring approximately 1 to 2 centimeters in diameter. The flowers grow at the end of hollow succulent stems, and each bloom is comprised of four ovate petals surrounding bright yellow stamens. The petals feature prominent webbed veining and are bright white at the center, blending lavender and deep purple hues at the edge. Daikon Radish blossoms are highly aromatic, with a delicate and refreshing texture and a subtly peppery flavor mixed with a slight sweetness.


Seasons/Availability

Daikon radish blossoms are available in the spring through early summer.


Current Facts

Daikon Radish blossoms bloom from the elongated stems of the daikon radish plant, a bushy brassica botanically classified as Raphanus sativus var. longipinnatus. The daikon plant is traditionally grown for its long white tubers, known as daikon radish, but the entire plant is edible, including the leaves, flowers, and seed pods. Daikon radishes are a cool season crop that grows best in early spring or fall. Once temperatures rise and the days lengthen in the summer, the plant will bolt, sending up long hollow stems that flower and eventually seed. The flowers, leaves, and seed pods of the plant have a similar flavor to the root and are often pickled. The leaves and roots of the vegetable are used extensively in Chinese, Japanese, Korean, Indian, and Southeast Asian cuisine. The blossoms have gained popularity in the 21st century as a garnish as chefs and home cooks strive to create more intricate and complex dishes using all parts of the plants available to them.


Nutritional Value

Daikon Radish blossoms are rich in vitamin C to support the body's immune system and the repair of bodily tissues. The flowers also contain high levels of iron, a mineral that is a major component of hemoglobin, phosphorus for DNA production, and folic acid to support cell growth. Edible flowers also contain moderate levels of antioxidants to help the body fight free radicals and oxidative stress that can damage cells. In natural medicines, Daikon plants have been used for centuries to aid digestion.


Applications

Daikon radish blossoms are suited for raw preparations as a finishing herb to add color, texture, and flavor. The flowers can be used whole, or the petals can be separated for a varied look. Spread the flowers over green salads or use them to top grain dishes like rice, farro, and couscous. The blossoms can be floated atop warm or chilled salads, folded into pasta dishes, or spread across poultry, pork, or lamb dishes. Incorporate the flowers into butter, Greek yogurt, or soft cheeses to make an attractive spread for bread and crackers. The flowers can be added to the dough of savory bread, such as focaccia, tortillas, and parathas, or they can top frittatas, quiche, and scallops. The delicate blooms can be pressed into cheeses, rolled into spring rolls, frozen in ice cubes for cocktails, or used on pizzas and flatbreads. Daikon radish blossoms complement salad greens as well as hard and soft cheeses. The blossoms are the ideal garnish for dishes topped with daikon oroshi, grated raw daikon radish, which is often placed over grilled steak or mixed into soba noodle sauce. The peppery flowers pair well with various fruits, including peaches, pears, and grapes, vinegar and lemon juice, and fresh leafy greens and vegetables like cucumber, tomatoes, and peppers. Daikon Radish blossoms should remain on the stems, stored in water inside the refrigerator, or left in a plastic clamshell or airtight container and used within 3 to 5 days for peak flavor.


Ethnic/Cultural Info

Ninety percent of the world's daikon production and consumption occurs in Japan. However, there is growing interest in planting daikon plants as a cover crop on American farmland. This plant's giant tubers have strong and deep tap roots and big bushy leaves. These features help to reduce soil compaction and erosion, and water evaporation. In fact, studies show that daikon roots are highly effective at helping corn roots penetrate subsoil. Daikon ranked four times higher than winter fallow and two times higher than rye cover crop, two commonly used crops in the United States. Studies also found that well-established daikon can practically eliminate weed emergence in the field, and the plants regenerate nitrogen levels in the soil quickly. Since this type of daikon production is not meant for conventional harvest, the roots will most likely not be picked and sold. This gives farmers the opportunity to harvest Daikon Radish Blossoms as a secondary crop from this cover planting. The growing popularity of using Daikon to protect soil and the push for new and interesting uses of plant byproducts may be the reason these beautiful and flavorful flowers are showing up more regularly during the spring and summer in farmer's markets in more temperate climates like Southern and Central California. The flowers can be harvested right before the plants are returned to the soil, and spring and summer crops are planted.


Geography/History

The daikon radish plant is believed to be native to the Mediterranean and coastal regions along the black sea. The plants were introduced to China for cultivation sometime around 500 BCE and were later traded throughout Asia, reaching Japan by the 4th century CE. Early cultivation of the plant was done mainly for the greens, but by the Edo period, the plant's root had gained popularity as a digestive aid. Today, Japan grows and consumes ninety percent of the world's daikon crop. While daikon roots are widely cultivated worldwide, cultivation of the blossoms is minimal, often harvested as a secondary crop or from bushes planted as cover crops. Daikon radish blossoms can be found at farmer's markets or from specialty vendors in areas with temperate climates. They can also be sold attached to daikon radish greens at specialty and Asian markets during the summer months.