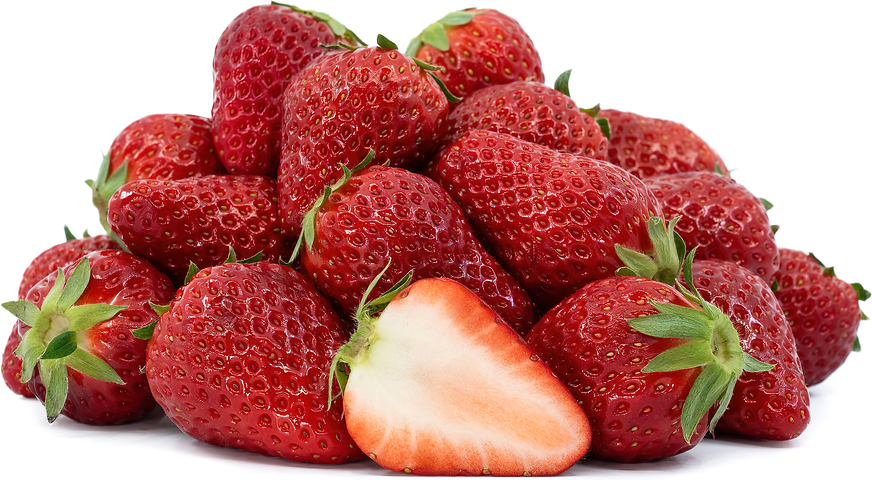 Beni Hoppe Strawberries
Inventory, lb : 0
Description/Taste

Beni Hoppe strawberries are a medium to large varietal, averaging 2 to 8 centimeters in diameter and 6 to 7 centimeters in length, and have a long, conical shape, tapering from curved shoulders to a pointed tip. The fruit's skin features vibrant shades of crimson to bright red, and the surface is smooth and glossy, pocked with many tiny oval yellow-green seeds. The skin is also delicate, being easily bruised, damaged, and punctured. Underneath the surface, the flesh has a pale red hue that permeates through the center of the fruit, and the flesh is solid, absent of holes or a hollow center. The flesh also has an aqueous, tender consistency that feels initially firm in the mouth, melting into a soft, juicy, and succulent texture. Beni Hoppe strawberries release an aromatic, sweet, and robust, berry-like scent. The variety has a high sugar and acid content, creating a sweet and fruity taste combined with tangy, sour nuances.


Seasons/Availability

Beni Hoppe strawberries are available in the winter through late spring.


Current Facts

Beni Hoppe strawberries, botanically classified as Fragaria ananassa, are a Japanese cultivar belonging to the Rosaceae family. There are over 312 varieties of strawberries grown in Japan, and Beni Hope strawberries are considered one of the three main varieties commercially produced for domestic and international markets, along with amaou and tochiotome strawberries. Beni Hoppe strawberries were bred in Japan in the late 20th and early 21st centuries and were selected as a commercial cultivar for their high yields, large size, solid red flesh, and sweet and sour taste. Since its release, Beni Hoppe strawberries have become the representative strawberry of the Shizouka Prefecture, taking the place of its parent variety, akihime. The fruits are sometimes known as Benihoppe, Beni-Hoppe, and Red Cheek strawberries and are valued for fresh eating. They are also commonly incorporated raw into desserts as edible decorations. In the modern-day, Beni Hoppe strawberries enter their peak season in the spring, coinciding with tourists traveling across Japan to experience the strawberry season. Beni Hoppe strawberries are a popular variety to harvest and sample during u-pick farm experiences, and they are also seen in seasonal baked goods, sandwiches, and parfaits as a specialty ingredient.


Nutritional Value

Beni Hoppe strawberries are a good source of vitamin A to maintain healthy organ functioning, vitamin E to protect the cells against the damage caused by free radicals, and vitamin C to strengthen the immune system while reducing inflammation. The strawberries also provide vitamin K to assist in faster wound healing, calcium to build strong bones and teeth, and other nutrients, including iron, magnesium, zinc, potassium, copper, and phosphorus.


Applications

Beni Hoppe strawberries have an unusual sweet and sour flavor well suited for fresh preparations. The delicate strawberries are primarily consumed straight, out of hand, and consumers appreciate the soft crunch of the seeds mixed with the tender, juicy nature of the flesh to create a dynamic eating experience. Beni Hoppe strawberries are also enjoyed dipped in condensed milk as a sweet treat. In Japan, consumers believe that the sweetest part of the strawberry is the tip of the fruit. Some enthusiasts choose to each the fruit in sections, beginning with the flesh surrounding the stem, moving to the center, and finally the tip of the fruit to taste the progression of sweetness. In addition to fresh eating, Beni Hoppe strawberries are incorporated into several popular desserts throughout Japan, favored for their mostly red-colored flesh. Beni Hoppe strawberries can be placed on top of cakes as edible decorations, layered into mousse, chocolate tarts with custard, and sponge cakes to add texture and flavor, or they can be sliced and placed into sweet cream sandwiches. One of the most famous desserts using Beni Hoppe strawberries is ichigo daifuku, a mochi-like confectionary comprised of strawberries and red bean paste. A whole strawberry is coated in a sweet red bean paste and is folded into a soft rice cake to create a chewy, sweet, and tangy dessert. Beni Hoppe strawberries are also packaged fresh in ornate gift boxes and are given as gifts to friends and family during celebratory gatherings. The fruits are valued for their nutritional properties, auspicious red coloring, and sweet and sour flavor. Beni Hoppe strawberries pair well with chocolate, vanilla, caramel, nuts such as almonds, pecans, and pistachios, fruits including blueberries, raspberries, blackberries, kiwis, mangos, and peaches. Whole, unwashed Beni Hoppe strawberries should be immediately consumed for the best quality and flavor. The fruits will also keep 1 to 2 days when stored in a plastic bag in the refrigerator's crisper drawer.


Ethnic/Cultural Info

Beni Hoppe strawberries were named for their red flesh and sweet and sour flavoring. In Japanese, "Beni" roughly translates to mean "red," while "Hoppe" means "cheek." The term "Red Cheek" stems from the expression "hoppe ga ochiru," which means my "cheeks are dropping" or "my cheeks are falling off." This idiom is used in Japanese to describe food that is flavorful and melting in the mouth, and it is also used to describe something succulent and of outstanding quality. The strawberry variety was named Beni Hoppe as a marketing strategy to entice consumers to eat the tender, vibrantly colored, and flavorful fruits. The creators of the strawberry coyly claim that the flavor of the strawberries is so good that it will "make your cheeks fall off."


Geography/History

Beni Hoppe strawberries were developed in 1994 at the Shizouka Prefectural Agricultural Experiment Station, now known as the Agricultural and Forestry Technology Research Institute in the Shizouka Prefecture of Japan. The variety was created from a cross between sachinoka and akihime strawberries in May 1994, and after the cross was made, 308 seedlings were planted in a research greenhouse for trials. In 1995, 11 of the 308 seedlings were selected for quality characteristics, and in 1997, one seedling was chosen, being named Shizouka No. 11. The variety was studied for several years before it was registered as a new commercial cultivar in July 2002 under the brand name Beni Hoppe. Today Beni Hoppe strawberries are grown in greenhouses mainly in the Shizuoka Prefecture and are cultivated on a smaller scale in Kyushu, Ibaraki, and Aichi Prefectures. They are also grown in greenhouses through Kato Berry Farm, a famous 200-year-old farm outside Tokyo. The Beni Hoppe strawberries featured in the photograph above were sourced from Meidi-Ya Supermarket at the Millenia Walk in Singapore. The strawberries were air-flown in from the Shizouka Prefecture in Japan.