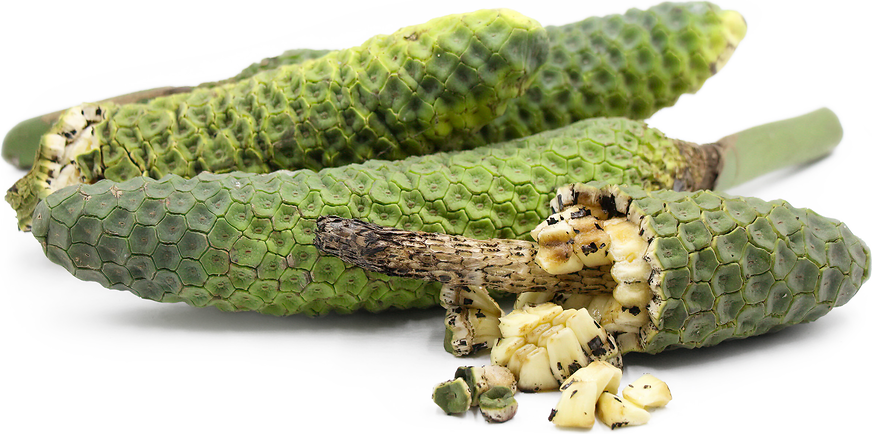 Monstera
Inventory, lb : 0
This item was last sold on : 08/23/23
Description/Taste
Monstera is an evergreen, vining plant that produces deeply lobed leaves, aerial roots, and a central flower stem that eventually develops into a cylindrical to oblong fruit. The fruits can grow up to 25 centimeters in length and average 3 to 5 centimeters in diameter, tapering slightly at both ends. The exterior is covered in a protective layer of hexagon-shaped green scales that are inedible, semi-smooth, and spongy. The scales transition from dark to light green, sometimes pale yellow, and as the fruit matures, the scales flake off, revealing ivory to cream-colored flesh. The flesh is divided into small kernel-like capsules that can be shaved or hand-pulled off a central, hard, and inedible core. The flesh also bears a soft, aqueous, and slippery consistency, similar to the texture of pineapple or mango, and releases a honeyed, tropical aroma reminiscent of jackfruit. Some black spots may appear in the ripe flesh. These spots are generally harmless, but to some sensitive palates, they may irritate the mouth. The spots can be easily scraped and removed from the flesh. Monstera fruits must be consumed ripe. The flesh contains calcium oxalate crystals, and when unripe, the crystals can irritate the tongue, throat, and mouth, leaving a burning sensation. As the fruit ripens, the crystals dissipate, creating an edible, tender fruit with a sweet, mildly tart, and tropical, candy-like flavor with pineapple, coconut, guava, and passion fruit nuances.
Seasons/Availability
Monstera is available in the fall through winter.
Current Facts
Monstera, botanically classified as Monstera deliciosa, is a tropical flowering plant belonging to the Araceae family. There are several species within the Monstera genus, and the fast-growing plant thrives in tropical to subtropical regions, extending climbing vines to scale trees, rocks, and across the forest floor. Monstera plants are also known as the Fruit Salad plant, Mexican Breadfruit, Ceriman, Swiss Cheese plant, and the scientific name Monstera deliciosa translates to mean "delicious monster," given in honor of the plant's sweet fruit and large, broad spreading leaves. Monstera plants generally grow 1 to 3 meters in height when developed in home cultivation, but in the wild, the plants can reach over 18 meters in height. In warm, wet, and humid growing conditions, Monstera plants will also flower and produce elongated, oblong fruits. Monstera fruits ripen slowly, taking anywhere from 10 to 14 months to mature, and the fruits are considered a delicacy in local markets due to their rarity. Monstera fruits must be ripe before consumption, and once mature, the fruits are primarily enjoyed fresh, out of hand.
Nutritional Value
Monstera fruits are an excellent source of potassium to balance fluid levels in the body and vitamin C to strengthen the immune system, reduce inflammation, and boost collagen production in the skin. In Central America, the fruits are consumed as a natural laxative, and the roots are incorporated into infusions to reduce arthritic pain. Portions of the Monstera plant are also used in China to relieve symptoms associated with fevers, coughs, and infections.
Applications
Monstera fruits have a sweet-tart, fruity, and tropical flavor well suited for fresh preparations. It is important to note that only ripe fruit should be consumed as unripe fruits contain harmful acids that can irritate the throat. When ripe, the exterior green scales will easily fall away from the flesh, and any black spots or streaks should be removed. Monstera fruits are typically consumed straight, out of hand to appreciate their complex flavoring, and they are considered rare, specialty fruits that are best served in simple preparations. The fruits can also be added to fruit salads, green salads, sprinkled over ice cream, cakes, or yogurt as a sweet topping, or blended into smoothies, shakes, and cocktails. In addition to fresh preparations, Monstera fruits are sometimes simmered into syrups and sauces or cooked with lime juice to make an aromatic jam. The flesh can also be used as a banana substitute in cakes and banana bread. Monstera fruits pair well with other fruits, including strawberries, lemon, lime, papaya, kiwi, pineapples, mango, and mangosteen, vanilla, caramel, and cream. Whole Monstera fruits should be placed in a paper bag or stored inside a covered glass jar to ripen. Once mature, only the ripe sections of the fruit should be consumed. Monstera fruits will mature at the end opposite of the stem first and gradually work their way towards the stem. The pieces of flesh can also be frozen for extended use.
Ethnic/Cultural Info
Unlike most plants, Monstera seedlings search for the darkest spot around them and grow towards the darkness in the wild. The plants naturally search for dark spots as the spots are typically the shadows of trees, and the plants use those trees to climb to the top of the forest canopy. Once at the top, the Monstera plant extends its large and broad leaves to absorb sunlight and then releases aerial roots down to the forest floor as a water source. These aerial roots can be numerous and give the plant a prehistoric, vine-like appearance. The roots are also used in Central and South America to weave into rope, furniture, and baskets. In Guatemala, the roots are gathered from plants climbing up trees to make mimbre furniture, a style of weaving using natural fibers similar to how rattan is used to make wicker furniture. The fibers create a strong structure when intricately woven that can support the weight of the human body, and the furniture is a local style favored for its sustainable materials and hand-crafted designs. In Mexico, the roots are used similarly to make baskets for food, clothing, and miscellaneous storage.
Geography/History
Monstera is native to tropical forests of Southern Mexico and Central America, including Costa Rica, Guatemala, and Panama, and has been growing wild since ancient times. The climbing plant thrives in subtropical to tropical, humid, and wet environments, and over time, the species has spread to other regions throughout Central and South America. Monstera plants were also brought from the Americas and were introduced into Europe and Asia sometime in the 18th century. Today Monstera plants are found wild in Central and South America and are grown worldwide in indoor and outdoor locations as an ornamental houseplant. Monstera fruits are rare, and the plants must be in their ideal climate with ample sunlight to flower and eventually fruit. The fruits can be found through local markets and specialty distributors.
Recipe Ideas
Recipes that include Monstera. One

is easiest, three is harder.