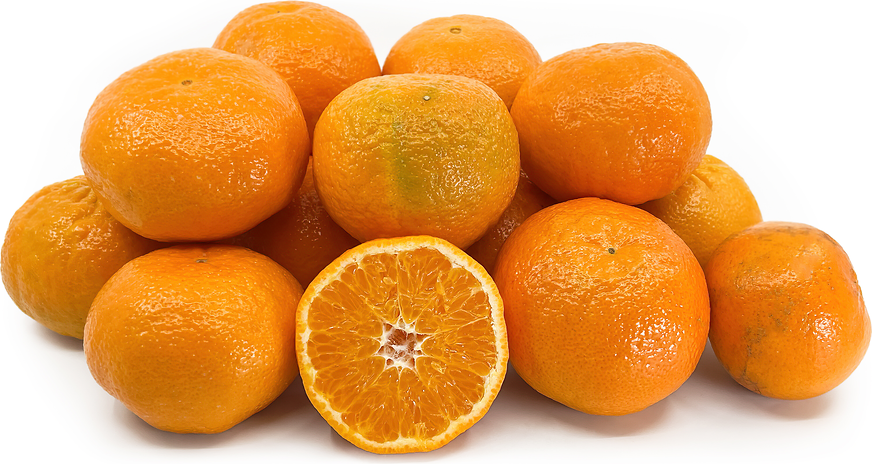 Orri Tangerines
Inventory, lb : 0
Description/Taste

Orri tangerines are a small to medium-sized varietal, averaging 4 to 6 centimeters in diameter, and are round to oblate in shape with a plump appearance. The bright orange skin is adhered to the flesh and has a firm feel but is ultimately thin, easy-to-peel, smooth, and glossy. The skin is covered in many prominent glands giving it a pebbled feel and these glands release fragrant essential oils that sometimes leave a light oily residue across the surface. Underneath the skin, a thin layer of spongy, white pith loosely clings to the flesh being easily removed. The saturated orange flesh is divided into 12 to 14 segments by thin membranes and has an aqueous, tender, and succulent consistency. Orri tangerines are known for their virtually seedless nature and fine-grained texture. When peeled, Orri tangerines release a robust, bright, and zesty citrusy aroma. The flesh is high in sugar, ranging 14 to 15 degrees Brix, and is combined with low acidity to create a balanced, sweet, subtly tart taste.


Seasons/Availability

Orri tangerines are available in the winter through spring in the northern hemisphere, and in the summer through fall in the southern hemisphere.


Current Facts

Orri tangerines, botanically classified as Citrus reticulata, are an Israeli variety belonging to the Rutaceae family. The late-season oranges grow on wide-spreading trees reaching three meters in height and were created in the late 20th century as a commercial cultivar. Orri tangerines were selected for retail markets as the fruits arrive during a time in the citrus season when the main mandarin varieties have disappeared. This late-season arrival also reduces competition in markets, allowing Orri tangerines to rise in popularity. Orri tangerines are favored by consumers for their almost seedless nature, easy-to-peel rind, and sweet, subtly acidic flavor. The name Orri translates from Hebrew to mean "my light," and the variety is also known as Jaffa Orri, Or mandarins, Orri mandarins, and Orr tangerines. Growers value Orri tangerines for the fruit's capacity to hold well onto the tree and that the fruit's skin is tough enough to withstand international transport. In the present day, Orri tangerines are sold as a fresh eating variety and are grown and exported worldwide as a specialty citrus.


Nutritional Value

Orri tangerines are an excellent source of vitamin C to strengthen the immune system while reducing inflammation and fiber to regulate the digestive tract. The variety also provides potassium to balance fluid levels within the body, vitamin A to maintain healthy organ functioning, calcium to build strong bones and teeth, and other nutrients, including iron, magnesium, and folate.


Applications

Orri tangerines have a primarily sweet, subtly tangy flavor suited for raw and cooked applications. The fruit's balanced taste makes them suitable for fresh eating, and they are often consumed as a snack or refreshing dessert. Orri tangerines also have high juice content, able to be utilized for smoothies, fruit punches, and cocktails. In fresh preparations, the variety can be easily segmented and tossed into salads, chopped into dips, mixed into slaws, or added to ceviche. The fruits can also be stirred into yogurt, used to flavor marinades and vinaigrettes, or chopped into salsa. In cooked preparations, Orri tangerine segments can be lightly stir-fried with noodles and vegetables, mixed in with teriyaki, garnished over fish, or added to rice. Orri tangerines can also be incorporated into a variety of dessert recipes including crisps, parfaits, cakes, tarts, crème brulee, and compotes or simmered into jams, jellies, and marmalade. Orri tangerines pair well with aromatics such as ginger, turmeric, and red onion, beets, avocado, fruits including pineapple, kiwi, blueberry, and strawberry, herbs such as cilantro, basil, parsley, and mint, feta cheese, and nuts such as almonds, peanuts, and cashews. Whole, unpeeled Orri tangerines will keep for a few days when stored at room temperature in a cool and dry place. The fruits can also be placed in the refrigerator for 1 to 2 weeks.


Ethnic/Cultural Info

Orri tangerines grown in Tel Aviv-Yafo are often branded Jaffa Orri or under the more general name of Jaffa oranges. Jaffa is an ancient port city within Tel-Aviv-Yafo and is also one of the oldest towns in the world, mentioned in the Old and New Testament as "Joppa." Oranges have been grown in Jaffa since the 19th century and the "Jaffa" brand name was first recorded in 1870. In the 1930s, Jaffa was famous worldwide for its orange production, and the city even began calling itself "The Big Orange," a nickname that is still used in the modern day. The name Jaffa is synonymous with quality, and beyond its citrus-soaked orchards, the city is steeped in history, myths, and folklore. In Biblical times, Jaffa was the region where Jonah was believed to have been swallowed by the whale in the Old Testament. In Greek mythology, Andromeda was tied to the rocks as a sacrifice to Poseidon on the coast of Jaff. Legend has it that Cassiopeia, the queen of king Cepheus of Jaffa, boasted that her daughter Andromeda was more beautiful than Poseidon's daughters. In a wave of fury, Poseidon sent a storm and giant sea monster to destroy Jaffa. King Cepheus eventually sacrificed his daughter to lessen Poseidon's rage by tying her to rocks off the coast of Jaffa. As the sea monster was closing in on Andromeda, Perseus, the son of Zeus, was flying by on his winged horse Pegasus and noticed the maiden in peril. He instantly fell in love with Andromeda and saved her from the sea monster by chopping off the monster's head. Andromeda and Perseus were later wed and the rocks that are still standing today at Jaffa are a symbol of their love.


Geography/History

Orri tangerines were developed in Bet Dagan, Israel, at the Volcani Center of the Agricultural Research Organization. Breeding of the variety began in 1989 and experimental crosses were conducted over several years through 1994 by scientists Aliza Vardi, Pinchas Spiegel-Roy, Avraham Elchanati, Ahuva Frydman-Shani, and Hana Neumann. Orri tangerines were created from budwood of Orah mandarins, a cross between Kinnow mandarins and Temple tangors. Breeders sought to create an improved citrus variety with a seedless nature, late-ripening arrival, and sweet, balanced flesh. Orri tangerine's introduction into commercial markets represented a new era of citrus that was developed specifically for global importing and exporting. It took over thirty years to breed, study, and perfect Orri tangerines, and after their commercial release in the early 2000s, they were nicknamed the "mandarin king" due to their popularity. In 2013, Orri tangerines were recorded in the Registry of Protected Varieties of the Ministry of Agriculture, Food and Environmental Affairs under the number 2572. Today Orri tangerines are grown in Israel, Spain and Portugal within Europe, Bingchuan in China, South Africa, Peru, and the United States. In the United States, Orri tangerines are notably cultivated in Indian River, a famous citrus growing region in Florida. When in season, Orri tangerines are offered through fresh markets, select grocers, and specialty distributors.