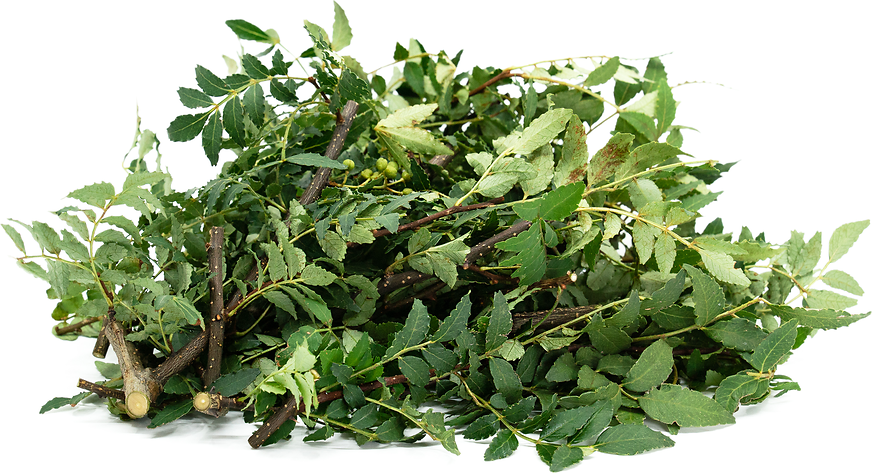 Sansho Leaves
Inventory, lb : 0
Description/Taste

Sansho leaves are small in size, averaging 2 to 2.5 centimeters in length and 0.5 to 1 centimeters in diameter, and have a lanceolate shape tapering to a distinct point. The leaves grow in alternate arrangements along dark brown, woody stems bearing narrow, sharp, red-brown thorns. Each leaf has ruffled to smooth edges, depending on the variety, and showcases prominent central veining. The surface ranges in color from emerald to forest green and has a semi-rough, textured, but pliable nature. The underside of the leaf is pale, dusty green. Sansho leaves bear small dots on the surface, and these dots are known as oil spots. When the leaves are smashed, crushed, or rubbed, these dots release an aromatic oil, giving the greens their characteristic grassy, Thai lime leaf, and citronella-like scent. Young Shanso leaves can be consumed raw and have a thin, chewy, and subtly fibrous consistency. The fresh leaves release a bright, citrusy, tangy, green, and earthy taste and cause a mild tingling sensation on the tongue, similar to the tingling of menthol.


Seasons/Availability

Sansho leaves are available in the spring, with a peak season in March through April. The leaves may also occasionally be found in some regions of East Asia throughout the summer.


Current Facts

Sansho leaves, botanically classified as Zanthoxylum piperitum, are the greens of a deciduous species belonging to the Rutaceae or citrus family. The species is native to East Asia, and the leaves grow on short trees reaching 3 to 4 meters in height with a wide-spreading canopy. Sansho trees are also generally known as Prickly Ash trees, Japanese Prickly Ash, Korean pepper, and Japanese pepper. In Korea, Sansho is referred to by several regional names, including Jopi, Chopi, Jepi, Jenpi, Jipi, and Chopi-Sun, and in Japan, it is called Hajikami and Kinome. Sansho roughly translates to mean "mountain pepper" or "small, spicy fruit of the mountains," and the fruits, leaves, and roots have been utilized in medicinal and culinary preparations since ancient times. Sansho leaves are a seasonal ingredient in East Asia, gathered from wild and domesticated trees for their aroma, distinct flavoring, and coloring in culinary dishes.


Nutritional Value

Sansho leaves are a source of vitamin A to maintain healthy organ functioning, calcium to build strong bones and teeth, manganese to develop connective tissues, and B vitamins to assist enzymes in breaking down carbohydrates into amino acids for energy in the body. Parts of the Sansho tree have also been used in natural medicines throughout Japan to treat symptoms associated with diarrhea and aid in digestion.


Applications

Sansho leaves have an earthy, green, and citrusy taste suited as a flavor enhancement or garnish in culinary preparations. The leaves should be washed before use, and it is customary to slap them between the palms of the hands to release a distinct aroma. It is important to note that the leaves may cause a subtle tingling sensation on the tongue, similar to the sensation created by eating the fruits. This light tingling is mild and is a favored characteristic of the species. Sansho leaves can be used as an edible garnish on soups, grilled meats, seafood, sashimi, and rice bowls or fried into tempura. The leaves can also be ground into a paste and combined with miso, added to pesto-like sauces, or infused into vegetable side dishes. In Japan, Sansho leaves are commonly added to seafood dishes, soups, and stir-fries. The leaves are also dried and ground into a powder for use as a spice. In Korea, young Sansho leaves are pickled as a tangy condiment known as jangajji, finely chopped into sauces, or added to pancake batter and pan-fried. Beyond the leaves, Sansho fruits are famous for their use as a spice and pickled item. Sansho leaves pair well with seafood such as fish and eel, bamboo shoots, kelp, soy sauce, mirin, sesame oil, and sake. Whole fresh leaves should be wrapped in a damp cloth or kitchen paper and sealed in a storage bag in the refrigerator to prevent the greens from drying out. The leaves can also be dried or frozen for extended use.


Ethnic/Cultural Info

The arrival of Sansho leaves in Japan marks the beginning of spring. Young Sansho leaves are known as Kinome, meaning "tree sprouts," and the fragrant, edible greens are a treasured seasonal ingredient favored for their ability to add color and aroma to culinary dishes. Sansho is referred to as an ingredient where there "is nothing to throw away," as the leaves, flowers, bark, and berries are all edible and commonly used as spices. In Kyoto, Chirimen Sansho is a traditional dish utilizing parts of the Sansho tree and has become one of the most popular food-based souvenirs from the region. The dish was originally created to preserve food, especially young sardines, a plentiful species found in the oceans around Japan year-round. Young sardines are known as chirimenjako in Japan, and the fish have a peak season in the spring, around the same time as Sansho leaves. Chirimenjako is the backbone of Chirimen Sansho, and the fish was preserved in a mixture of boiled soy sauce, sake, and Sansho leaves or fruits. This combination creates a sweet and spicy flavor, and the fish is customarily served as a snack or with rice in Kyoto.


Geography/History

Sansho is native to Japan, China, and parts of the southern Korean peninsula and has been growing wild since ancient times. Much of the history of Sansho is unknown, but one of the first records of the species dates back to the Jomon period in Japan, from 14,000 to 300 BCE, when remnants of seeds were found in earthenware. Sansho was also recorded in Gishiwajinden, a series of scrolls that recorded historical events during the Three Kingdoms of ancient China. In the 30th scroll, thought to have been written sometime between 233 to 297 CE, the people of Wa were the name for Japan, and Sansho was said to have been described as growing wild in a region known as Sanya. Throughout history, Sansho was utilized in medicinal preparations in East Asia, and the fruits and young leaves were eventually used in culinary preparations. In Japan, Sansho was cultivated in the 17th century after a new variety with larger, fragrant berries was introduced into the Hyogo Prefecture from Korea. Large-scale cultivation peaked in Japan in the 19th and 20th centuries. Sansho trees naturally grow along slopes, fields, and on mountainsides with well-draining soil and ample air circulation. Today almost 80% of the Sansho fruits are grown and harvested in the Wakayama Prefecture, followed by Nara, Hyogo, and Kochi Prefectures. When in season, fresh Sansho leaves are sold through local markets, direct from growers, or foraged from wild trees in China, Korea, and Japan. The species is also popularly grown in home gardens for medicinal, culinary, and ornamental use. The Sansho leaves featured in the photograph above were sourced from the Ito Sai Sai Farmer's Market in Fukuoka, Japan.