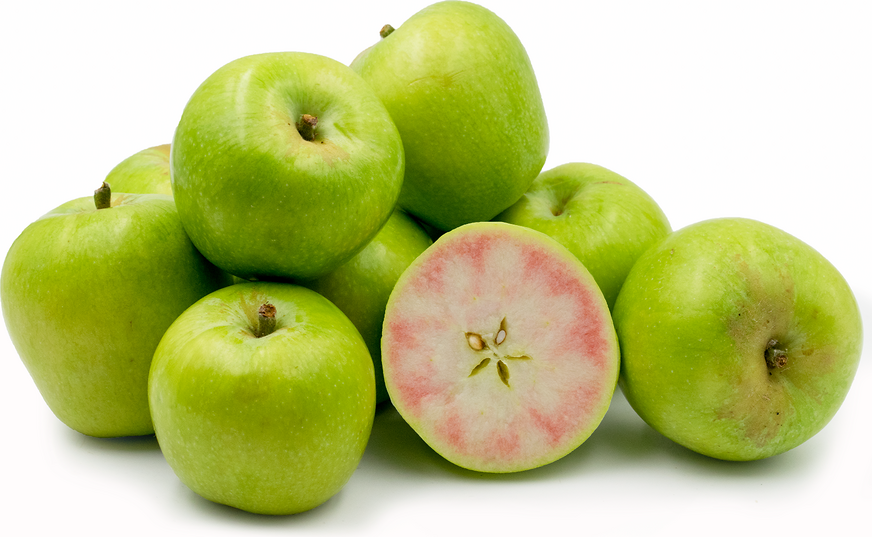 Surprise Apples
Inventory, lb : 0
Description/Taste

Surprise apples are a small to medium-sized variety with a conical to oval shape, tapering at the fruit's base. The apple's skin may appear slightly ribbed and is smooth and thin, bearing prominent white to tan lenticels scattered across the surface. The skin also showcases a matte, bright green to yellow-green hue, sometimes being so thin in areas that the colored pigments of the flesh can be seen through, giving the apples a faintly blushed hue. The flesh is composed of variegated shades of light red, pink, and white, and each apple's color pattern will be unique. The flesh is also firm, dense, and aqueous with a crisp and crunchy consistency. Surprise apples have a tart, sour, and tannic flavor when harvested early in the season. Over time, a subtle sweetness will develop within the flesh and release delicate berry, citrus, and pear-like nuances.


Seasons/Availability

Surprise apples are available in the early fall through winter.


Current Facts

Surprise apples, botanically classified as Malus domestica, are an heirloom variety belonging to the Rosaceae family. The rare apples were first brought to Europe in the early 19th century from Turkey and were valued for their unusual bright green skin tone and marbled, pink and white flesh. The unexpected, distinct flesh coloring was also the inspiration for the apple's name. Surprise apples grow on trees that can reach 3 to 5 meters in height and were planted in several private orchards throughout England and Europe as a novel variety. The tart apples were never commercially grown due to their sour nature, but Surprise apples were used in breeding programs in Europe and later in the United States to develop red and pink-fleshed cultivars. Surprise apples are challenging to find in modern-day markets and are a rare variety grown in limited quantities. The apples are primarily used for cooking and hold their shape, flavor, and texture in baked goods, sauces, and other desserts.


Nutritional Value

Surprise apples are a good source of fiber to regulate the digestive tract, potassium to balance fluid levels within the body, and vitamin C to strengthen the immune system while reducing inflammation. The apples also provide some vitamin A to maintain healthy organ functioning, vitamin E to protect the cells against free radical damage, and lower amounts of calcium, magnesium, zinc, iron, phosphorus, and boron. The multi-colored, pigmented flesh contains anthocyanins, which have antioxidant properties to guard against external environmental aggressors.


Applications

Surprise apples have a tart, subtly sweet flavor well suited for cooked preparations. The apples are generally considered too sour to consume straight, out of hand, but the taste does mellow with storage and when the apples are cooked with sweeter ingredients. The fruit's firm flesh also allows the apple to hold its shape well with cooking. Surprise apples can be sliced thinly and tossed into salads, mixed with savory and sweet dried fruits and nuts to balance the flavor, or they can be blended into smoothies, used as a topping over nut-buttered toast, or pressed into flavorful juices and ciders. The crisp, tangy apples can also be incorporated into savory and sweet cooked preparations. Surprise apples can be used as a filling for pies, galettes, tarts, and turnovers, or they can flavor beignets, muffins, cakes, and cookies. The apples can also be simmered into apple sauce, cooked into chutney, jams, and jellies, or pureed and used as a sauce over roasted meats, ice cream, or other desserts. Surprise apples pair well with caramel, vanilla, chocolate, nuts such as pistachios, walnuts, and pecans, meats including beef, poultry, turkey, and pork, and herbs such as parsley, rosemary, and mint. Whole, unwashed Surprised apples will keep 3 to 4 weeks when stored in a cool, dry, and dark place such as the refrigerator.


Ethnic/Cultural Info

Apple breeder Albert Etter most famously used Surprise apples in his experimental orchard in Briceland, a community near Humbolt County, California. Etter was known for breeding strawberries and apples and established his first private experimental orchard in 1899. The orchard began with 62 varieties, and by the end of his career, Etter reportedly had over 10,000 types of apples. Etter sought to create new varieties of apples suitable for cultivation in California and the Pacific Northwest and gathered heirloom apples from Western Asia, Europe, and the United States to breed. Surprise apples were used to produce 30 varieties of pink to red-fleshed apples in Etter's experimental orchard. Etter had an unconventional approach to apple breeding, and despite other American breeders that had been unhappy with the results of using Surprise apples in breeding, Etter felt the variety had quality characteristics suitable for the California climate. The most well-known, pink-fleshed type that arose from Etter's experiments was pink pearl apples. This variety is one of Etter's most famous creations and was first released in the California Nursery Company's catalog in 1944. Pink pearl apples are still grown by select growers and home gardeners in the modern-day, and other breeders have used several of Etter's pink-fleshed varieties to create successful pigmented cultivars. Etter's experimental orchards were saved after his passing by Greenmantle Nursery, and after walking the orchards, the nursery recovered and selected a few of Etter's apples for commercial sale. These pink-fleshed apples are known as the Rosetta™ Hybrids and were also developed from Surprise apples.


Geography/History

Surprise apples are believed to be native to Turkey. The exact date of origin and parentage are unknown, but pomologists have drawn several genetic parallels to the ancient niedzwetzkyana crab apple. Niedzwetzkyana apples are an endangered variety native to Western Asia and are thought to be a parent variety for several red to pink-fleshed heirloom apples. Surprise apples were eventually introduced into Europe and were planted in the London Horticultural Society Gardens sometime around 1831. The variety was also brought to the New World and was rumored to have been planted in the early 1800s in the Southern United States and in the Ohio Valley by German immigrants around 1840. Surprise apples became well-known for their colored flesh and were planted in gardens in New York, recorded in the book "The Fruit and Fruit Trees of America" in 1890. Despite their unusual appearance, Surprise apples were not met with enthusiasm among growers in the Eastern United States as the apples were challenging to cultivate in colder climates. The apples were later planted in Northern California in the 1920s and were better suited to the West Coast's milder weather. Today Surprise apples are a rare variety that is not commercially cultivated. The heirloom apple is primarily grown in heritage orchards and is preserved through breeding programs as an important variety for genetic contributions. When in season, Surprise apples may be sold on a limited scale through specialty orchards, distributors, and home gardeners in the United States, Europe, and Western Asia.