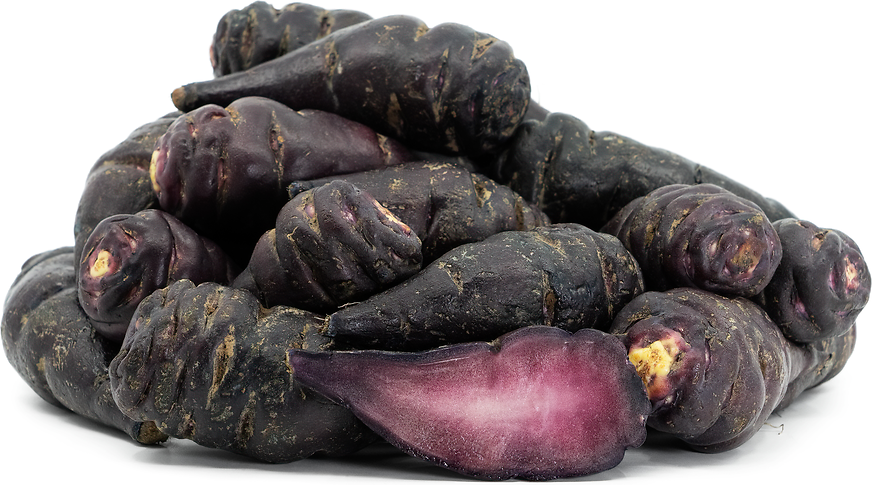 Black Mashua
Inventory, lb : 0
Description/Taste

Black Mashua widely varies in size from 7-33 centimeters in length and has a conical, tapered shape. The skin ranges in color from red, purple, to dark purple, almost black, and is smooth, waxy, and firm. The skin is also covered in many prominent eyes giving the tuber a knobbed appearance. Underneath the thick skin, the flesh is dense and has a unique, ombre coloring of dark purple, red, and yellow hues. Black Mashua is extremely pungent when raw with a peppery, bitter taste, but when cooked, the flavor mellows and develops a sweet, cabbage-like taste.


Seasons/Availability

Black Mashua is available year-round, with a peak season in the fall.


Current Facts

Black Mashua, botanically classified as Tropaeolum tuberosum, are the edible, underground tubers that grow on herbaceous, ornamental climbing plants that can reach up to four meters in height and are members of the Tropaeolaceae family. Native to the Andean highlands, Black Mashua is one of the rarest varieties of mashua and is commonly cultivated in the cool climates of the mountains between 3000-3700 meters. Black Mashua is an ancient tuber that is favored by Peruvians for its prolific nature and ability to be grown without fertilizers or pesticides. The plant also emits a strong odor that is a natural insect repellent, making it a favorite companion crop to plant in home gardens. Though relatively unknown outside of South America, Black Mashua is used in a wide variety of cooked applications in Peru and is considered a beneficial source of nutrients.


Nutritional Value

Black Mashua is an excellent source of vitamin C, fiber, and antioxidants, which can help reduce inflammation in the body and protect overall health. The tubers also contain some iron, phosphorus, and calcium.


Applications

Black Mashua can be consumed raw, often shredded in salads, but many consumers find the peppery taste to be unpalatable and prefer the tuber to be cooked. Utilized in applications such as baking, roasting, and grilling, Black Mashua develops a crispy skin and a soft, creamy interior when cooked, and is commonly placed under roasts to be cooked in the drippings. They can also be tossed into soups and stews or sliced for porridges. The tubers are used similarly to potatoes and are well-suited for strong flavored dishes where the tuber's flavor is muted. Black Mashua can also be boiled and covered in molasses as a dessert, pickled for extended use, or dried and ground into a flour for smoothies and liquids. In addition to the tubers, the leaves and flower buds are consumed and have a spicy flavor similar to mustard greens. Black Mashua pairs well with meats such as beef, pork, poultry, and seafood, spices such as cumin, cinnamon, and coriander, mushrooms, carrots, celery, and corn. The tubers will keep 6-8 weeks when stored at room temperature in a cool and dark place with some humidity as they can quickly dry out.


Ethnic/Cultural Info

In Peru, Black Mashua is sometimes considered a "poor man's food," and is used as a diuretic, a treatment to help reduce symptoms of skin diseases, and as a way to reduce inflammation. Peruvians also believe that mashua contains chemicals that repress reproductive stimulation. Legend has it that Incan warriors would consume the root to not miss their wives when they were away at battle and in modern day, it has been said that some women will feed the tubers to their husbands to keep them from straying from their marriage. Black Mashua is also being studied for its superfood potential. As the global market places emphasis on natural, nutritious foods, scientists are looking to the ancient tuber as a new item that can be marketed worldwide similarly to maca.


Geography/History

Black Mashua is native to the Andean highlands in South America and has been growing wild since ancient times. The tuber was then introduced as an ornamental plant to Europe around 1827 and eventually made its way into North America via explorers and trade routes. Today Black Mashua is grown along ancient terraces in the Andes and is cultivated in home gardens in Peru, Ecuador, Columbia, Argentina, Bolivia, Europe, and the Pacific Northwest of the United States.