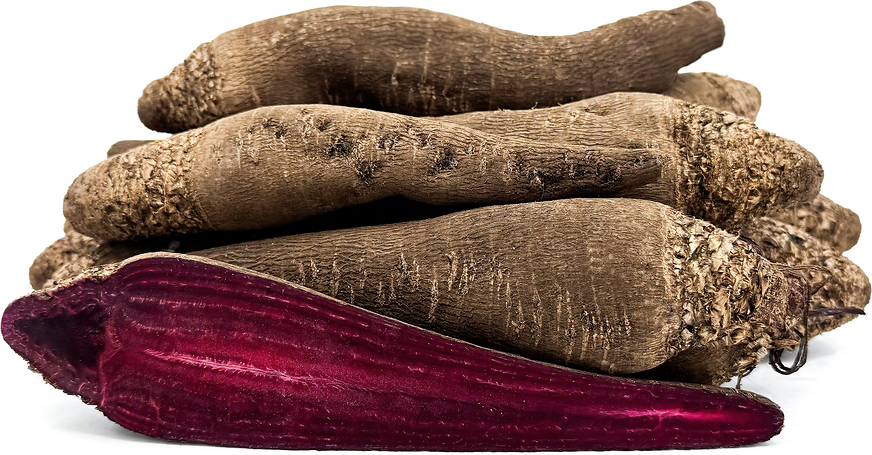 Crapaudine Beetroots
Inventory, lb : 0
Description/Taste
Crapaudine beets vary in appearance depending on maturity and growing environment, generally developing into medium to large, elongated roots. The variety is distinct from other types of beets as it has a tapered, carrot-like shape with trailing secondary roots that can overlap and intertwine, creating a gnarled appearance. The beets grow deep in the ground, producing thick, rough, and cracked, dark brown skin covered in protrusions, bumps, and rootlets. Underneath the surface, the flesh is dense, semi-aqueous, and firm with a crunchy, snap-like consistency. Some parts of the flesh may contain woody spots that should be removed and discarded before consumption. The flesh showcases a vibrant, dark red hue with concentric pale red rings. Crapaudine beets have a rich, sweet, and earthy flavor. When cooked, the flesh releases a chestnut-like aroma and deepens in flavor with savory and nutty undertones. Crapaudine beets also grow leafy tops with red leaf ribs and variegated maroon and green leaves. These edible leaves contribute a vegetal, earthy, and green taste.
Seasons/Availability
Crapaudine beets are available in the fall through early spring.
Current Facts
Crapaudine beets, botanically classified as Beta vulgaris, are a rare heirloom variety belonging to the Amaranthaceae family. The elongated and gnarled, carrot-like roots are considered one of the oldest beet varieties in existence, dating back over 1,000 years, and are distinct in appearance from more common varieties sold in modern-day commercial markets. Crapaudine beets are native to France and are also known as Oak Bark beet, Barkskinned beet, Betterave Crapaudine, and Rouge Crapaudine. The name Crapaudine is derived from the French word "crapaud," meaning "toad," a moniker given in honor of the beet's rough, bumpy, and pocked, toad-like skin. Crapaudine beets are primarily localized to Europe and are difficult to find outside local markets. The heirloom variety is notoriously challenging to grow as it displays erratic germination, has a slow-growing nature, and requires labor-intensive thinning. The beets are also somewhat irregular in appearance, causing consumers to overlook the variety without additional education. Despite its quirks, Crapaudine beets have remained a specialty beet beloved by chefs and beet enthusiasts for their dense, dark flesh and sweet, earthy flavor. They have also become a novel variety grown in home gardens to help preserve the cultivar for future generations.
Nutritional Value
Crapaudine beets are a source of potassium to balance fluid levels within the body, fiber to regulate the digestive tract, and vitamin C to strengthen the immune system while reducing inflammation. The beets also provide iron to develop the protein hemoglobin for oxygen transport through the bloodstream, calcium to build strong bones and teeth, and contain other nutrients, including B vitamins, magnesium, folate, and manganese. In addition to vitamins and minerals, Crapaudine beets contain betanin, a phytonutrient that gives the root its deep pigment and acts as an anti-inflammatory, antioxidant, and detoxifier.
Applications
Crapaudine beets have a rich, earthy, and sweet flavor suited for fresh and cooked preparations. It is important to note that the beets have thick, rough skin that may be difficult to remove when raw. Chefs often bake or roast the beets, as the skin will easily slip from the flesh once heated. Crapaudine beets also have pigmented juice that will stain the hands. Gloves may need to be worn when peeling to prevent staining. Crapaudine beets can be finely shredded into salads, slaws, and used as a garnish over roasted meats, or they can be cooked and tossed with citrus, herbs, and other fruits to make a refreshing side dish. The beets can also be roasted and pureed, mixed into sauces, used as an ingredient in baked goods such as cakes and brownies, or used as a natural food dye. Cooked Crapaudine beets retain their rich coloring and complement yellow and pink striped beets in salads and on cheese plates. They can also be sauteed with cabbage as a savory side, roasted with other root vegetables, or pressed into a magenta juice. Crapaudine beets pair well with cheeses such as burrata, mozzarella, goat, and feta, fruits including apples, mangoes, and citrus, carrots, parsnips, potatoes, leeks, celeriac, cucumbers, and smoked salt. Whole, unsliced Crapaudine beets will keep up to five days when stored in the refrigerator with the tops removed. Once cooked, the beets will keep in a sealed container in the fridge for a few days. Vacuum sealed cooked beets purchased from grocery stores will keep for 1 to 2 months when stored according to the package's instructions. Crapaudine beets can also be frozen for extended use.
Ethnic/Cultural Info
Crapaudine beets are traditionally sold baked and roasted throughout markets in France. The beets are slowly baked over hot coals or wood-roasted and develop a smokey, sweet, earthy, and nutty flavor. Cooked beets became a staple item in French markets after World War II. It has been reported that during the war, beets were roasted in bulk to conserve energy and materials. The cooked beets were so popular for their convenience and ease of use that even after the war, the practice of selling cooked beets continued into the present day. Outside of local markets, cooked beets have also been commercialized and sold in vacuum-sealed packages in grocery stores. Cooked Crapaudine beets can be consumed as a stand-alone side, dressed in herbs, salt, and oils, or they can be incorporated into appetizers, main dishes, or pickled as a tangy condiment. In French markets, cooked beets are often labeled with a sign reading "Betteraves Cuites."
Geography/History
Crapaudine beets are descendants of wild sea beets native to the coastlines of the Mediterranean. Ancient sea beets were thought to have been mainly used for their leaves, and over time, cultivation created the beet species Beta vulgaris that produced larger, elongated roots. The Greeks and Romans incorporated beet leaves into culinary preparations and the roots into medicinal practices. In the 9th century, beets were ordered to be planted in the gardens of the Imperial estates of Charlemagne. Experts hypothesize that Crapaudine beets may have been present as early as the era of Charlemagne and were first cultivated in France. Crapaudine beets have remained a cultivated beet throughout history, widely favored for their coloring and rich flavor. They were specially bred beginning in the 16th century as the roots became a popular vegetable in Europe. Crapaudine beets were introduced into the United States in 1867 when American Agriculturalist Magazine featured the variety in its seed catalog, written by J.H. Gregory. Today Crapaudine beets have been largely overshadowed by more modern beet cultivars with a rounder, aesthetically pleasing shape. Crapaudine beets are an heirloom variety primarily grown in France in the regions of Haute-Saintonge, Brittany, Grand Est, and Nouvelle Aquitaine. Outside of France, Crapaudine beets are produced in other areas of Europe and are sometimes found through specialty farms in the United States. The beets are also sold through online seed catalogs for home garden use.
Recipe Ideas
Recipes that include Crapaudine Beetroots. One

is easiest, three is harder.
Podcasts