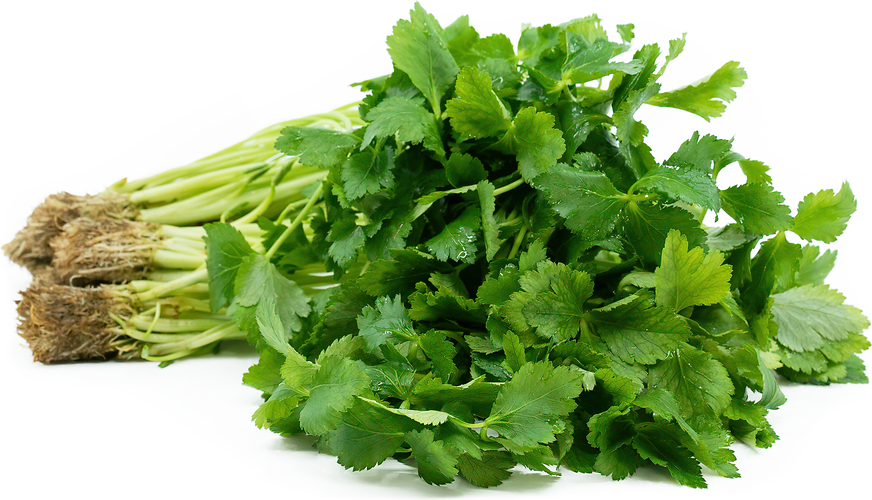 Mitsuba
Inventory, bunch : 0
Description/Taste
Mitsuba is a flavorful herb comprised of three small leaves attached to slender stalks. Each leaf is broad, flat, and pliable with pronounced, serrated edges. The leaves also showcase distinct veining and are vibrant green, darkening as they mature and grow larger. The stems are thin, ranging in color from purple, green, to white depending on cultivation practices and variety, and have a smooth, crisp, and tender consistency. Mitsuba is aromatic and has a refreshing, vegetal, and slightly bitter flavor with a blend of herbaceous nuances reminiscent of celery, coriander, and parsley. In addition to the leaves and stems, the herb produces small star-shaped white to purple flowers in the spring.
Seasons/Availability
Mitsuba is available year-round.
Current Facts
Mitsuba, botanically classified as Cryptotaenia japonica, is a fragrant Asian herb belonging to the Apiaceae family. The name Mitsuba translates to mean "three leaves" and is an ancient herb utilized for culinary preparations for thousands of years. Mitsuba can be found wild or cultivated, with wild plants growing larger, up to 90 centimeters in height, while cultivated varieties stay low to the ground, 45 to 61 centimeters in height. There are also two main types of Mitsuba known as Kansai and Kanto. Both types are named after their growing regions in Japan, with Kansai being the most common variety. Kanto is rarer, grown in darkness to develop a white appearance. Mitsuba is also known as Japanese Wild Parsley, Trefoil, White Chervil, and Stone Parsley, and the entire plant is edible, including the roots, flowers, leaves, and seeds. The herb is primarily used fresh as a garnish and is most famously connected to Japanese cuisine. Outside of Japan, Mitsuba is also commercially grown throughout East Asia and is increasing in popularity as a home garden herb in the United States.
Nutritional Value
Mitsuba is a source of vitamin C to strengthen the immune system, reduce inflammation, and boost collagen production within the skin. The herb also provides vitamin A to maintain healthy organ functioning, potassium to balance fluid levels within the body, calcium and phosphorus to protect bones and teeth, and other amounts of zinc, iron, manganese, and copper. In Traditional Chinese Medicine, Mitsuba is boiled with water and used to treat skin irritations. The herb is also used to reduce symptoms associated with minor infections.
Applications
Mitsuba has a bright, herbaceous flavor well suited for fresh preparations. The leaves can be washed and lightly torn as a garnish over soups, curries, rice, and noodle dishes, or they can be tossed into salads, gently folded into casseroles, or mixed into stir-fries as a fresh pop of flavor. It is important to note that all parts of the plant are edible, and the stems are frequently used to tie sushi rolls or add flavor into stocks and broths. Mitsuba turns bitter when cooked, so adding the leaves at the end of heating is recommended to maintain a pleasant green flavoring. In Japan, Mitsuba is sprinkled over sushi, miso soup, and dumplings, fried into tempura, or pickled in vinegar for extended use. The leaves and stems are also incorporated into rice bowls including, donburi, katsudon, and oyakodon, cooked into tamagoyaki or rolled omelets, or garnished over chawanmushi, a steamed egg custard. Mitsuba pairs well with meats such as poultry, beef, and pork, eggs, scallions, leafy greens, mushrooms, edamame, carrots, ginkgo nuts, soy sauce, mirin, and sake. Whole Mitsuba with the roots still attached can be stored upright in a glass of water in the refrigerator, where it will keep about one week. The greens can also be wrapped in a damp paper towel in a plastic bag and kept in the refrigerator's crisper drawer.
Ethnic/Cultural Info
In Japan, the stems of Mitsuba are often tied into knots and utilized as fresh decorations at weddings. Knots have traditionally been considered auspicious and are a symbol of affection and lasting relationships. The slender stems are tied into knots as a blessing over the newlywed couple for a long and healthy marriage, and the knotted greens are used as garnishes on culinary dishes. Mitsuba is also sometimes placed in the bridal bouquet or interwoven into table centerpieces for good luck. In addition to the stems, Mitsuba flowers are incorporated into ikebana, a style of Japanese flower arranging dating back to the 7th century. Ikebana is a revered practice to express creativity and calm the nerves, and the flower arrangements are displayed in homes, businesses, and restaurants. Mitsuba flowers are favored for their delicate, straightforward nature.
Geography/History
Mitsuba is native to East Asia, specifically China, Korea, and Japan, and has been growing wild since ancient times. The herb thrives in woodland regions and is widely found throughout the mountains of Japan. Mitsuba was selected for cultivation and has been historically used for culinary and medicinal practices. The first commercial cultivation occurred in 1720 in Katsushika city, a ward of Tokyo. Today Mitsuba is still prevalent throughout its native growing region of East Asia and is sold commercially through local markets and grown in home gardens. Outside of Asia, Mitsuba is easily grown worldwide in a wide variety of climates but has remained a specialty herb found in limited quantities through distributors, farmer's markets, and Japanese grocery stores.
Recipe Ideas
Recipes that include Mitsuba. One

is easiest, three is harder.