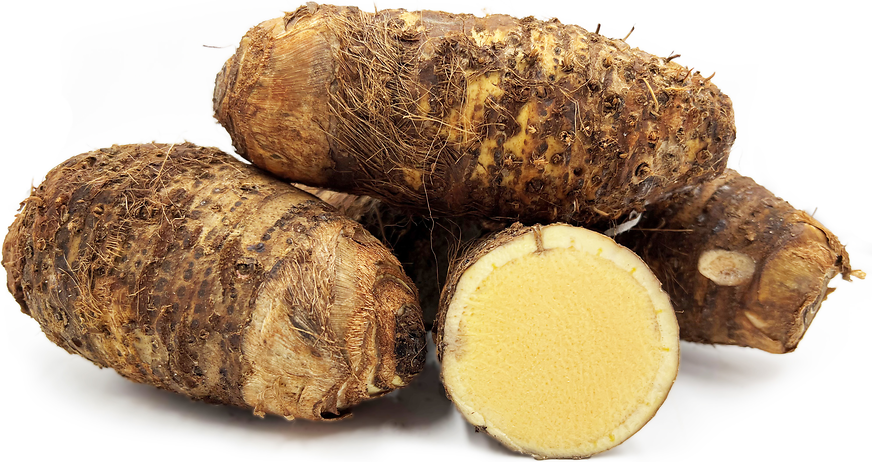 Yellow Malanga Root
Inventory, lb : 0
Description/Taste
Yellow malanga plants are comprised of elongated, arrow-shaped leaves connected to tall stalks anchored into the ground by cylindrical corms. These underground, fleshy, and swollen stems are long in appearance and range in weight from .5 to 2 pounds. The corm's surface is enveloped in hairy, rough, and patchy skin, found in variegated shades of light to dark brown. The thin skin is textured, covered in ridges and bumps, and is always peeled and discarded before the corms are consumed. Underneath the surface, the yellow flesh is firm, slippery, and dense with a slightly viscous, crisp consistency. Yellow malanga must be cooked before consumption and develops a thick, starchy, and subtly waxy texture. The flesh contains a nutty, earthy, and woodsy flavor. In addition to the corms, the plant's young leaves are edible and are cooked like spinach, releasing a grassy, vegetal flavor.
Seasons/Availability
Yellow malanga is available off and on year-round, depending on the climate the root is grown in.
Current Facts
Yellow malanga, botanically classified as Xanthosoma atrovirens, is a tropical to subtropical plant native to South America, belonging to the Araceae family. The large-leafed plant is mainly grown for its edible corms, which are underground, swollen stems favored for their dense, crisp texture and mild, earthy flavor. Yellow malanga is one of the three most popular types of malanga grown in Central and South America, the Antilles, and the Caribbean. The golden-fleshed corms are found sporadically in local markets throughout the year and are valued for their filling nature and long storage life. Yellow malanga is also known as Yautia Amarilla and Malanga Amarilla and is one of the few malanga varieties where the main corm is consumed rather than the smaller cormels. Traditionally, Yellow malanga corms are used as a thickening ingredient and are cooked in a wide variety of sweet and savory preparations, treated similarly to a potato or yam.
Nutritional Value
Yellow malanga is a good source of fiber to regulate the digestive tract and iron to develop the protein hemoglobin for oxygen transport through the bloodstream. The corms also provide potassium to balance fluid levels within the body, vitamin B6 to maintain optimal brain development, magnesium to control nerve functioning, and other nutrients, including beta-carotene, zinc, folate, niacin, calcium, and phosphorus. Beyond vitamins and minerals, Yellow malanga also contains oxalic acid, a naturally occurring compound that can bind to minerals, preventing their absorption and causing problems in the digestive tract. Oxalic acid is toxic in high quantities, but its damaging nature is reduced when the corms are cooked.
Applications
Yellow malanga has a dense, starchy consistency that must be cooked before incorporating into sweet or savory preparations. It is important to note that Yellow malanga corms contain calcium oxalate, or oxalic acid, a compound considered toxic in high quantities, but the compound is removed from the flesh when cooked. The corms are peeled and commonly boiled to create a soft, thick consistency. Once cooked, Yellow malanga can be mashed with butter and cream into a side dish, sliced and fried into crunchy chips, or grated and mixed with flour, eggs, and herbs to create patties to make fritters. The corms can be used similarly to potatoes, yams, or other root vegetables, and they act as a natural thickener when overcooked to develop a creamy consistency in soups. Yellow malanga can also be sliced and roasted to create crisp wedges, pureed and mixed into cakes, puddings, and bread, or incorporated into empanadas. In the Caribbean, Yellow malanga is popularly cooked into a vegetable and meat stew known as sancocho. The corms can also be dried and ground into flour, used as a wheat flour substitute in baked goods, bread, and other recipes. Beyond the corms, the young leaves can be cooked similarly to spinach and added to soups and stews, used as a bed of sauteed greens, or mixed into callaloo, a Caribbean dish comprised of chile peppers, greens, tomatoes, and aromatics. Yellow malanga pairs well with spices such as ginger, cinnamon, smoked paprika, and thyme, aromatics including garlic, onion, shallots, and chile peppers, dried meats, fish, spicy sausage, coconut milk, vanilla, legumes, and squash. Whole, unwashed Yellow malanga can for stored for 1 to 2 weeks at room temperature or for 2 to 3 weeks in the refrigerator. Peeled, raw corms can be stored for 1 to 2 days before cooking, and once cooked, the corms should be consumed within one week kept in the refrigerator.
Ethnic/Cultural Info
Yellow malanga is incorporated into a bread famously sold throughout Samaná, a town in the Dominican Republic. Samaná is known for its blend of African and Spanish cultures, creating rich gastronomy, and many of the town's signature dishes include coconut. Yellow Malanga, also known as Yellow Yautia, is considered the most popular malanga variety in Samaná. The dense corm is grated into a mixture of coconut cream, sugar, spices, and butter and then simmered for a little over an hour to create a flavorful bread. Yellow Yautia bread is a delicacy of Samaná and is still traditionally made over an open wood fire to honor the bread's history. The bread is a popular food item, attracting visiting tourists, and one of the most well-known stores in Samaná making the bread is D'Vieja Pan, a third-generation family bakery. In addition to local production, Yellow Yautia bread is featured as a signature dish of Samaná in the Food and Agriculture Organization of the United Nations' recipe book "Health, Knowledge, and Flavors." This cookbook was created in 2018 to highlight the unique recipes found throughout the Caribbean and Latin America to promote biodiversity.
Geography/History
Yellow malanga is native to tropical and subtropical lowland regions of South America and has been growing wild since ancient times. The plants were first domesticated in the northern areas of South America as a cultivated food crop, and they were later spread into Mesoamerica and the Antilles by migrating indigenous groups. Over time, Yellow malanga was also introduced into the Caribbean. When Spanish explorers arrived in the Caribbean, they encountered Yellow malanga and brought the edible corms on expeditions to West and Central Africa sometime before the mid-1800s. Yellow malanga continued to be a staple crop in several countries worldwide, but the plants never developed widespread recognition until the 1930s, when scientists began promoting the corm's ability to be transformed into a gut-friendly flour. Today Yellow malanga is commercially produced in Central America, the Antilles, and the Caribbean, especially in Puerto Rico and Cuba. The variety is also grown in Africa, South America, Mexico, and the United States, available in most specialty food markets or in farmer's markets in tropical and sub-tropical areas.
Recipe Ideas
Recipes that include Yellow Malanga Root. One

is easiest, three is harder.