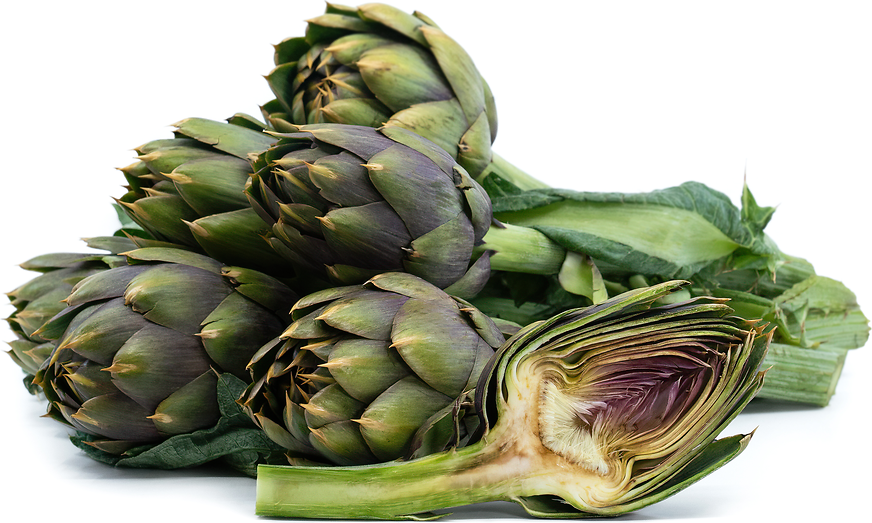 Spinoso di Menfi Artichokes
Inventory, lb : 0
Description/Taste

Spinoso di Menfi artichokes are a small to medium-sized varietal, averaging 5 to 10 centimeters in length and 190 grams in weight, and generally have an oval to oblong appearance, tapering slightly towards the non-stem end. The pointy artichoke heads are comprised of tightly packed fleshy leaves, also known as bracts, that form in overlapping layers. The exterior bracts have a broad, flat, and smooth nature, gently hugging the curved shape of the head. The variegated green to purple bracts also have a semi-thick feel and bear sharp golden-yellow spines at the top, while a pocket of meaty flesh is found at the base. Spinoso di Menfi artichokes have a green base coloring but are sometimes almost entirely enveloped in pigmented shades of dark purple. This coloring will vary depending on the growing environment and climate. As the fibrous outer bracts are removed, the coloring will lighten, transitioning into pale green, yellow, and white hues. In the center of the head is a fleshy heart, also referenced as a core. This core is edible and is a prized delicacy within the vegetable. Select Spinoso di Menfi artichokes that are dense, tightly layered, and feel heavy for their size. Loose and opened leaves are a sign of heads past their optimal maturity. Spinoso di Menfi artichokes are aromatic and have a full-bodied, earthy, green, and grassy flavor with subtly sweet and nutty notes.


Seasons/Availability

Spinoso di Menfi artichokes are available in the fall through late spring.


Current Facts

Spinoso di Menfi, botanically classified as Cynara scolymus, is an ancient Sicilian artichoke belonging to the Asteraceae family. The Italian cultivar is prized for its aroma, flavor, and appearance and was once known as one of the symbolic vegetables of Sicily. Spinoso di Menfi translates to the "Spiny of Memphis," a descriptor given to the variety for its sharp, golden thorns. The artichoke is also known as Carciofi Spinosi, Spiny Artichoke of Menfi, Spinel, and Carciofi. Historically, Spinoso di Menfi was grown throughout Sicily in commercial fields and home gardens, but with the introduction of modern artichoke varieties, Spinoso di Menfi faded from the spotlight. Modern artichoke cultivars were being touted for their thornless nature and high yields, while the Spinoso di Menfi was only capable of producing less than one-third of the amount of the modern varieties. Growers abandoned Spinoso di Menfi in favor of the artichokes with increased production, and the prickly variety became a rare specialty artichoke reserved for traditional recipes. In the modern day, hope is not lost for Spinoso di Menfi, as it is experiencing a revival among artichoke enthusiasts seeking to protect and preserve the historical variety. Spinoso di Menfi is heavily promoted throughout Italy as a gourmet culinary variety suitable for elevated home recipes, restaurant specials, and premium catering events.


Nutritional Value

Spinoso di Menfi artichokes are a source of fiber to regulate the digestive tract, vitamin C to strengthen the immune system, and potassium to balance fluid levels within the body. The artichokes also provide vitamin K to assist the body in faster wound healing, magnesium to control optimal nerve functioning, calcium to build strong bones and teeth, folate to develop genetic material such as DNA and RNA, and other nutrients, including copper, zinc, phosphorus, iron, and manganese. One of the more notable aspects of the bi-colored artichokes is their pigmented purple nature, created by the presence of anthocyanins in the skin. Anthocyanins contain antioxidant-like properties to protect the cells in the body against the damage caused by oxidative stress and free radicals. Spinoso di Menfi artichokes also contain lignin, allowing them to retain their shape and stand up to high heat and preserved preparations.


Applications

Spinoso di Menfi has a nutty, rich, earthy, and grassy flavor suited for raw and cooked preparations. Before consumption, the tough outer bracts, also called leaves, should be removed until all that is left are the tender, fleshy bracts. The thorns should also be cut off to create an easier, less prickly eating experience, and they should never be consumed. As a simple dish, Spinoso di Menfi can be served raw in salads or drizzled with oils, salt, and lemon juice. The artichokes can also be roasted and tossed with olive oils and herbs as an appetizer, served with fresh cheeses, or grilled with meats. In Sicily, Spinoso di Menfi artichokes are popularly deep-fried and open slightly in the oil, resembling a flower, or they are pickled for extended use as a tangy condiment. The artichokes are also pureed into pate or blended into a cream with olive oil, garlic, salt, and mint. Artichoke dips and creams are spread over toast, used as a sauce for meat, served with crudité platters, or eaten with crackers. In addition to creamy spreads, Spinoso di Menfi artichokes can be cooked into pasta, stirred into risotto, chopped as a filling for stuffed shells, or added to seafood dishes as a vegetable. The variety is also commonly used in carciofi affogati, meaning "drowned artichokes," as the artichokes are covered in a liquid and cooked. In Menfi, Sicily, it is tradition for Spinoso di Menfi growers to end their artichoke harvest on May 1st. At the conclusion of the season, the townspeople gather in the countryside to grill the artichokes over hot embers. The artichokes develop a smokey flavor and are seasoned with garlic, olive oil, and salt. Spinoso di Menfi artichokes pair well with cheeses, especially goat, parmesan, and feta, herbs such as parsley, mint, and dill, citrus, nuts including walnuts, pine, and pistachios, truffles, mushrooms, and other spring ingredients, including ramps, garlic scapes, asparagus, and peas. Whole, unwashed Spinoso di Menfi will keep for 1 to 2 weeks when lightly wrapped in plastic or stored in a sealed container and placed in the refrigerator's crisper drawer.


Ethnic/Cultural Info

Spinoso di Menfi is touted among Sicilians as Goethe's favorite artichoke. Johann Wolfgang von Goethe was a German literary figure famous for his poems and writings throughout the Romantic movement in Europe. Faust, a poem about a man selling his soul to the devil, is often regarded as Goethe's most famous piece and has become one of the most well-known poems in Germany. During his life, Goethe traveled to Italy from 1786 to 1788 and spent three months in Sicily in 1787. Goethe resided in Sicily in the spring, roughly from March through May, and documented his experiences and thoughts in a memoir entitled Italian Journey in 1817. In the memoir, Goethe mentions the site of people eating fresh artichokes in Sicily and comments that they are "more tender and juicy" than the artichokes found in his hometown in Germany. This excerpt from Goethe's writing is frequently used to promote the historical prominence of the Spinoso di Menfi, as some experts believe the Spinoso was the likely artichoke consumed in Sicily during this time. Later in 2022, a group of growers and artichoke advocates continued to honor Spinoso di Menfi artichokes in a two-day event to celebrate the 10th anniversary of the Slow Food Prickly Artichoke Presidium. The Presidium was established in 2012 when the Spinoso di Menfi was disappearing from cultivation, and a group of growers formed the association to preserve, protect, and promote the variety. During the weekend-long event in Menfi, Spinoso di Menfi artichokes were promoted through two curated meals created by chefs Mauricio Zillo of Gagini and Gaetano Verde of Charleston, Palermo. The event attracted city officials, industry leaders, and local institutions, and the culinary experiences were used to promote Spinoso di Menfi artichokes as a true symbol of Menfi and as an elevated ingredient for catering. Several of the growers also offered farm tours for attendees to see how the artichokes are produced. Spinoso di Menfi artichokes are considered a sustainable variety as it is planted in cooler weather, saving the amount of water required for the plant and fewer treatment sprays during cultivation.


Geography/History

Spinoso di Menfi artichokes are native to Sicily in Italy, the largest island in the Mediterranean Sea. Much of the variety's history is unknown before the 19th century, but it is believed by experts to be a descendant of the wild thistle or Cynara cardunculus var. Sylvestris. The wild thistle was first domesticated in a region of Sicily near the original site of Selinuntine, an ancient Greek colony destroyed in 250 BCE. Spiny artichokes arose through the domestication of wild thistles, and by the 19th century, Spinoso di Menfi was being cultivated from the Carboj river to the Foce del Belice Nature Reserve. Spinoso di Menfi artichokes were once extensively grown throughout Sicily and were easily found in markets throughout the island. The species was planted in home gardens, on farmland, near vineyards and fields, and when in season, Spinoso di Menfi artichokes were a symbol of Sicilian agriculture. Over time, the species began to be overshadowed by modern thornless artichoke cultivars in the 1980s, eventually diminishing the Spinoso di Menfi artichoke to a rare variety in danger of extinction. In 2012, the Slow Food Prickly Artichoke Presidium was established to protect the variety from disappearing, and presently there are around eight growers in Sicily still cultivating the variety. Today the commune of Menfi on Sicily produces over 600 hectares of artichokes, but only about 10 hectares of land is used to grow Spinoso di Menfi. The variety is also planted in the Agrigento, Palermo, and Catania provinces. When in season, Spinoso di Menfi is available direct through growers at markets in Sicily, especially in Palermo, Menfi, Trapani, and Agrigento.