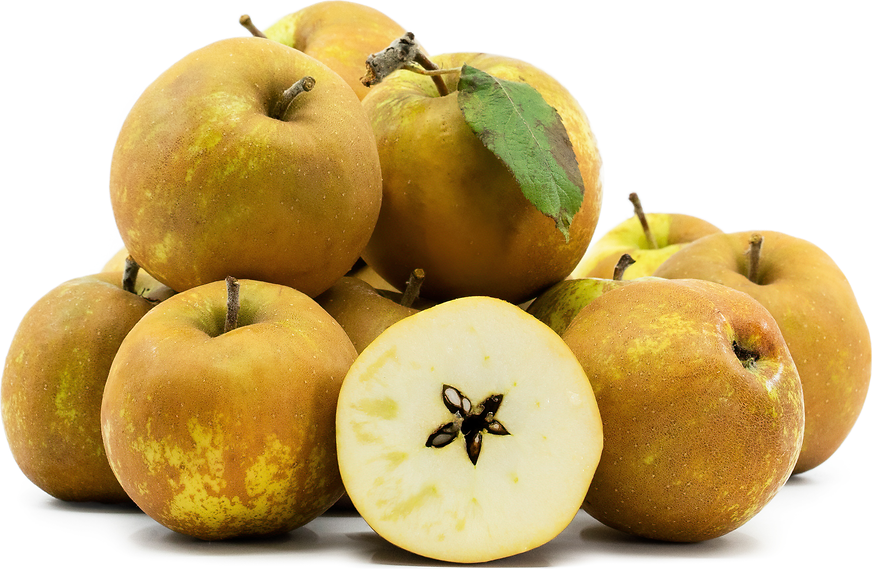 Hudson Golden Gem Apples
Inventory, lb : 0
Description/Taste

Hudson Golden Gem apples widely vary in size and shape, depending on growing conditions, and are generally a medium to large varietal, averaging 7 to 8 centimeters in diameter. The apples have an elongated, conical, and slightly angular appearance, with broad, flat, and sloping shoulders tapering to a narrow, often lopsided base. Hudson Golden Gem apples are known for their top-heavy nature and long dark brown stem, often resembling an inverted pear. The skin has a yellow-green to golden-yellow base coloring, almost entirely enveloped in a grey-brown, yellow-brown, to bronze russet. The russet generally has a uniform, flat nature and a rough, sandy consistency, and there are also prominent pale lenticels scattered across the surface. Underneath the skin, the yellow flesh oxidizes quickly and has a dense, fine-grained, and aqueous consistency with a crisp, breaking mouthfeel. When the apples are mature, the flesh softens and takes on a smoother texture, similar to a Bosc pear. Hudson Golden Gem apples have a sugary-sweet, light, nutty, and subtly tangy flavor with vanilla and honey, pear-like undertones.


Seasons/Availability

Hudson Golden Gem apples are available in the mid-fall through winter.


Current Facts

Hudson Golden Gem apples, botanically classified as Malus domestica, are an American heirloom variety belonging to the Rosaceae family. The mid to late-season cultivar was discovered growing as a chance seedling in an orchard in western Oregon and was selected for its large size, unique appearance, and pronounced, sweet, and nutty flavor. Hudson Golden Gem apples are a type of russet apple, meaning their skin is often enveloped in a rough, sandy coating, and are one of the largest known russet varieties in existence. Growers select Hudson Golden Gem apple trees for their upright, spreading nature and small size, reaching 3 to 5 meters in height. The trees are vigorous, producing fruit after 2 to 4 years, and the apples hang tightly onto the tree, lasting well in the winter season for extended harvests. Hudson Golden Gem apples are resistant to scab and other diseases, and the fruits are hot and cold tolerant. Despite their favorable characteristics, Hudson Golden Gem apples are not commercially cultivated and have remained a specialty variety due to their russeted appearance and prone to cracking. Russet apples are renowned for their flavor, sought out by apple enthusiasts, but the variety typically lacks the aesthetic appeal required for American mainstream markets. In the modern day, Hudson Golden Gem apples are an heirloom cultivar offered through fresh markets in the Northeast and Pacific Northwest of the United States as an all-purpose apple with a rich taste, utilized in fresh and cooked preparations and cider production.


Nutritional Value

Hudson Golden Gem apples are a source of fiber to regulate the digestive tract, vitamin C to strengthen the immune system while reducing inflammation, and vitamin E to protect the body against damage caused by free radicals. The apples also provide potassium to balance fluid levels within the body, copper to develop connective tissues, iron to produce the protein hemoglobin for oxygen transport through the bloodstream, and other nutrients, including vitamin K, magnesium, zinc, calcium, phosphorus, and antioxidants.


Applications

Hudson Golden Gem apples have a sugary-sweet, tangy, and subtly nutty flavor suited for fresh and cooked preparations. The variety is popularly consumed straight out of hand for its rich juice and breaking texture, and the flesh can be incorporated into salads, shredded into slaws, or chopped as a fresh topping over breakfast dishes. It is important to note that the russet skin will have a textured mouthfeel distinct from smooth apple varieties. The skin is entirely edible, and some consumers enjoy this sandy consistency, but others may peel the apples before eating. Hudson Golden Gem apples can be thinly sliced and served on cheese boards, layered into sandwiches and burgers, cut into matchsticks and placed on bite-sized appetizers, or quartered into larger pieces and served with nut butter, chocolate, or caramel. In addition to fresh preparations, Hudson Golden Gem apples are commonly pressed into juices, blended into smoothies, or added to sparkling beverages and cocktails. The apple's sweet, pear-like flavor complements apples with tangier, sharper nuances and is often incorporated into cider blends. Hudson Golden Gem apples are also simmered into purees, jams, chutney, and butter, roasted as a side dish to meats, or minced and used as a filling. Beyond savory dishes, Hudson Golden Gem apples can be baked in pies, cakes, tarts, muffins, and bread or fried into fritters. The apples can also be sliced thin and baked into chips or dried into strips for extended use. Hudson Golden Gem apples pair well with spices such as cinnamon, cloves, nutmeg, ginger, and allspice, vanilla, chocolate, maple syrup, fruits including pears, stone fruits, berries, and citrus, and cheeses such as mild cheddar, brie, chevre, and gouda. Whole, unwashed Hudson Golden Gem apples will keep up to three months when stored in a cool, dry, and dark place.


Ethnic/Cultural Info

Russet is a natural occurrence that appears on select apple varieties and is developed from several factors. The rough, textured skin is typically created from damage to the epidermal cells in the apple's skin. Once the cells are injured, they turn brown and are pushed toward the fruit's surface, giving the skin a raised, sand-paper-like consistency. Russet can occur on apples due to weather changes such as frost, heavy rainfall, and lack of sunlight. Other factors, such as bacteria, viruses, and fungi, can also cause the cells to malfunction, producing brown, irregular patches. Historically, russet apples were good keepers, allowing growers and consumers to store fresh fruits through the bleak winter months. Russet has been primarily bred out of modern varieties as consumer preferences have shifted towards shiny, smooth-skinned apples, but many heirloom varieties have remained in specialty markets partly for their robust flavoring. Russet apples are traditionally known for their rich, sweet, and sometimes tart taste, and the russet skin is said to give the fruit a nutty nuance. Russet also allows the skin to stay dense and moist, providing an enhanced eating experience.


Geography/History

Hudson Golden Gem apples were discovered growing as a chance seedling along a fence in the orchard of Hudson Nursery in Tangent, Oregon. Hudson Nursery was situated along the Pacific Coast Highway in western Oregon and was self-proclaimed as "growers of fine nursery stock for particular planters." Customers could visit the orchard in person and supervise the fulfillment of their orders, or the nursery would ship the order by parcel post or freight. In 1931, the owner of Hudson Nursery, A.D. Hudson, noticed a small apple tree growing in a dense grouping of bushes along one of the nursery's fences. Mr. Hudson was taken with the apple's unique skin coloring and sweet, pear-like flavoring and took several branches of the tree and top grafted them onto other trees in the orchard to propagate the new variety. The parentage of Hudson Golden Gem apples is unknown, but pomologists hypothesize that the apples may be a chance seedling derived from the open pollination of a Golden Delicious. After Hudson Golden Gem apples were released, they became the nursery's most profitable apple variety and were marketed as a specialty fruit. The apples were often featured prominently in their catalogs, praised for their pear-like appearance and flavor, and many nursery customers even mistook Hudson Golden Gem apples for pears in blind taste tests. Hudson Golden Gem apples developed a small following throughout the mid to late 20th century, especially among cider producers and russet apple growers. Today Hudson Golden Gem apples are a rare variety primarily localized to the Pacific Northwest and New England in the United States. When in season, Hudson Golden Gem apples are found in farmer's markets, direct through growers, or cultivated in home gardens.