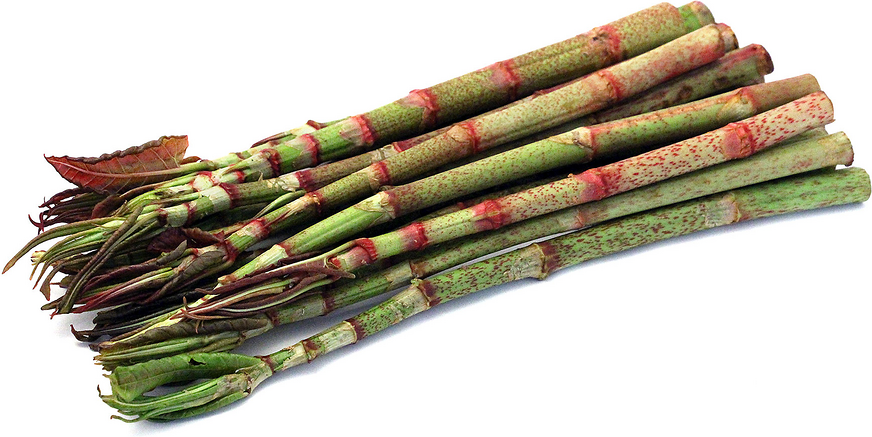 Sukanpo
Inventory, lb : 0
Description/Taste

The thick green stalk of Sukanpo is jointed and covered in deep red sheaths. They are crisp and juicy offering a refreshing yet sour taste, similar to that of rhubarb. Its tip boasts smooth edged, pointy leaves which are alternate and can grow four to six inches in length. In the summer months Sukanpo will bloom white to pale green flowers. The Sukanpo is typically harvested when it is between six to eight inches tall.


Seasons/Availability

Young and tender Sukanpo are available in the spring months.


Current Facts

The Sukanpo, also known as Itadori, Japanese knotweed and Mexican bamboo is an herbaceous perennial and a member of the Polygonaceae family. Scientifically it is known as Polygonum cuspidatum, poly meaning "many" and gony translating in Greek to mean "knee", a nod to the jointed segments that line the stem of the plant.


Nutritional Value

The Sukanpo is a great source of vitamin A. Also it provides vitamin C, phosphorus, zinc, potassium and manganese. It is rich in resveratrol, which is the same substance in red wine that can lower cholesterol levels as well as reduce the risk of heart attack. In addition, eating a large amount of Sukanpo can act as a gentle laxative.


Applications

Sukanpo can be enjoyed in a variety of different cooked preparations. They can be steamed, baked, sautéed or grilled. Add to stir-fries, Nimono, Sunomono, soups and salads. Paired with sweet fruits their tart flavor will complement fruit compotes and pie fillings. They are also excellent for cooking down to make marmalades and jams. For an ideal texture be sure to peel off their tough rind prior to cooking. In addition to cooked preparations they are often salt-picked and made into Shiozuke in Kochi prefecture.


Geography/History

Sukanpo are native to Japan, China and Korea. Today they can be found throughout North America and Europe. They were introduced to the United States in the late 1800s and today they are now considered to be one of the most invasive plants in the country. In Japan, they grow in Hokkaido, Honshu, Shikoku and Kyushu. They prefer growing on moist, disturbed soil along roadsides, riverbanks and fields. Kibune shrine in Kyoto holds an annual Sukanpo festival known as Itadori Matsuri on the first of June every year. During the festival, people compete to see who can pick the most and the longest wild Sukanpo.