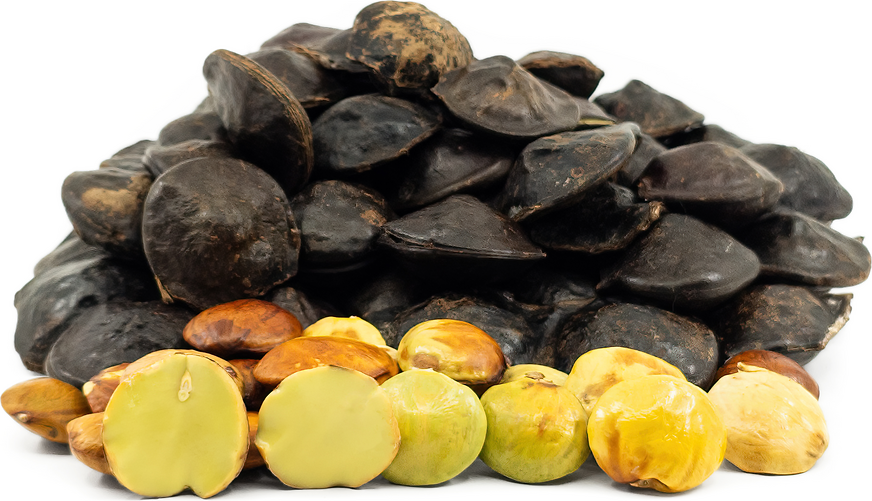 Jering
Inventory, lb : 0
Description/Taste
Jering is a small to medium-sized seed, averaging 3 to 4 centimeters in diameter, encased in a round to oval, flat pod. Each pod can hold 3 to 9 seeds and is leathery, hard, semi-rough, and dark brown to purple, tightly clinging to the seeds creating a lobed appearance. When the pods are removed, they reveal a broad, flat, oval to round seed covered in a thin red-brown shell. The seeds are golden yellow, yellow-green, to cream-colored when the shell is discarded, and have a firm, dense, and starchy texture. When crushed, Jering has a distinct odor that some liken to the smell of garlic mixed with sulfurous gas. The seed is bitter when raw, but the flavor mellows into a mild, neutral, and sometimes bland flavor when cooked. The young flowers, leaves, and shoots are also edible and have earthy, green, and grassy nuances.
Seasons/Availability
Jering is available year-round.
Current Facts
Jering, botanically classified as Archidendron pauciflorum, is a seed of a tropical, evergreen tree belonging to the Fabaceae family. The seed pods grow in spiraled clusters hanging below the branches, and the tree can reach 18 to 25 meters in height, native to Southeast Asia. Each tree can produce 1,000 to 4,000 seeds per year, and the seeds have been foraged as a food source since ancient times. Jering is known by many regional names, including Jengkol or Djenkol in Indonesia, Jering in Malaysia and Java, Jarung in Sumatra, Da-nyin-pen or Da-nyin-thee in Burma, Luk Nieng in Thailand, Krakos in Cambodia, and Dog Fruit, Blackbead, Stinky Beans in North America. The seeds are traditionally consumed cooked after being boiled in water several times to remove odor and harmful acids in the flesh, and they are becoming openly accepted as a nutritious food source. Historically, Jering was mostly known for its offensive odor and was not considered a public food item. Over time, new preparations have been created to mask the smell, allowing Jering to become a mainstream ingredient found through local markets in Southeast Asia. In addition to the seeds, the pods are used in villages to make purple fabric dye, and the bark is collected to make black dye, primarily used to color silk. The tree's wood is also used for construction materials and firewood.
Nutritional Value
Jering is a good source of vitamin C to strengthen the immune system, vitamin A to maintain healthy organ functioning, and calcium and phosphorus to protect bones and teeth. The nuts also provide fiber to regulate the digestive tract, thiamine to convert food into energy, and iron to develop the protein hemoglobin for oxygen transport through the bloodstream. It is important to note that Jering contains djenkolic acid, which can cause gastric distress if consumed in large quantities. Traditionally, Jering is boiled in water at least three times to help lower the djenkolic acid content. Jering is also used in natural medicines in Southeast Asia to purify the blood, while the young leaves are burned and crushed into a powder to soothe wounds and irritated skin.
Applications
Jering has a neutral, starchy flavor and is primarily consumed cooked to add texture to culinary dishes. Young seeds can be eaten raw or tossed into salads, but mature seeds are recommended to be cooked before consumption to lower the djenkolic acid content. Jering is traditionally boiled multiple times or steeped in salt water to remove any lingering odors and chance for gastric distress. Once boiled, the seeds can be tossed into curries, soups, and stews, coated in grated coconut and eaten as a snack, or roasted or fried to develop a crisp exterior. In Southeast Asia, Jering is popularly cooked, coated in soy sauce and spices, and incorporated into semur Jengkol, a beef-like stew. The seeds are also cooked in a chile sauce, prepared as a satay, or cooked with coconut milk. In addition to keeping the seeds whole, Jering can be ground with meats and spices and mixed into culinary dishes, or the seeds can be cooked, flattened, and dried or fried into crisp chips. The flattened chips are often cooked in coconut oil for added flavor and are sprinkled with salt or lime as a bright topping. Some communities also consume Jering by burying the seeds, allowing them to germinate. Once a sprout forms, it is removed, and the seed is eaten. Beyond the seeds, the young leaves, shoots, and flowers can be lightly blanched or sauteed and consumed as a vegetable. Jering pairs well with aromatics such as garlic, onion, shallots, chiles and shrimp paste, cucumbers, long beans, tomatoes, and seafood such as prawns, fish, and crab. Whole, unshelled Jering will keep for a couple of days when stored in a cool and dry place. The cooked seeds should be immediately consumed for the best quality and flavor.
Ethnic/Cultural Info
In Jakarta, Jering is more commonly known as Jengkol and is promoted as a local delicacy through the Jengkol Festival. The annual event is hosted in March and was created in the early 21st century to promote the culinary attributes of the seed. Historically, Jengkol has been viewed as an ordinary, everyday food that was often observed with scrutiny for its offensive odor. Many Indonesians chose to eat Jengkol in secret, especially wealthier families, to maintain a specific appearance in the public. Over time, chefs, food writers, and marketing companies sought to change the seed's reputation, promoting its nutritional properties and ability to be cooked to remove the smell. The Jengkol Festival has helped to change the public's perception, with chefs preparing the nut in unique culinary demonstrations. Chefs used Jengkol in soups, layered the seed into burger patties, fried and served it as a crispy bite, or cooked and served the seeds with coconut milk steamed rice. One of the popular dishes consumed at the festival was Jengkol meatballs served in a clear broth with noodles. The Jengkol in the dish was almost unnoticeable, and its characteristic odor was removed, delighting the visitors sampling the dish. The festival uses approximately 150 kilograms of Jengkol each year, and there are also hosted educational lectures, networking opportunities, and markets to purchase homemade goods.
Geography/History
Jering is native to Southeast Asia and has been growing wild since ancient times. The trees are primarily found in tropical, humid climates and have been discovered wild along riverbanks, mountainous regions up to 1600 meters altitude, and in forests. Over time, many villages throughout Southeast Asia planted the trees next to their villages as a source for food, medicine, and construction materials. Today Jering is harvested from wild and domesticated trees and is sold through local markets in Indonesia, Malaysia, Thailand, Cambodia, and Bangladesh.
Recipe Ideas
Recipes that include Jering. One

is easiest, three is harder.