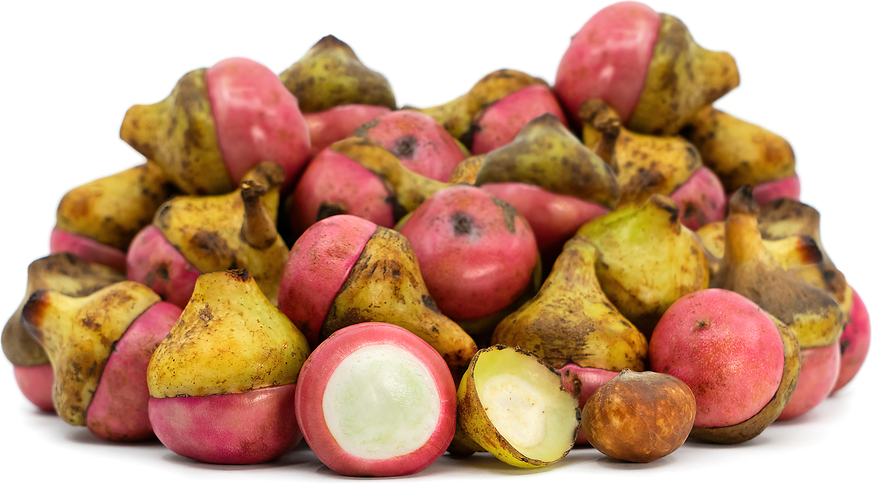 Engkalak
Inventory, lb : 0
Description/Taste
Engkalak fruits are small in size, averaging 2 to 5 centimeters in diameter, and have a round to oblate appearance with a curved base and a prominent, pointed green cap bearing a short, stubby stem. The fruits have thin, smooth skin, and the base ripens from pale green, bright pink to dark red pink. The cap transitions from green to yellow-green with maturity and can be easily separated from the flesh. Underneath the surface, the white to cream-colored flesh develops a soft and malleable nature when ripe with a creamy, buttery, and fatty consistency. The flesh also encases one large brown reed ranging 1 to 2 centimeters in diameter. The fruit's seed and skin are inedible, and the flesh should only be consumed when ripe. If the flesh is eaten unripe, it has a bitter and spicy, unpalatable flavor. Ripe Engkalak has a mild, neutral, and rich taste reminiscent of avocado and buttermilk.
Seasons/Availability
Engkalak is available in the late fall through winter.
Current Facts
Engkalak, botanically classified as Litsea garciae, is a rare, tropical fruit belonging to the Lauraceae family. The small, colorful fruits develop on evergreen trees reaching 10 to 26 meters in height and form in clusters or grow individually along the branches. Engkalak trees bear fruit after about five years and are native to Southeast Asia, specifically Borneo, and are an ancient species traditionally consumed with salt as a filling side dish or snack. The fruits are picked with long poles from wild trees and are also cultivated on a small-scale, sold in local markets. Engkalak fruits are also known as Butter fruit, Borneo Avocado, Buah Tebuluh, Engkala, Tebulus, Wuru Lilin, Kupa, Bagnolo, Lan Yu Mu, and Ta'ang, and there are two main varieties: Engkalak bulan and Engkalak bintang. Engkalak bulan is a larger variety, sometimes called Engkala susu, and Engkalak bintang is a smaller variety with a slightly richer flavor. Engkalak is a unique seasonal fruit in fresh local markets and is consumed fresh or lightly cooked, valued for its creamy, avocado-like consistency.
Nutritional Value
Engkalak is a source of potassium to balance fluid levels within the body and vitamin C to strengthen the immune system while reducing inflammation. The fruits also provide fiber to regulate the digestive tract, calcium to build strong bones and teeth, iron to develop the protein hemoglobin for oxygen transport through the bloodstream, and other nutrients, including manganese, phosphorus, zinc, magnesium, and copper. Beyond vitamins and minerals, Engkalak contains antioxidants to protect the cells against free radical damage to maintain overall bodily health.
Applications
Engkalak has a mild, sweet, and rich flavor suited for lightly cooked preparations. The fruits are consumed when soft, and there are three main methods of softening the fruits. The first and most common preparation is to immerse the fruits in hot to boiling water for a few minutes. Once softened, the fruits are sprinkled with salt and eaten out of hand. It is important to note that the skin and central seed are not consumed. The flesh is typically squeezed and sucked out from the skin. The second method of preparing Engkalak is to tap the fruit with a spoon or roll it between the hands to manually soften the flesh. The fruits can also be tossed in salt and left in the mixture for twenty minutes. Once prepared, the flesh is sometimes served with sago seed, a crisp snack food created with sago flour sprinkled on the fruits for a crunchy consistency. Softened Engkalak is traditionally consumed with rice during lunchtime in Southeast Asia, occasionally mixed with soy sauce for enhanced flavor. The fruits can also be pickled when unripe and preserved for extended use. Engkalak fruits should be immediately consumed when ripe for the best quality and taste and will keep for a couple of days when stored in a cool and dry place.
Ethnic/Cultural Info
Engkalak is one of the traditional foods of the Iban people in Borneo. The Iban tribe has resided in Sarawak, Borneo, for over 400 years and is known as a powerful people group comprised of hunters, gatherers, and warriors. The Iban are also the largest ethnic group in Sarawak. Historically, the Iban tribe has remained connected to the rainforest, respecting available wild food sources, but they are also known as rice farmers, planting many different varieties as a community to incorporate into Pansuh cooking. Pansuh is a method of preparing food by cooking it in a bamboo stem over an open fire. Cooking food in the stem captures moisture and imparts a unique aroma into the dish, and this process is a natural method, using items from nature. Engkalak is customarily served with rice, and the fruits have remained a filling food source in Sarawak. In addition to the fruits, the Ibans also source the bark of the Engkalak tree and combine it into a poultice to treat insect stings, boils, burns, and snakebites.
Geography/History
Engkalak is native to Southeast Asia and is typically found in Borneo, growing wild since ancient times. The fruits thrive in tropical climates and grow on moisture-loving trees, commonly found in the jungle or along hillsides beside river banks and streams. Throughout history, Engkalak has been labeled as a rare, indigenous fruit mostly harvested from wild trees. Over time, the fruits were selected for small-scale cultivation, often grown near villages and communities as a food source. Today, Engkalak has remained localized to Southeast Asia and is commercially grown in Sibu, Igan, Oay, Mukah, and Bau in Sarawak, Borneo. The fruits are also found in smaller quantities in local markets in Taiwan, the Philippines, China, Indonesia, and Malaysia.
Recipe Ideas
Recipes that include Engkalak. One

is easiest, three is harder.