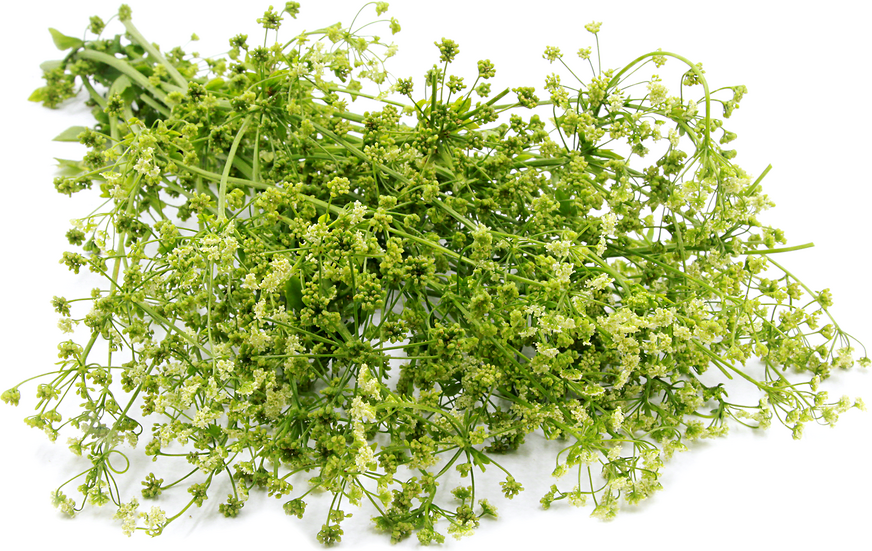 Parsley Blossoms
Inventory, bunch : 0
Description/Taste

Parsley flowers are very small in size, with each flower measuring only a few millimeters in diameter. The flowers bloom in yellow to light green hues and grow in delicate clusters arranged in an umbel shape that extends from the ends of deep green stems scattered with wispy, feather-like leaves. The stalk and leaves are also edible and have a succulent texture. Parsley flowers have a vegetal aroma and a fresh and green flavor with hints of citrus, clove, and nutmeg and a sweet and early finish.


Seasons/Availability

Parsley flowers are available during the spring and summer.


Current Facts

Parsley flowers bloom in clusters at the end of long stems that extend upward from the parsley plant, a wispy and delicate perennial herb in the Apiaceae family. There are over 30 varieties of parsley, with the two most common varieties being curly parsley, botanically classified as Petroselinum crispum, and Italian parsley, botanically classified as Petroselinum crispum neapolitanum. Another variety, Petroselinum tuberosum, is also commonly grown for its large, edible root. In the plant's second year, all varieties of parsley will produce small yellow-green flowers that will eventually develop into oval-shaped leaves. Parsley flowers have a fresh and floral aroma and sweet flavor with a profile similar to the herb. The flowers can be used as a garnish or dried and added to teas and spice mixes. The plant has also been used for centuries for medicinal purposes. Parsley resembles another plant botanically classified as Aethusa cynapium, commonly known as fool's parsley. This plant is poisonous, so care must be taken when foraging for wild parsley flowers to make sure the plant found is truly parsley and not this look alike. The best way to tell the two apart is by smell; fool's parsley emits an aroma similar to an onion, while parsley has a faintly spicy aroma.


Nutritional Value

Parsley is a significant source of vitamins A, B, C, and K and the minerals iron, potassium, and copper. Italian parsley also contains folate. Compounds in Italian parsley's essential oils like limonene, eugenol, and myristicin give the herb its aroma as well as antifungal, antiseptic, and anti-inflammatory properties. Flavonoids in Italian parsley, such as luteolin and apigenin, give it anti-inflammatory and antioxidant benefits. Edible flowers are also known to contain high levels of antioxidants that reduce inflammation and fight free radicals in the body. Italian parsley has been used for centuries as a pallet cleanser, digestive aid, and to fight bronchitis and other respiratory ailments.


Applications

Parsley flowers can be used in any recipe calling for fresh parsley and are suited as an edible garnish or finishing flavor in savory dishes. The flowers can be used whole, or the petals can be separated and added at the end of cooking to retain the herb's bright and fresh flavor. Parsley flowers can be widely incorporated into many cuisines, including Indian, North African, Middle Eastern, Caribbean, Greek, and Asian. The flowers can be sprinkled over soups, curries, and stews, tossed into stir-fries, cooked into omelets, or stirred into rice and grain dishes like tabouli. Parsley flowers can also be blended into sauces such as pesto, gremolata, and chimichurri, folded into creamy dips or used as a flavoring in marinades, brines, and salad dressings. Indian cuisine can use Parsley flowers in samosas, vegetable side dishes, and chana masala, a chickpea curry. Beyond using the fresh leaves, Parsley flowers can be mixed into salt and served as a flavor enhancer. Parsley flowers pair well with meats such as poultry, duck, lamb, beef, and fish, tofu, scallions, red bell peppers, corn, tomatoes, ginger, mushrooms, jicama, potatoes, other herbs including mint, cilantro, and basil, legumes, and yogurt. Whole Parsley flowers will keep for 5 to 7 days when stored upright in a glass of water and covered loosely with a plastic bag in the refrigerator. The blossoms are delicate and recommended for immediate use to capture the best texture and flavor.


Ethnic/Cultural Info

Fresh parsley sprigs have been used as a garnish for over a thousand years. The herb was a staple item at feasts during the rule of Charlemagne, where it was placed on tables and sometimes even worn around the neck to absorb the odors of food. It was customary to eat parsley at the end of the meal to freshen the breath and to aid digestion of the fatty dishes often served in Medieval Europe. Charlemagne insisted on the herb being planted in his royal gardens, helping to spread both the herb and the garnishing tradition throughout Europe. The herb became a mainstay in many European and American cuisines. By the 20th century, a sprig of parsley could be found on almost every plate served in the United States, from diner food to steakhouses. Following the end of World War II, plating over a bed of greens grew in popularity, and by the 1970s, adding parsley was a common practice to brighten up the monochromatic look of frozen foods and buffet displays. Interestingly, while the tradition of garnishing with a sprig of parsley withstood time, the act of eating the herb to cleanse the palate was mostly lost by the mid-20th century. The culinary movements of the early 21st century gave way to more creative garnishing, and the sprig of curly parsley was mostly relegated to chain diner restaurants and salad bars. However, the use of parsley as a garnish has not entirely disappeared. Delicate parsley flowers are often used during their season, featured in a variety of flavor profiles from fresh fish to roasted lamb, and are used to enhance the dish's texture, flavor, and appearance.


Geography/History

Parsley is native to the Mediterranean region of southern Europe, where it has grown wild since ancient times. The herb was used medicinally and in cultural rituals in Ancient Greece, Rome, and Egypt. In Greece, the plant was deeply associated with death. The herb was dedicated to Persephone, the queen of the underworld, and was placed on graves. It was also associated with strength and was often placed around the neck of athletes. The Roman army spread the herb throughout Europe during the rule of Charlemagne, who insisted the plant be sown in all his royal gardens. The herb grew in popularity during the Middle Ages as a common kitchen herb, and seeds of the plant were brought to North America in the 17th century. The plant has naturalized across many cool and temperate climates worldwide and thrives in areas where summers do not get too hot or humid and in rich, moist soil. Parsley flowers can be found growing wild anywhere the plant grows during the spring and summer. The blossoms can also be found at farmer's markets and specialty stores during the season.