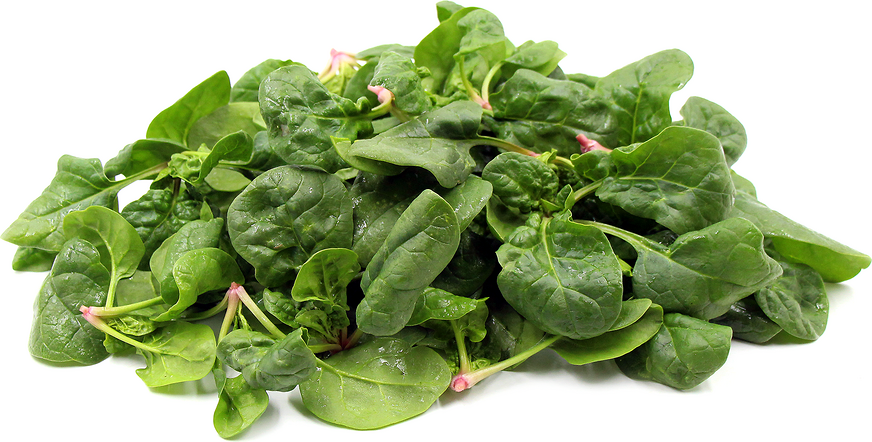 Mandolin Spinach
Inventory, lb : 0
Description/Taste

Mandolin spinach is generally a small varietal, developing in low-growing rosettes. The leaves appear upright and have a uniform, oval shape, often compared to the form of a paddle. When young, the dark green leaves are broad with smooth, even edges and have a slightly crinkled surface, showcasing prominent veining. As the leaves mature, their texture will become more creased, giving the surface a full, wrinkled nature. Mandolin spinach leaves are semi-tough and sturdy but pliable with a crisp, springy, and chewy consistency, developing a toothsome mouthfeel as the greens mature. In addition to the leaves, young stems are short and slender, exhibiting a pale green hue with a pink base, and full-grown stems develop a crisper, fibrous consistency. Young Mandolin spinach leaves impart a delicate, crisp, subtly sweet, earthy flavor when added raw to dishes. Mature Mandolin spinach has an earthy, green, and grassy flavor with subtly bitter, mineral-forward nuances. When the greens are cooked, they will soften in texture and develop a sweeter, milder taste.


Seasons/Availability

Mandolin spinach is available in the summer through early fall.


Current Facts

Mandolin spinach, botanically classified as Spinacia oleracea, is a modern hybrid variety belonging to the Amaranthaceae family. The late-season cultivar was created by a Dutch seed breeder as an improved spinach variety resistant to common diseases that plague spinach plants. Historically, older spinach varieties did not have suitable resistance to spinach mildew, which caused the leaves to become yellow and mold to form, leading to rot. Older varieties were also prone to bolting in warm weather, and farmers grew tired of growing the sensitive, disease-susceptible plants. Seed breeders began developing improved varieties, and Mandolin spinach is an example of a new cultivar with disease and bolting resistance. Mandolin spinach is resistant to white rust and downy mildew and has a medium growth rate, allowing it to grow throughout the summer and fall without the risk of rapid bolting or discoloring due to stress. Mandolin spinach plants are a type of savoy spinach, meaning their leaves are deeply crinkled, creating a textured surface. Presently, Mandolin spinach is a popular home garden variety and is primarily harvested as a baby green for fresh and cooked culinary preparations.


Nutritional Value

Mandolin spinach is a source of fiber to regulate the digestive tract, vitamin K to assist in faster wound healing, and vitamin A to maintain healthy organ functioning. The greens also provide vitamin C to strengthen the immune system and reduce inflammation, manganese to build connective tissues, iron to develop the protein hemoglobin for oxygen transport through the bloodstream, folate to produce healthy red blood cells, and other nutrients including zinc, copper, potassium, and calcium.


Applications

Mandolin spinach has a mild, earthy, vegetal, and subtly sweet taste suited for fresh and cooked preparations. The leaves are mainly used as baby or teenage green to ensure a more tender texture and are tossed into salads, stirred into dips, or added to grain bowls. Mandolin spinach can also be layered into sandwiches, used as a bed of greens for roasted meats, or used in fresh rolls. Beyond fresh preparations, Mandolin spinach can be blanched and served as a simple side dish, tossed into stir-fries, or cooked into egg-based dishes such as quiche, scrambles, omelets, or frittatas. The greens can also be stirred into soups, stews, and curries, baked into casseroles, mixed into pasta, or used as a pizza topping. Try incorporating spinach into enchiladas, lasagna, or lo mein, or stuff the cooked greens into meat, squash, dumplings, or calzones as a filling. Mandolin spinach pairs well with mushrooms, kale, potatoes, aromatics such as garlic, shallots, chile peppers, onions, and ginger, citrus, nuts including pine, almonds, or walnuts, and cheeses such as ricotta, parmesan, and cheddar. Whole, unwashed Mandolin spinach will keep for 1 to 2 weeks when wrapped loosely in paper towels and stored in the refrigerator's crisper drawer.


Ethnic/Cultural Info

Pop Vriend Seeds is a vegetable seed breeding company established in The Netherlands in 1956 by businessman and scientist Popke Vriend. The family-owned company is in its third generation and is named after its founder, Vriend, translated from Dutch to mean "friend." Pop Vriend Seeds embodies the theme of friendship by developing lasting relationships with clients and business partners worldwide. The company also uses themes to name its hybrid spinach varieties. Mandolin spinach is named after a small string instrument developed in Italy and Germany in the 18th century. The instrument's design was derived from the mandora, a six to nine-stringed lute, and the Mandolin was updated by only putting four steel strings on a round to pear-shaped base. Mandolins were popular in the Americas and Europe throughout the late 19th and early 20th centuries. In addition to its musical moniker, Mandolin spinach is a part of a specialized hybrid spinach line where each variety is named after a different musical instrument. Other Pop Vriend Seeds spinach varieties within the line include banjo, harp, tambourine, trombone, guitar, and trumpet.


Geography/History

Mandolin spinach was developed by the Pop Vriend Seed Company in Andijk, a rural region in The Netherlands. The Pop Vriend Seed Company operates in over 100 countries worldwide, and in 2019, the company became a part of KWS, a global plant breeder based in Germany. The Pop Vriend Seed Company claims they are "spinach specialists, especially for baby leaf and savoy varieties," and they work closely with universities to improve disease resistance in spinach varieties. Mandolin spinach was selectively bred to exhibit improved resistance to downy mildew, white rust, and common backyard pests. The variety was also developed to be hardy, surviving in the summer when other common spinach cultivars cannot withstand warmer temperatures. Today Mandolin spinach is not commercially produced on a large scale and is grown in smaller quantities as a fresh green. Mandolin spinach is also planted in home gardens as a specialty variety worldwide.