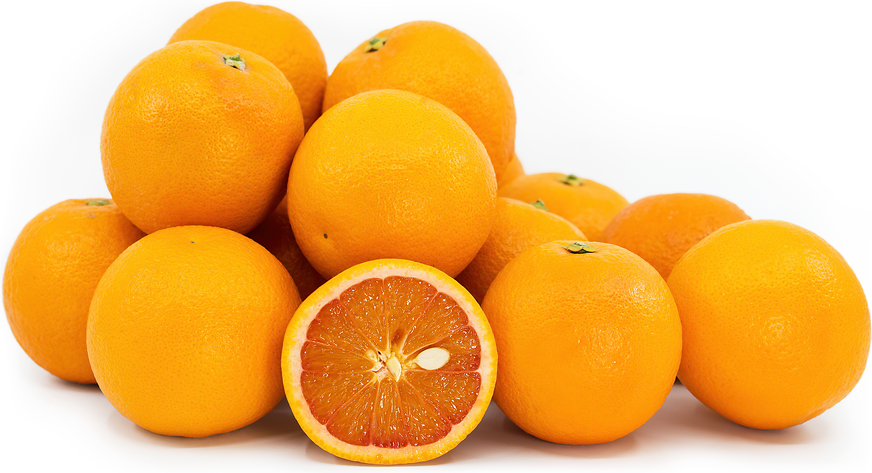 Mango Oranges
Inventory, 20 lbs : 0
This item was last sold on : 05/18/23
Description/Taste

Mango oranges are small to medium in size, averaging 5 to 8 centimeters in diameter, and have a uniformly round to slightly oblate shape with a curved nature. The fruit's skin, also known as the rind, is thin to medium-thick, depending on the growing region, and is firm, smooth, taut, and glossy. The skin also ranges in color from orange to orange-pink and is covered in prominent oil glands creating a moderately pebbled, textured feel. Underneath the surface, there is a layer of spongy pith, known as the albedo, that varies in shades of ivory, white, to light pink. The pigments in the flesh permeate the albedo, giving the fruits a unique coloring not often found in oranges. The rind and pith are tightly adhered to the flesh, which is divided into 7 to 10 segments by thin, also pigmented membranes. The flesh is known for its high juice content and is soft, tender, and succulent. Many consumers comment that the flesh almost has a melting consistency and can be heavily seeded or seedless. One of the striking characteristics of Mango oranges is their variegated flesh. Each orange is filled with shades of orange, orange-pink, and pink-red, and like a fingerprint, no orange will have the same appearance. Mango oranges release a sweet and floral aroma with subtle nuances of vanilla. The variety contains little to no acidity, contributing a mild, sweet, and somewhat one-dimensional taste combined with notes of vanilla to create a flavor reminiscent of a creamsicle. These oranges should be appreciated for their sweetness and the notable absence of tart, sour notes commonly found in citrus. For a more balanced taste, pair the juice of Mango oranges with other acidic fruits for an enhanced experience.


Seasons/Availability

Mango oranges are available in the late fall through early spring.


Current Facts

Mango oranges, botanically classified as Citrus sinensis, are rare, sweet oranges belonging to the Rutaceae or citrus family. The aromatic fruits grow on evergreen trees reaching 2 to 5 meters in height and are an early-season citrus valued for their unique acid-less flesh. Mango oranges are native to Italy, known under the name Vaniglia Sanguigno, and the variety has also been named Strawberry oranges, Vanilla oranges, and Vanilla Blood oranges in markets worldwide. It is important to note that though Mango oranges are sometimes labeled as blood oranges, the variety is not a true blood orange but a type of pigmented orange. True blood oranges get their coloring from anthocyanins, giving the flesh a vibrant red-purple hue, while pigmented oranges are flushed with coloring from the natural compound lycopene. Growers favor Mango orange trees for their easy-to-grow, self-fertile, and prolific nature, producing fruit within 3 to 4 years after planting. Each tree also develops 50 to 70 kilograms of oranges per season, sometimes as high as 120 kilograms. Mango oranges are favored for their distinctly sweet, acid-less taste, and the fruits are typically consumed fresh, either out of hand or pressed and mixed into refreshing juices with other fruits. In the modern day, the variety is challenging to find as it is not commercially produced. Mango oranges are primarily planted in home gardens or sold through a few specialty growers as a novel citrus.


Nutritional Value

Mango oranges are a source of vitamin C to strengthen the immune system while reducing inflammation, potassium to balance fluid levels within the body, and fiber to regulate the digestive tract. The oranges also provide calcium to build strong bones and teeth, folate to produce RNA and DNA, and other nutrients, including manganese, phosphorus, zinc, copper, and iron. The fruit's red-pink flesh is created by the presence of the carotenoid lycopene, a natural compound and pigment with antioxidant-like properties to protect the cells against oxidative stress and damage caused by free radicals.


Applications

Mango oranges have a mild, sweet, and acid-less taste suited for fresh and cooked preparations. The fruits are often consumed straight out of hand and are favored for their tender, melting texture and high juice content. Mango oranges can also be segmented and tossed into salads, used as an edible garnish, or sliced and served in fruit medleys as a sweet addition. If using segments of the flesh for a more complex dish, squeezing a couple of drops of lemon or lime juice over the flesh for additional flavoring is recommended. One of the most popular uses for Mango oranges worldwide is mixing the juice into cocktails, fresh beverages, and smoothies. Try mixing Mango orange juice with acidic citrus varieties to create a balanced, sweet, and tangy drink. The juice can also be used as a mixer for cocktails and mocktails. Mango oranges can be used to flavor sorbet, ice cream, popsicles, and granita, the rind can be candied or zested, and the juice can be infused into baked goods such as cakes, muffins, scones, and bread. The oranges can also be simmered into sauces and marmalade, added to cheesecake, or cooked into syrups. In addition to juicing, Mango oranges are also used for their zest, which is sprinkled over beverages and cocktails or stirred into sugar. Mango oranges pair well with herbs such as mint, cilantro, and basil, nuts including almonds, pecans, and walnuts, dark chocolate, meats such as poultry, pork, duck, and fish, and spices including cardamom, nutmeg, and cinnamon. Whole, unwashed Mango oranges will keep for a couple of days at room temperature and up to ten days when stored in the refrigerator.


Ethnic/Cultural Info

In Sicily, Mango oranges are known as Vaniglia Sanguigno, translating to "Blood Vanilla," a descriptor for the orange's pigmented, vanilla-scented flesh. The oranges are also generally known as Arancia Vaniglia or "Vanilla orange" and are used as a central ingredient in several traditional Sicilian dishes. One of the most famous dishes is sarde a beccafico or Sicilian stuffed sardines. Legend has it that Sicilian nobles used to hunt and eat warblers, local birds of the region known as beccafico. When the nobles would eat the birds, they would customarily consume them in a dish where the birds were stuffed with their own innards and entrails. This dish was considered very expensive at the time and only consumed by the elite, and in an effort to mirror nobility, Sicilian commoners began recreating the dish using inexpensive ingredients. The dish was reconstructed using sardines, as the small fish was readily available in the Adriatic Sea off the coast of Sicily. In the common dish variation, the sardines were stuffed with breadcrumbs, pine nuts, and sometimes cheese as a cheaper alternative to stuffing with entrails. Over time, many variations of sarde a beccafico would be produced across Sicily using varying ingredients, with the dish being most consumed in Palermo, Messina, and Catania. Sarde a beccafico is a dish comprised of stuffed sardines infused with orange juice for a sweet taste. Orange slices are also layered between the sardine pieces for enhanced visual appeal. Since its creation, sarde a beccafico has become one of Sicily's most traditional and beloved recipes.


Geography/History

Mango oranges are thought to be native to Italy. Much of the variety's history is unknown, but some records indicate that Genoese sailors introduced original cultivars of the sweet vanilla-scented oranges to Sicily sometime in the 15th century. Experts hypothesize that the sailors may have sourced the oranges from China or the East Indies, and once planted in Sicily, the oranges were selectively bred over time, naturally mutating and creating new variations, including seedless fruits. Mango oranges eventually spread throughout Europe as a specialty citrus and were introduced to the United States, specifically California, where a few growers cultivate the variety. Today Mango oranges are a rare citrus grown on a small scale, mainly in Europe and the United States. When in season, the variety is sold through local markets in its growing region and is shipped in small quantities to distributors and select retailers for sale as a fresh market item. The Mango oranges featured in the photograph above were sourced through Buck Brand Citrus, a specialty brand under Homegrown Organic Farms in the San Joaquin Valley in California.