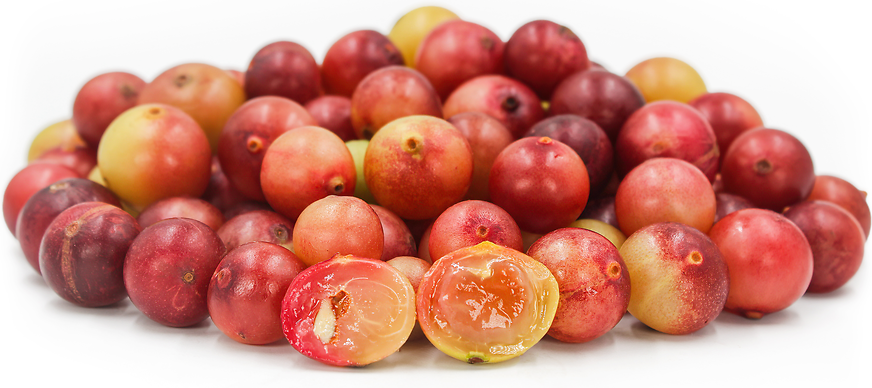 Camu Camu
Inventory, lb : 0
Description/Taste
Camu Camu berries are small fruits, averaging 2 to 3 centimeters in diameter, and have a round, oval, to ovate shape. The fruit's skin is smooth, taut, and semi-thin, appearing green when young and transitioning into variegated red-green to dark red-purple hues when ripe. Underneath the surface, the white, pale yellow to green flesh is soft, aqueous, and succulent, encasing anywhere from 1 to 4 brown seeds. Camu Camu berries contain high levels of citric and ascorbic acid, creating an acidic, tart, and sour, subtly fruity flavor. As a result, the berries are often considered unpalatable to consume by themselves and require additional sweeteners to balance the tangy taste. In addition to the berries, Camu Camu plants also produce seasonal fragrant white blossoms that attract beneficial pollinators.
Seasons/Availability
Camu Camu berries are generally available in the dry season through the beginning of the rainy season in South America, typically ranging from October through November and again in February through June.
Current Facts
Camu Camu berries, botanically classified as Myrciaria dubia, are tart, Amazonian fruits belonging to the Myrtaceae family. The colorful berries grow on shrubs that can reach 3 to 5 meters in height and are native to floodplains, riverbanks, and swamps of the Amazon rainforest. Camu Camu berries are an ancient fruit used by indigenous populations throughout South America for generations in culinary and medicinal practices. The berries are harvested by boat when the plants are fruiting, but for 4 to 6 months out of the year, the water levels rise, and the shrubs are submerged in water. Legend has it that the name Camu Camu is derived from the sound that fish make as they eat the berries that have fallen into the rivers. Camu Camu is also known by several other names throughout South America, including Guayabito in Venezuela, Mitu in Colombia, Camo Camo in Peru, and Araza de Agua or Cacari in Brazil. One Camu Camu shrub can produce over 12 kilograms of fruit per season, and the berries have recently attracted the attention of international consumer markets as a nutritionally dense fruit. In the late 20th and early 21st centuries, Camu Camu berries have been heavily marketed as a superfood worldwide and are primarily sold in powders, frozen pulp, and supplement form.
Nutritional Value
Camu Camu berries are an excellent source of vitamin C, an antioxidant that boosts the immune system, reduces inflammation, and protects the cells against free radical damage. The berries are also a good source of potassium to balance fluid levels within the body, calcium to strengthen bones and teeth, magnesium to maintain optimal nerve functioning, and lower amounts of other nutrients, including amino acids, zinc, fiber, manganese, iron, and copper. In South America, Camu Camu berries are used as a natural medicine to reduce symptoms associated with common colds and other viral infections.
Applications
Camu Camu berries are generally considered too tart and unpalatable when raw and are combined into recipes with other sweeter ingredients. The berries are popularly mixed into beverages such as smoothies, slushies, juices, and ciders. It is important to note that the pulp can also be added to hot drinks, but it should be mixed in just before serving, as too much heat can destroy some of the nutritional content. In South America, Camu Camu berries are often combined with sugar into a lemonade-like drink, showcasing a light pink hue, or they are frozen and blended into popsicles and ice cream. Camu Camu berries can also be mixed into yogurt, oatmeal, pudding, and pancake batter, or they can be incorporated into baked goods and other sweet desserts. In addition to using the pulp fresh, Camu Camu is frequently dried and ground into a powder or pureed and frozen. The powder and frozen pulp can be used interchangeably with fresh berries in preparations and combined into capsules as a health supplement. The powder can also be mixed into pasta dough, blended into salad dressing and marinades, or stirred into no-bake protein bites and energy bars. Camu Camu berries pair well with fruits such as grapefruit, mango, pineapple, coconut, cherries, blueberries, and goji berries, honey, quinoa, ginger, spinach, avocado, tomatoes, and meats such as beef, poultry, and fish. Whole, unwashed Camu Camu berries should be immediately processed for the best quality and flavor and will keep up to one week when stored in the refrigerator. Once dried and in powdered form, the berry powder can be stored in the fridge for up to one year.
Ethnic/Cultural Info
Camu Camu berries were officially given their own celebratory day in Ucayali, a department of Peru located in the Amazon rainforest. The native berry is deeply intertwined within the culture of the indigenous peoples of Ucayali. As the Ucayali River seasonally floods, local fishermen harvest Camu Camu berries from the water's edge in boats and canoes and sell the berries in local villages. The fishermen also harvest the berries to sell to businesses that process the berries into supplements, pulp, and powders for international export. In the past decade, Camu Camu berries have become progressively touted as a superfood worldwide, increasing the demand for the tart fruits. Officials within the Ucayali region have acknowledged this trend and created Camu Camu Day on October 16th to celebrate the nutritionally dense berry. Camu Camu Day was established in 2015 to attract tourism into Ucayali, and a festival is held where local vendors sell fresh fruits, beverages, and prepared dishes featuring the berries. The berries are also blended into ice cream, a beloved local flavor, and everyday dessert.
Geography/History
Camu Camu berries are native to the Amazon rainforest and have been growing wild since ancient times. The berries are primarily found alongside lakes, rivers, floodplains, and water-logged regions and thrive in a warm, tropical climate. Today Camu Camu berries have remained localized to their natural growing area and are harvested throughout Venezuela, Bolivia, Ecuador, Brazil, Colombia, and Peru. The berries are highly concentrated in the Peruvian Amazon between the regions of Pevas and Pucallpa and are collected for domestic and international use. When exported, Camu Camu berries are dried and ground into a powder, blended into a frozen pulp, or sold as a nutritional supplement worldwide, shipped frequently to Europe, Japan, and the United States.
Recipe Ideas
Recipes that include Camu Camu. One

is easiest, three is harder.