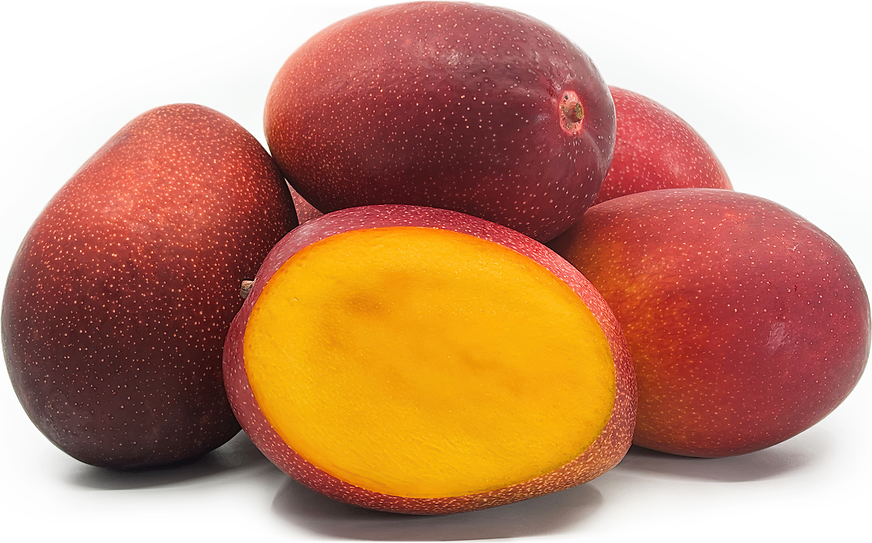 Miyazaki Mangoes
Inventory, lb : 0
Description/Taste

Miyazaki mangoes are a medium to large varietal, averaging 350 to 510 grams in weight, and have a round to oval shape with blunt, curved ends. The mango's skin is semi-thick, leathery, smooth, and taut, showcasing brilliant hues of dark red, ruby red, to orange. Each fruit will vary in coloring, depending on growing conditions and the amount of sunlight during cultivation. The skin is also covered in tiny pale yellow dots, and overall, the skin peels easily. The vibrant orange flesh is soft, aqueous, tender, and non-fibrous with a succulent, melting consistency. The flesh also encases a central, oval to oblong, flattened seed that is inedible and should be discarded. Miyazaki mangoes release a honeyed, tropical aroma when ripe. Look for fruits that feel heavy for their size and are free from large black spots, a sign the mango may be overripe. Miyazaki mangoes are sold ripe and are known for their high sugar content, reaching at least 15 degrees Brix. The mangoes have a sweet and tart taste with fruity and tropical notes combined with coconut and pineapple nuances.


Seasons/Availability

Miyazaki mangoes are available for a short season in the spring through mid-summer. The mangoes have a peak season in June through July in Japan.


Current Facts

Miyazaki mangoes, botanically classified as Mangifera indica, are specialty fruits grown in Japan, belonging to the Anacardiaceae family. Miyazaki is the name of a prefecture on Kyushu Island in Southern Japan and is one of the top mango production regions in the country. The prefecture's bright red mangoes are sold in commercial markets as Kanjuku mangoes, meaning "ripe mangoes," and are praised for their ripe and ready-to-eat characteristics. Miyazaki mangoes are grown in greenhouses and are left on the tree to ripen. Once ripe, the fruits drop from the tree but are enveloped in a mesh netting to prevent the mangoes from hitting the ground and becoming damaged. It is important to note that most Miyazaki mangoes are the Irwin variety, a mango originally developed in Florida. Irwin mangoes account for over 90% of the mangoes grown in Miyazaki, and the fruits are sometimes referred to as Apple mangoes in Japan for their dark red coloring and round-to-oval nature. Miyazaki mangoes develop their signature red hues from ample sun exposure. Some growers also hang mirrors in their greenhouses to reflect light directly toward the fruit to darken their coloring. Miyazaki mangoes are sold ripe and ready to eat, favored for their rich, sweet, and melting flesh, and are traditionally consumed fresh.


Nutritional Value

Miyazaki mangoes are a source of potassium to balance fluid levels within the body, fiber to regulate the digestive tract, and calcium to build strong bones and teeth. The variety also provides vitamin C to strengthen the immune system, vitamin K to assist in faster wound healing, magnesium to control optimal nerve functioning, and other nutrients, including iron, vitamin E, folate, and B vitamins.


Applications

Miyazaki mangoes have a sweet, tropical flavor suited for fresh preparations. The fruits are primarily consumed straight out of hand and are appreciated for their melting flesh. Miyazaki mangoes can be easily peeled, and the flesh can be eaten directly off the seed. The flesh can also be sliced into wedges and served as a fresh topping over parfaits, cakes, ice cream, rice, and tarts. In Japan, Miyazaki mangoes are regarded as a fresh-eating dessert variety, and it is customary to enjoy the fruits in their raw, natural form. This is especially true for the more expensive Miyazaki mangoes, including Taiyo no Tamago. While less common, Miyazaki mangoes can sometimes be added to puddings, jellies, and other desserts. The flesh can also be served on fruit and cheese platters. Miyazaki mangoes pair well with fruits such as pineapples, passion fruits, strawberries, bananas, kiwis, and coconut. Whole, unopened Miyazaki mangoes should be immediately consumed for the best quality and flavor. The mangoes are sold ripe and ready to eat and will only last for 1 to 3 days after harvest.


Ethnic/Cultural Info

In Japan, the top Miyazaki mangoes are sold under the brand name Taiyo no Tamago. These mangoes account for less than 15% of the Miyazaki mangoes produced in the region and are rare fruits sold as a luxury gift. Taiyo no Tamago translates to mean "Egg of the Sun" and was named for its oval shape and deep, rich coloring developed from the region's ample sunlight. In order for a Miyazaki mango to be selected as Taiyo no Tamago, the fruits must be at least 350 grams in weight, have a uniform, oval shape, a sugar content of 15 degrees or more, and a red coloring enveloping over two-thirds of the fruit's surface. Each mango chosen for Taiyo no Tamago is branded with a black and gold sticker and is carefully packaged to protect the fruit's delicate skin and flesh. Taiyo no Tamago mangoes have historically sold for over $4,000 for a pair, and the fruits are often sold at department stores and high-end fruit retailers. The rare fruits are given as gifts for weddings, work events, and other special occasions as a sign of respect. While Taiyo no Tamago mangoes are often regarded as one of the most expensive mangoes, Miyazaki mangoes, in general, still cost around $50 per fruit due to their meticulous cultivation requirements. Miyazaki mangoes are celebrated during Miyazaki Mango Day, an annual festival honoring the region's famous fruits on May 25th. During Miyazaki Mango Day, visitors can attend mango-themed events across the prefecture and can also sample local grower's fruits.


Geography/History

Miyazaki mangoes are grown in the Miyazaki Prefecture, Japan's second-largest producer of mangoes. Mangoes were introduced to the prefecture in the 1980s. Shōichi Tate carried Irwin mango seeds from Okinawa and planted them in the area, later named Miyazaki mangoes. Mango cultivation began in Miyazaki in 1984 when Japan Agriculture Saito toured a facility in Okinawa and encountered several trial mango trees. The JA Saito visitors were impressed with the flavor of the fruit and eventually built climate-controlled greenhouses in Miyazaki to grow mangoes. The first mango harvest in Miyazaki occurred in 1988, and the majority of the mangoes in the region are Irwin mangoes, a variety created in Florida from a cross between Haden and Lippens mangoes. Irwin mangoes were bred in the 1940s and were sent to Japan for commercial production. In the early 21st century, the top Miyazaki mangoes that met strict requirements through the JA Miyazaki Economic Federation were labeled Taiyo no Tamago, a prestigious brand name for the luxury fruit market. Today, Miyazaki mangoes are grown in Kushima City and Nichinan City in the Miyazaki Prefecture in Japan. When in season, Miyazaki mangoes are sold through select grocers, department stores, and fresh markets in Japan.