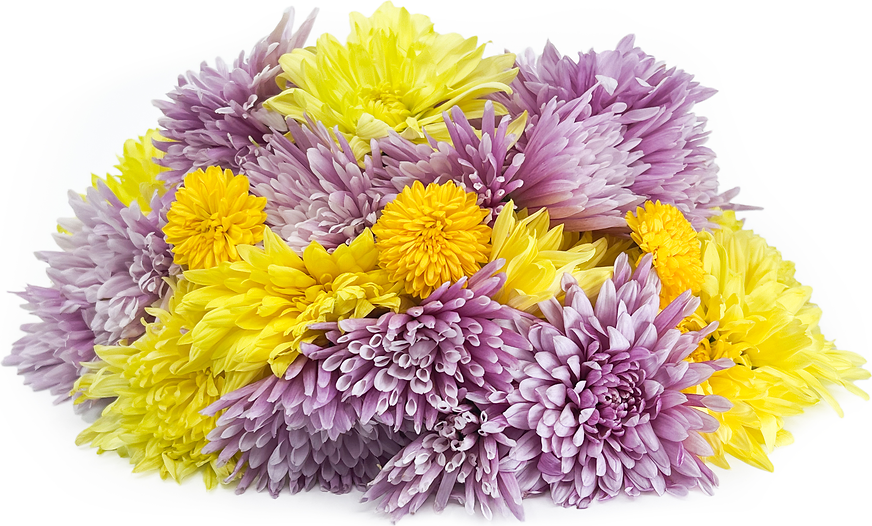 Japanese Chrysanthemums
Inventory, lb : 0
Description/Taste
Japanese Chrysanthemums widely range in color, size, and shape, depending on the variety, and the flowers average between 4 to 20 centimeters in diameter. The flower shape also varies considerably, with some varieties bearing a large, dome-like shape with thick, upward turned flowers, while other flowers develop flat blooms with two layers of broad petals. Japanese Chrysanthemums can also appear spider-like, producing slender, tube-like petals that extend in all directions, and the varieties bloom in red, purple, pink, white, orange, yellow, to variegated hues. Japanese Chrysanthemums have a subtly vegetal, bitter flavor when raw, and the flowers are often cooked with stronger flavors to balance their somewhat medicinal taste.
Seasons/Availability
Japanese Chrysanthemums are available in the fall through early winter.
Current Facts
Japanese Chrysanthemums, botanically a part of the Asteraceae family, is a general descriptor used to encompass many different varieties of chrysanthemums cultivated in Japan. There are approximately 20,000 cultivars of chrysanthemums worldwide, and more than 350 varieties have been developed in Japan for culinary, medicinal, and ornamental use. Chrysanthemums are also known as Kiku, Wagiku, and Kotengiku in Japan and are categorized into several groupings dependent on size. Ogiku flowers are the largest Japanese Chrysanthemums and are typically cultivated for botanical gardens and competitions. There are also medium-sized Japanese Chrysanthemums known as chugiku, primarily grown in home gardens and used for celebratory bouquets, culinary uses, housewarming gifts, and funeral arrangements. The final groupings consist of smaller Japanese Chrysanthemums, known as dai-kengai and bonsai chrysanthemums. Da-kengai chrysanthemums grow on constructed lattices, giving the plant a cascading, waterfall-like illusion of hundreds of small, colorful flowers, while bonsai chrysanthemums are pruned to look like mature, miniature trees with tiny flowers. Regardless of the specific variety, all types of Japanese Chrysanthemums are revered throughout the country and are one of the main flowers depicted in cooking, art, and literature.
Nutritional Value
Japanese Chrysanthemums are a good source of potassium to regulate fluid levels within the body and vitamin A to improve skin complexion, protect against vision loss, and strengthen the immune system. The flowers also provide calcium to strengthen bones and contain lower amounts of iron, copper, and manganese. In traditional Eastern medicines, chrysanthemums are steeped in boiling water to create teas to reduce inflammation, calm the nervous system, and lower fevers.
Applications
Japanese Chrysanthemums are best suited for both raw and lightly cooked applications such as parboiling. The flowers can be used as edible decorations on cakes, desserts, sushi, and sashimi, or the petals can be removed and sprinkled onto salads, soups, or main dishes for added color. Japanese Chrysanthemum flowers can also be parboiled with vinegar and mixed into side dishes, stir-fried into vegetables, or cooked and combined with miso for added flavoring. In Japan, chrysanthemums are commonly prepared in a cooking style known as ohitashi, which infuses the flowers with a dashi sauce to create a deeper, more vibrant flavor while still retaining the petal's subtly bitter taste. Beyond stir-fries and lightly cooked applications, Japanese Chrysanthemums can be fermented into wine or dried and steeped in boiling water to make tea. Japanese Chrysanthemums pair well with spinach, dark leafy greens, persimmons, goji berries, licorice root, red dates, and honey. Fresh Japanese Chrysanthemums should be immediately consumed for the best quality and flavor and will keep 1 to 4 days when stored in a sealed container in the refrigerator.
Ethnic/Cultural Info
Chrysanthemums are the national flower of Japan and were selected in 1869 as the symbol of the Japanese emperor. The floral emblem is featured on the royal seal, depicting a yellow chrysanthemum with sixteen petals, and over time, this famous depiction earned the imperial family the name of "Chrysanthemum Throne." The royal seal also established chrysanthemums as a symbol of nobility and longevity, which spurred competition between chrysanthemum growers to develop the most unique and aesthetically beautiful flower to uphold this image. Japanese Chrysanthemums became extensively cultivated, grown in many different sizes, colors, and shapes, and the art of growing the flowers became so complicated that annual festivals and competitions were created to honor the craft. Kiku Matsuri is one of the largest chrysanthemum festivals, annually celebrated in November, and the festival is held at the Yushima Tenmangu shrine in Tokoyo, attracting over 100,000 visitors. Chrysanthemums of varying colors, styles, and shapes are displayed at the festival in elaborate arrangements specific to the size of the flower, and there are also large sculptures or dolls known as kiku ningyom that are constructed using different varieties of chrysanthemums. In addition to the festivals, the flowers are celebrated in September on National Chrysanthemum Day, or the Day of Happiness, which was a Japanese holiday first established in 910 BCE through the imperial court.
Geography/History
Chrysanthemums are native to East Asia and have been growing wild since ancient times. The flowers were introduced from China to Japan in the 8th century during the Nara and Heian periods and were utilized as a medicinal ingredient to reduce symptoms commonly associated with colds. As chrysanthemums were planted throughout Japan, the flowers became loved for their beauty and refined appearance, leading the emperor to select a yellow chrysanthemum as the official symbol in the late 1800s. After the official decree, mass cultivation of chrysanthemums led to growers creating new varieties for ornamental and culinary use. Today there are many different varieties of Japanese Chrysanthemums, varying in coloring, shape, and petal size, and the flowers are celebrated across Japan, found in home gardens, local markets, specialty grocers, florists, and royal gardens.
Recipe Ideas
Recipes that include Japanese Chrysanthemums. One

is easiest, three is harder.