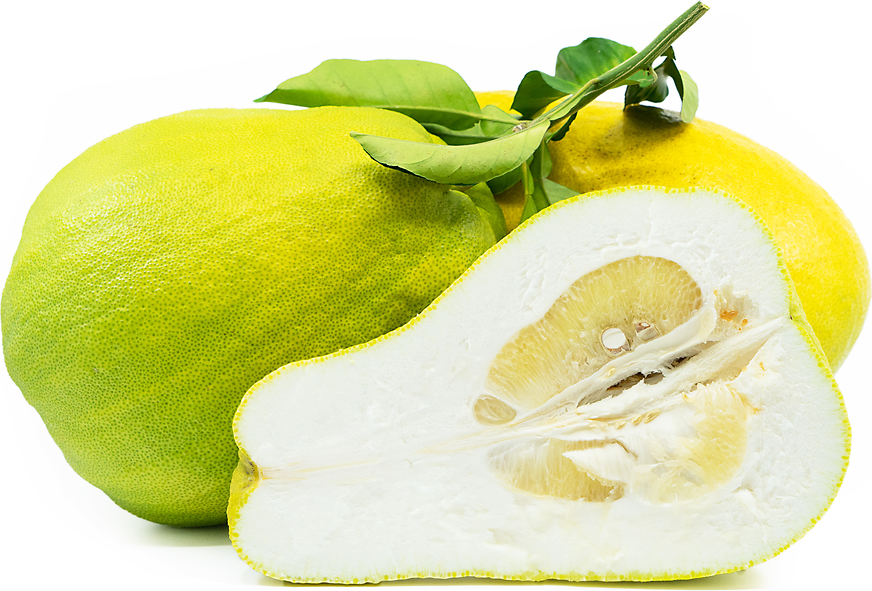 Wong Pomelo
Inventory, ea : 0
Description/Taste

Wong pomelos are large in size, averaging 20 to 30 centimeters in length and 3 to 6 pounds in weight, and have a conical, oval, to pear-like shape. The fruits feature a broad, bulbous base, curving inward towards a small, short neck and pointed top. The rind, also known as the peel, ripens from green to pale or bright yellow and is thin, covered in textured bumps and sunken pores. The skin is glossy and smooth when immature, becoming somewhat rough and wrinkled when ripe, a visual indicator that the pulp has absorbed the moisture in the fruit. Underneath the rind, there is a thick white pith with a spongy, cotton-like consistency. The pith is easily peeled, revealing segments of soft, tender white to pale yellow flesh encased in membranes. Once peeled, the flesh is comprised of translucent, elastic sacs filled with juice and pulp, and the majority of Wong pomelos are seedless or contain a few seeds. Wong pomelos should feel heavy for their size and emit a light, floral, and sweet, lemon-like scent. The flesh has a balanced sugar to acid ratio, creating a moderately sweet and tangy flavor.


Seasons/Availability

Wong pomelos are available for a short season in the late winter.


Current Facts

Wong pomelos, botanically classified as Citrus maxima, are a unique variety belonging to the Rutaceae family. The pomelos grow on evergreen trees and were created in Southern California in the mid to late 20th century by plant pathologist and professor Dr. Jerome E. Dimitman. Wong pomelos were named after Dr. Dimitman's friend Ben Wong, an Alhambra restaurant owner who brought pomelo budwood from China for Dr. Dimitman. This budwood later created Dr. Dimitman's famed pomelo variety. Wong pomelos were also purposefully bred to mature around the Lunar New Year, and the fruits are offered approximately three weeks before and one week after the celebration. The pomelo variety is highly prized for its appearance, fragrance, and flavor, and each fruit is hand-picked, sometimes harvested by two people to protect the large pomelos and keep them in pristine condition.


Nutritional Value

Wong pomelos are an excellent source of vitamin C to strengthen the immune system, reduce inflammation, and protect the body against the damage caused by free radicals. The fruits also provide a good source of copper to sustain a healthy nervous system, vitamin A to maintain healthy organ functioning, potassium to balance fluid levels within the body, and other nutrients, including phosphorus, fiber, and calcium.


Applications

Wong pomelos have a sweet-tart flavor well-suited for fresh and cooked preparations. The fruits are traditionally consumed raw, peeled, and eaten straight, out of hand. Pomelos can be cut at the ends, the skin scored, and the rind and pith can be peeled or sliced in small segments to reveal the flesh. Once peeled, the segments can be tossed into green salads, dipped in chocolate as a sweet treat, or mixed into fruit and grain bowls. Wong pomelos are also frequently sprinkled with a mixture of salt and chile powder or sugar to provide contrasting flavors. The fruits have a balanced taste, adding sugar and acidity into smoothies, cocktails, and other beverages, or they can be chopped into dips, slaws, and salsa as a refreshing twist. In addition to fresh preparations, Wong pomelos can be simmered into jams, jellies, and compotes, used to flavor sauces for fish and other meats, or roasted in the oven topped with unsalted butter. The flesh is also incorporated into baked goods including, bars, cakes, and muffins. Beyond the flesh, the pomelo's peel can be boiled with sugar and candied, cooked into preserves and marmalade, or coated in spices and braised as a savory dish. Wong pomelos pair well with fruits such as tangerines, pineapples, oranges, kiwis, pomegranates, and persimmons, aromatics including shallots, ginger, and lemongrass, herbs such as mint, thyme, and tarragon, nuts such as almonds, pistachios, and peanuts, meats including prosciutto, duck, and poultry, and seafood such as fish, shrimp, and crab. Whole, unopened, and unwashed Wong pomelos will keep 1 to 2 weeks when stored in the refrigerator.


Ethnic/Cultural Info

Wong pomelos were created with the intention to come into season around the same time as the Lunar New Year. The large, shapely fruits are reminiscent of the pomelo varieties found in Asia and are nostalgic for Asian American families honoring generational traditions. Wong pomelos are sometimes sold with a small piece of stem and leaves still attached, a characteristic considered valuable during Lunar New Year celebrations, and the fruits are used as gifts, offerings, and centerpieces to family meals. Golden-hued pomelos symbolize prosperity, abundance, and family unity and are traditionally placed on Buddhist altars as an offering for blessings in the year to come. The fruits are also consumed during celebratory meals for good luck, favored for their sweet-tart flavor, and are given as gifts to extended family and friends. In addition to the fruits, the leaves can be used as a fragrance in bathwater, a decorative element on tables, or they can be steeped into a tea.


Geography/History

Wong pomelos were developed by renowned plant pathologist, professor, and citrus enthusiast Dr. Jerome E. Dimitman in Southern California. Dr. Dimitman received pomelo budwood from China in the 1940s, brought back by his friend Ben Wong, a restaurant owner in Alhambra, and planted it on his farm. The budwood was propagated, creating large-size fruits with a pyriform shape, pleasing fragrance, and sweet and tangy flavor. Dr. Dimitman developed the variety out of his passion for unique fruits and the opportunity to offer his customers produce they cannot usually find. The pomelos were eventually sold at the Alhambra farmer's market. After their introduction, Wong pomelos quickly became a specialty fruit widely desired at the farmers market, often selling out each week. The variety is only offered to consumers for a few weeks before and after the Lunar New Year and is solely found through select local markets and Southern California distributors.