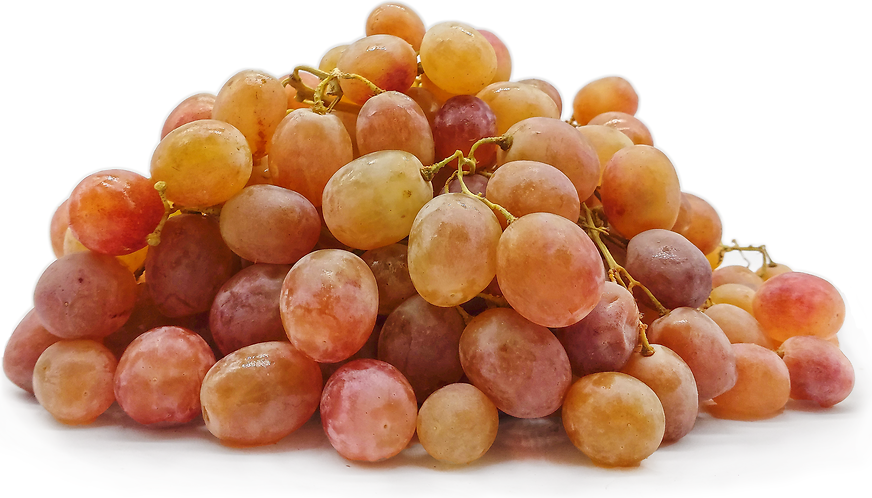 Taifi Grapes
Inventory, lb : 0
Description/Taste

Taifi grapes grow in medium to large, loose, conical bunches. The large, oval to round grapes average 2 to 3 centimeters in diameter and are connected to the bunch by a single yellow-green stem. The grapes have thick, smooth, and taut skin and range in color from a saturated red-pink or light pink to green, depending on the variety. The skin is also covered in a waxy coating, sometimes showcasing small dots. Underneath the surface, the flesh has a red or green translucent hue and is juicy and dense with a crisp, crunchy consistency. Taifi grapes have a mild, sweet, and honeyed flavor with a slightly sour aftertaste.


Seasons/Availability

Taifi grapes are available in the mid to late summer.


Current Facts

Taifi grapes, botanically a part of the Vitis genus, are a late-season variety belonging to the Vitaceae family. The sweet, subtly tart grapes are native to Asia and are an ancient variety favored for their fast-growing nature, high yields, and ease of cultivation. The name Taifi is derived from the Arabian port of Taef, and the grapes typically ripen over a period of 160 to 175 days. There are two main types of Taifi grapes, a white and pink variety, and each plant generally produces 6 to 8 bunches per season. Taifi grapes are commercially produced throughout Asia and the Middle East and are grown for domestic consumption as a table and winemaking grape. The variety is also valued for its thick skin and hardiness, allowing it to be transported long distances for international export markets.


Nutritional Value

Taifi grapes contain vitamin E to reduce inflammation, vitamin A to maintain healthy organ functioning, and vitamin C to strengthen the immune system. The grapes also provide potassium to balance fluid levels within the body, calcium to protect bones and teeth, B vitamins to break down fats for energy, vitamin K to assist in faster wound healing, and iron to develop the protein hemoglobin for oxygen transport through the bloodstream.


Applications

Taifi grapes have a sweet, subtly acidic flavor well suited for raw preparations. The fresh grapes can be consumed straight out of hand, or they can be tossed into salads, sliced into fruit bowls, or displayed on appetizer platters with cheeses, dips, vegetables, and crackers. Taifi grapes can also be blended into smoothies, sliced and used as a fresh topping over desserts, ice cream, and breakfast dishes, or cooked into tarts and cakes. In Central Asia, Taifi grapes are popularly simmered into jams, jellies, compotes, sauces, and marinades. The variety is also used in winemaking and juice production. Taifi grapes pair well with herbs such as mint, rosemary, parsley, and basil, meats including beef, poultry, and pork, cheeses such as ricotta, goat, and feta, and fruits such as melon, strawberries, raspberries, and blueberries. Whole, unwashed Taifi grapes will keep for several weeks when stored in a ventilated container in the refrigerator's crisper drawer. Taifi grapes are also dried into raisins for extended use. The raisins can be mixed into rice dishes, stews, sauces, salads, and grain bowls.


Ethnic/Cultural Info

Taifi grapes are cultivated and preserved in Afghanistan using traditional storage techniques to keep the grapes fresh for Nowruz, an annual New Year celebration held in March. Nowruz occurs on the last day of the spring equinox and is determined by the Solar Hijiri calendar, the official calendar of the government of Afghanistan. The name Nowruz means "new day" and is a holiday full of family gatherings, cleaning, jumping over a fire as symbolism for leaving the old self behind, and festive foods. In the village of Aqa Saray in eastern Afghanistan, Taifi grapes are cultivated throughout the region and are a favored snack and table decoration during Nowruz. When the grapes are harvested in the late summer, they are placed in handcrafted containers to store the fruits throughout the winter. These containers are known as kangina and are created using water, mud, and straw. Kangina is an ancient technique used among rural villages throughout Afghanistan to preserve fruits for extended periods. The mud-straw containers can keep Taifi grapes fresh for up to six months. Once the mud-straw containers have dried in the sun, the grapes are placed inside, and the container is sealed with mud. Taifi grapes are the preferred variety for this storage technique, as the grapes have thicker skin and are a late-season cultivar. When the Taifi grapes are reopened from their containers for Nowruz, they are eaten fresh or made into a compote with at least six other dried fruits known as haft mewa.


Geography/History

Taifi grapes are native to Asia and are one of the oldest known varieties. Much of the grape's history is unknown, but experts believe the grapes were first discovered in regions of Central Asia and the Middle East. Taifi grapes were introduced to Europe through Arab merchants sometime in the 7th century and became a favored variety for fresh eating and wine production. Today Taifi grapes are cultivated in Tajikistan, Russia, Georgia, Afghanistan, Uzbekistan, Kazakhstan, and Turkmenistan. The Taifi grapes featured in the photograph above were purchased in the Almaty Green Market in Kazakhstan.