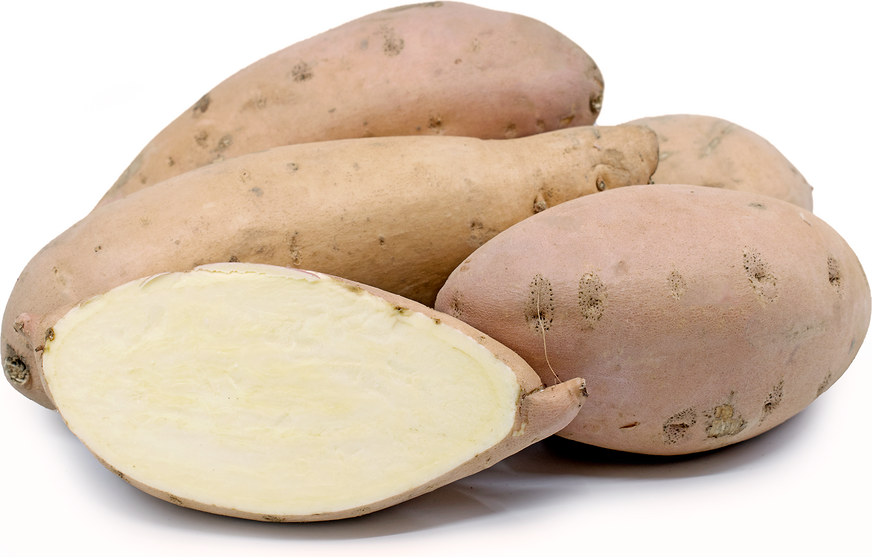 Sweet Potatoes
Inventory, 40 lbs : 39.51
This item was last sold on : 12/10/23
Description/Taste
Sweet potatoes generally share the same cylindrical shape with tapered ends, but they can vary in size, measuring up to 12 inches long and weighing up to about one pound. The relatively smooth skin can range in color from white to golden-brown or copper-red to purple, and the dense flesh can be firm or soft, varying from white to yellow or orange, or even mauve to deep magenta-purple. In general, varieties with white flesh have a firmer and drier texture, while orange-fleshed varieties are soft and moist. Sweet potatoes offer a sugary-sweet flavor with earthy undertones and hints of nuttiness, with some varieties being sweeter than others.
Seasons/Availability
Sweet potatoes are available year-round.
Current Facts
Sweet potatoes are botanically classified as Ipomoea batatas. Despite their common name, Sweet potatoes are not simply potatoes that are sweet. In fact, they are not even botanically related to the standard potato, which is a stem tuber in the nightshade family, while Sweet potatoes are the edible enlarged roots of a flowering vine in the morning glory family. In 1989, the National Sweetpotato Collaborators Group and the National Sweetpotato Association endorsed spelling Sweetpotato as one word in order to recognize the difference between the two, however the modern lexicon still spells Sweet potato as two words. There are hundreds if not thousands of varieties of Sweet potato grown around the world, but in the United States, there are two main types: one with golden skin, firm white flesh, and a dry crumbly texture, and the other with copper skin and orange flesh that is sweet and soft, the most popular variety of the latter being the Beauregard.
Nutritional Value
Sweet potatoes rank as one of the healthiest vegetables because of their high levels of vitamin A, C, iron, potassium, and fiber. The orange-fleshed varieties are also an excellent source of the vitamin A precursor, beta-carotene, which our bodies turn into vitamin A. Sweet potatoes are packed with complex carbs, which the body uses for energy, and they also offer antioxidants, which are three times more concentrated in the skin than the flesh.
Applications
Sweet potatoes can be used in both savory and sweet applications. They are served as a cooked vegetable in whole or mashed form, and can be baked, roasted, steamed, boiled, simmered, or fried. Sweet potato can be thinly sliced and sautéed for use in casseroles, ratatouille, or lasagna, cubed and simmered in soup, chili, or coconut curries, or cut into wedges and fried, served with your favorite dipping sauce. Soft and sugary orange-fleshed varieties are even used in bread and cake recipes, or as pie filling, pairing well with spices like nutmeg, cinnamon, and allspice, and the sweet flavors of maple syrup or brown sugar. Sweet potato is popularly used for an American Thanksgiving side dish that is often misleadingly called "candied yams", a mashed sweet potato and marshmallow casserole. Sweet potatoes should not be refrigerated, but rather stored loose in a cool, dry place away from direct sunlight.
Ethnic/Cultural Info
While many Americans might know the orange-fleshed Sweet potato varieties as "yams", they are not the same thing – not even biologically close. Yams are big, starchy, dry tubers that are generally white-fleshed. They are native to Africa, where they are mainly commercially grown today. The word "yam" even comes from its African name, nyami. Everything produced and sold in the United States as a "yam" is really a Sweet potato. This confusion started around the middle of the 20th century. The common varieties of American Sweet potatoes at that time had white flesh, so when a newcomer hit the market with orange flesh, people wanted a term to differentiate the two main types: soft orange flesh versus firm lighter flesh. So, Colonial America borrowed a word brought over by slaves, who saw that the Sweet potatoes looked similar to the yams they knew in Africa, hence they called them by the same familiar name. Marketers ran with it, and the name "yam" was commercially applied to the orange-fleshed Sweet potato in order to distinguish it from the others (even though, ironic enough, yams usually have white flesh). This misnomer has continued to this day as orange varieties are still called yams, and are even labeled as such in stores, even though, botanically and culinary speaking, they are Sweet potatoes.
Geography/History
While some new research suggests that the Sweet potato may have originated in Asia, most claim that that it is native to tropical Central and South America, and there is no doubt that it is one of the oldest vegetables known to mankind. Evidence shows the crop being cultivated by native South Americans for at least 5,000 years, and by the time Christopher Columbus arrived in the New World in the late 15th century, Sweet potatoes were well established as food plants in South and Central America. Columbus brought the Sweet potato home to Europe, and from there it traveled in the hands of the Portuguese and Spanish, who brought it to China in the 16th century. Thanks to the plant's hardy nature and adaptability, and because it could be easily and rapidly reproduced from minimal roots, it subsequently spread like wildfire throughout Asia, Africa, and Latin America during the 17th and 18th centuries. By the 18th century, if not a little earlier, it was introduced to the United States, where it became an extremely important source of nourishment in the Southeast during the Revolutionary and Civil Wars. Today, domestic Sweet potato production is still largely concentrated in Louisiana, Mississippi, and North Carolina, with some additional cultivation in California. Additionally, Sweet potatoes are cultivated in tropical and warm temperate climates around the world, and are an important food crop in the tropical Americas, the Caribbean, the warm Pacific islands, the East Indies, India, China, and Japan.
Featured Restaurants
Restaurants currently purchasing this product as an ingredient for their menu.
the other 58...
| | | |
| --- | --- | --- |
| The Islander | Coronado CA | 619-522-6890 |
| Chateau La Jolla | San Diego CA | 858-459-4451 |
| Ron Oliver | San Diego | 619-295-3172 |
| Bishop School | San Diego CA | 858-459-4021 |
| Lodge at Torrey Pines Main | San Diego CA | 858-453-4420 |
| UCSD Food & Nutrition Department La Jolla | San Diego CA | 858-761-1269 |
| Park Commons - ARE | San Diego CA | 619-295-3172 |
| Sushi Nekosan | La Jolla CA | 858-999-0999 |
| Bellamy's Restaurant | Escondido CA | 760-747-5000 |
| Lucky Bolt | San Diego CA | 662-832-3638 |
| Humphrey's | San Diego CA | 619-224-3577 |
| Searcher Sportfishing | San Diego CA | 619-861-4640 |
| Maderas Golf Club | Poway CA | 858-451-8100 |
| Hilton Garden Inn - Homewood Suites San Diego | San Diego CA | 619-696-6300 |
| Nomad Donuts | San Diego CA | 619-431-5000 |
| Wayfarer Bread | La Jolla CA | 805-709-0964 |
| Shimbashi Izakaya | Del Mar CA | 858-523-0479 |
| Lodge at Torrey Pines Grill | San Diego CA | 858-453-4420 |
| Mothership | San Diego CA | 858-342-3609 |
| Convention Center Shell | San Diego CA | 619-954-3063 |
| Mak Mak Organics | Oceanside CA | 858-740-4217 |
| Great Maple Hillcrest | San Diego CA | 619-255-2282 |
| Ranch Catering | San Diego CA | 858-491-9100 |
| Alila Marea Beach Resort (Banquets) | Encinitas CA | 805-539-9719 |
| Thai One On | Carlsbad CA | 760-500-8674 |
| Fresco Cocina | Carlsbad CA | 760-720-3737 |
| The Market by Buon Appetito | San Diego CA | 619-237-1335 |
| Miguel's Cocina Carlsbad | Carlsbad CA | 760-759-1843 |
| The Guild Bar | San Diego CA | 619-573-0289 |
| Raised By Wolves | San Diego CA | 916-207-1076 |
| Continental Catering Inc | La Mesa CA | 907-738-9264 |
| Golden Door | San Marcos CA | 760-761-4142 |
| Red Tail Catering | San Marcos CA | 858-605-8219 |
| Salt and Lime | Del Mar CA | 858-926-8582 |
| Vista Valley | Vista CA | 760-758-2800 |
| Olive Tree Marketplace | San Diego CA | 619-224-0443 |
| Jeune Et Jolie | Carlsbad CA | 858-231-0862 |
| Deeply Nourished | San Diego CA | 808-489-7366 |
| Rovino The Foodery | San Diego CA | 619-204-3666 |
| Mesa College | San Diego CA | 619-388-2240 |
| Urban Kitchen Catering | San Diego CA | 619-276-8803 |
| Monarch | Del Mar CA | 619-308-6500 |
| Cross Roots | San Diego CA | 858-245-1678 |
| Stone Brewing World Bistro & Gardens | Escondido CA | 915-861-2297 |
| Juniper & Ivy | San Diego CA | 858-481-3666 |
| One Door North | San Diego CA | 858-232-4220 |
| Two Ducks | San Diego CA | 760-235-3120 |
| Kona Kai Resort and Marina | San Diego CA | 619-221-8000 |
| Maya Moon Collective | San Diego CA | 775-225-8649 |
| Sugar and Scribe | La Jolla CA | 858-274-1733 |
| Knotty Barrel- Rancho | San Diego CA | 858-484-8758 |
| Brockton Villa Restaurant | San Diego CA | 858-454-7393 |
| College Cuisine-Pi Beta Phi | San Diego CA | 310-634-2371 |
| Duke's La Jolla | La Jolla CA | 858-454-1999 |
| Sushi Kami | San Diego CA | 858-451-7799 |
| Harbor Breakfast | San Diego CA | 619-888-6586 |
| Nick & G's Restaurant | Rancho Santa Fe CA | 858-771-1871 |
| Kitchens For Good | San Diego CA | 619-450-4040 |
Recipe Ideas
Recipes that include Sweet Potatoes. One

is easiest, three is harder.
the other 30...