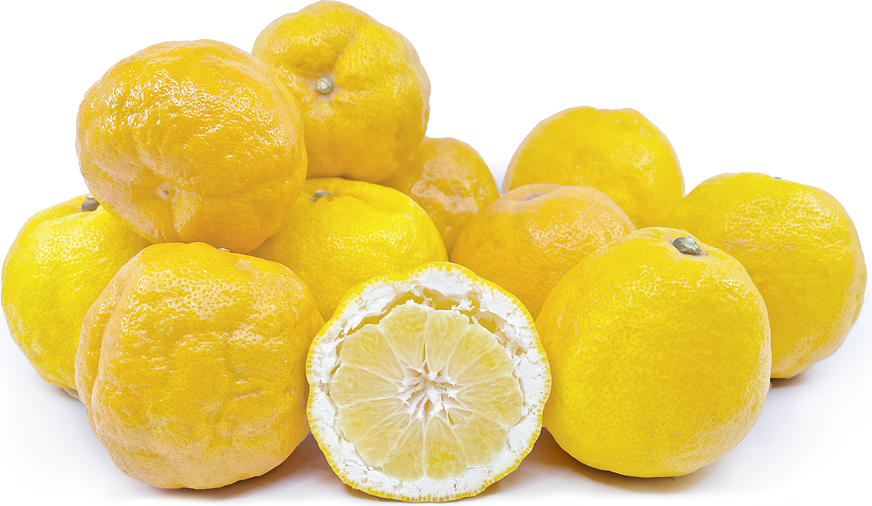 KinKoji Grapefruit
Inventory, lb : 0
Description/Taste

Kinkoji grapefruits are medium to large fruits, averaging 6 to 8 centimeters in diameter, and have an oval, round, to pyriform appearance with slight tapering towards the stem. The peel is moderately thick, ranging in color from pale yellow-orange, orange, to yellow-orange with green spots, and has a textured, glossy, leathery feel, covered in bumps and sunken, aromatic oil glands. The peel is somewhat easy to remove, emitting a fragrant floral aroma, and underneath the surface, there is a layer of thick, spongy, and dry white pith that loosely clings to the flesh. Thick and tough membranes segment the flesh, allowing it to be separated, and the pale yellow to orange flesh is semi-aqueous, firm, and tender, reminiscent of the texture of a pomelo. The flesh also encases a few to many oval cream-colored seeds, and each segment can contain anywhere from 0 to 4 seeds. Kinkoji grapefruits have a sweet, floral, and subtly fruity, lemon-like flavor combined with a mild tartness, lacking the sharp bitterness commonly associated with other grapefruit varieties.


Seasons/Availability

Kinkoji grapefruits are available in the winter through early spring.


Current Facts

Kinkoji grapefruits, botanically classified as Citrus obovoidea, are a rare hybrid citrus belonging to the Rutaceae family. The large, fragrant fruits are native to Japan and are believed to be a natural cross between a mandarin and a pomelo. Kinkoji grapefruits are a mid to late-season fruit favored for their sweet, floral flavor. The variety is not commercially grown in Japan or the United States, but citrus enthusiasts cultivate the fruits in home gardens and through select specialty orchards under the names Kinkouji, Golden Citrus, Kinkoujiunshu, Marumero, Kinkanko, and Bloomsweet. Growers appreciate Kinkoji grapefruits for their high yields of clustered, fleshy fruits, and the trees are known for their cold tolerance and hardiness. Kinkoji grapefruits are sold in small batch offerings and are primarily consumed straight, out of hand, to savor the fruit's sweet, subtly tart flavor. It is important to note that another closely related citrus is labeled as the Kinkoji unshiu mandarin, believed to be a hybrid of the Kinkoji grapefruit and a satsuma mandarin. This hybrid is often generally labeled as Kinkoji among growers and retailers as it contains a similar flavor but slightly darker orange flesh.


Nutritional Value

Kinkoji grapefruits are a source of antioxidants such as vitamin C to strengthen the immune system, reduce inflammation, and protect the body against damage caused by free radicals. The fruits are also a source of fiber to stimulate the digestive tract, potassium to balance fluid levels within the body, and provide lower amounts of phosphorus, iron, and calcium. In Japan, citrus varieties like Kinkoji grapefruits are used as an immunity booster. The fruits are typically consumed fresh, juiced, or the peels are soaked into hot baths to help nourish and protect the body from colds.


Applications

Kinkoji grapefruits have a mild, floral, sweet, and tart flavor well suited for fresh and cooked preparations. The fruits are most popularly consumed straight, out of hand, and are recommended to be peeled like an orange or tangerine for the best eating experience. The thick skin and pith can be sliced open and then peeled away to allow the flesh to be segmented. The tough membranes can also be removed, depending on preference, and the flesh pieces can be tossed into green salads and fruit bowls, chopped into salsa, or served fresh on appetizer platters. Kinkoji grapefruits can also be pressed into juice, mixed into sauces, dressings, and marinades, or used to flavor sushi, sashimi, and other seafood preparations. The fruits contribute a mild citrus flavor and are sometimes infused into muffins, cakes, tarts, and flan, or they can be incorporated into icings, whipped cream, and decadent fillings. In addition to culinary preparations, Kinkoji grapefruits can be blended into smoothies, pressed as a fresh juice, or incorporated as a bright addition to sparkling beverages and cocktails. The fruits can also be lightly simmered into jellies, jams, and other preserves. Kinkoji grapefruits pair well with honey, maple syrup, vanilla, aromatics including ginger and lemongrass, seafood, meats such as poultry, turkey, and beef, and herbs including mint, cilantro, tarragon, basil, and rosemary. Whole, unwashed Kinkoji grapefruits will keep for a few weeks when stored in the refrigerator's crisper drawer.


Ethnic/Cultural Info

Kinkoji fruits are known as Bloomsweet grapefruits in Texas and are a rare variety cultivated among citrus enthusiasts. A Texas local legend states that Japanese farmers brought Kinkoji fruits to the state in the early 1900s and were planted in several Houston suburbs. Over time, the Japanese farmers shared graftings with other local growers, including a man simply known as Mr. Bloom. The fruits were extensively cultivated by Mr. Bloom until his passing, and Mr. Bloom readily shared his specialty fruits with family, friends, and other growers. Houston residents began calling the rare fruits Bloomsweet grapefruits in honor of Mr. Bloom, and the name stuck, currently being used across the United States for the variety. Despite this legend's unconfirmed status, John Panzarella, a retired chemical engineer with a passion for horticulture, has been retelling this story to his guests during his annual open house in Lake Jackson, Texas. Panzarella has grown fruit trees for over 50 years in his half-acre backyard. Each year, Panzarella hosts an open house that allows visitors to sample 40 to 80 different citrus varieties, including Bloomsweet grapefruits. Panzarella has the largest private collection of citruses in the state of Texas, cultivating over 200 different varieties, and has been hosting his open house for over 20 years. Panzarella uses his open house event to connect with other citrus enthusiasts, educate garden enthusiasts on the vast array of citrus cultivars, and sell fresh fruit boxes and potted trees from his garden.


Geography/History

Kinkoji grapefruits are native to Japan and were believed by experts to have developed as a chance seedling in ancient times. While the fruits are often labeled as a grapefruit, the variety is actually a cross between a mandarin and a pomelo and was rumored to have been cultivated during the Edo Period in Japan. Kinkoji fruits were later introduced into the United States sometime in the 20th century, where they underwent a series of trials and testing through citrus breeding programs for use as a cold-tolerant rootstock. In 1979, the fruits were planted in Riverside, California's well-known Citrus Variety Collection. The program received its budwood from a research station in Japan, and the trees can still be seen growing in the collection. Today Kinkoji fruits are a rare variety grown in limited quantities in Japan and the United States, specifically in California, Texas, and Georgia. Budwood for the fruits can be found online through select growers, and when in season, Kinkoji fruits are sold through select distributors, farmer's markets, and home gardeners harvesting fruits from their trees.