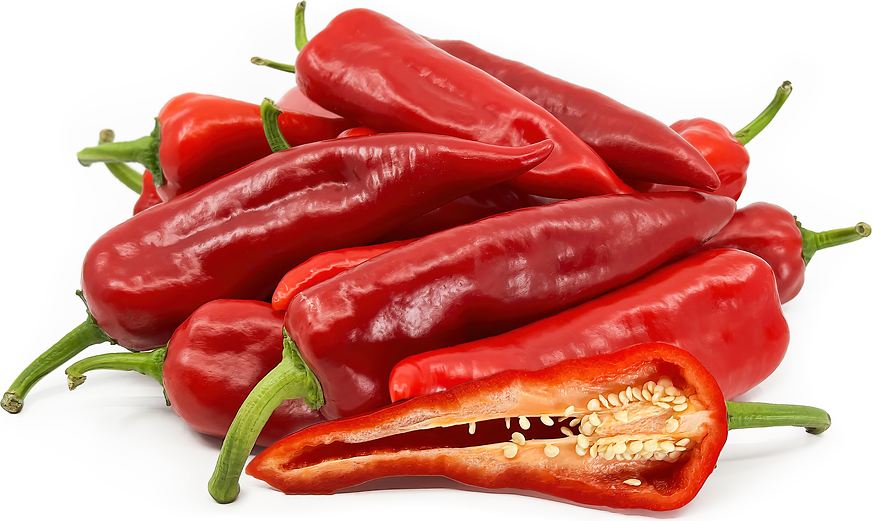 Kapya Chile Peppers
Inventory, lb : 0
Description/Taste

Kapya peppers are a medium to large varietal, averaging 16 to 18 centimeters in length and 5 to 6 centimeters in diameter, and generally have an elongated and tapered shape, ending in a distinct point on the non-stem end. The pepper's skin is smooth to slightly bumpy, taut, glossy, and semi-thin, ripening from green to a saturated, dark red hue with maturity. The peppers are also capped with bright green, fibrous stems that are inedible and should be removed before consumption. Underneath the surface, the flesh is thick, dense, and aqueous with a crisp, succulent consistency. The fleshy nature of the pepper leads the variety to typically weigh 60 to 100 grams, and within the flesh, there is a hollow cavity filled with pale red membranes and tiny, round, cream-colored seeds. Kapya peppers release a subtle but fragrant aroma when sliced and are edible raw in both their green and red stages. Green Kapya peppers will have a vegetal, grassy, subtly earthy flavor, while red Kapya peppers will develop a sweeter, subtly bitter taste.


Seasons/Availability

Kapya peppers are available year-round, with a peak season in the fall.


Current Facts

Kapya peppers, botanically classified as Capsicum annuum, are a Turkish variety belonging to the Solanaceae or nightshade family. The sweet peppers grow on bushy plants reaching 70 to 75 centimeters in height and are one of Turkey's most popular peppers cultivated for export. Over 40% of Turkey's total pepper production is the cultivation of Kapya peppers, and the variety is grown for processing and fresh market sale. Historically, Kapya peppers were produced solely for their use in commercial tomato pastes, but over time, the variety was planted in greenhouses for domestic and international fresh market consumption. Kapya peppers are also labeled under spelling variations, including Capia, Capya, and Kapia peppers, regionally varying throughout Europe and the Middle East. Growers favor Kapya peppers for their vigorous nature, maturing in 65 to 75 days, high yields, and sweet flavor. The peppers are harvested by hand in both their green and red stages and are sold fresh for culinary preparations or incorporated into ready-to-eat products, sauces, pastes, and spices.


Nutritional Value

Kapya peppers are a source of vitamin A to maintain healthy organ functioning, fiber to regulate the digestive tract, iron to develop the protein hemoglobin for oxygen transport through the bloodstream, and vitamin C to strengthen the immune system while reducing inflammation. The peppers also provide potassium to balance fluid levels within the body, folate to produce RNA and DNA, and other nutrients, including lutein, calcium, iron, magnesium, and vitamin E. Lutein is a natural carotenoid with anti-inflammatory properties and is thought to assist in promoting eye health.


Applications

Kapya peppers have a sweet, subtly bitter flavor suited for fresh and cooked preparations. The variety can be consumed in its green or red stage, and each stage will have varying uses and flavors. Green Kapya peppers are used similarly to green bell peppers and have an earthier, vegetal taste. Red Kapya peppers are the most popular version of the pepper due to their sweeter nature and are chopped into salads, sliced and served with dips, or pickled as a tangy condiment. The variety can also be sliced and layered into sandwiches, added to grain bowls, or used as a fresh topping over main dishes. In addition to raw preparations, Kapya peppers are often sauteed into egg-based dishes such as omelets and frittatas, simmered into soups and curries, or stir-fried with other vegetables. In Turkey, the peppers are popularly stuffed with minced meat, grains, and aromatics or cooked as shakshuka. Try preparing Kapya peppers with tomato sauces for a savory base or grilling the peppers as a simple side to meat dishes. Beyond fresh and cooked recipes, Kapya peppers are found in processed tomato pastes, canned in brine, or cooked into premade sauces. The peppers are also dried, ground into a spice, and used as a seasoning. Kapya peppers pair well with spices such as cumin, oregano, and coriander, tomatoes, aromatics including garlic, shallots, and onions, and meats such as beef, pork, and poultry. Whole, unwashed Kapya peppers will keep for 1 to 2 weeks when stored in the refrigerator's crisper drawer.


Ethnic/Cultural Info

Kapya peppers earned their name from the need to quickly pass border customs. Turkish growers and exporters wanted to ensure that the sweet peppers could pass through the German border and named the variety a moniker that German customs agents would be familiar with. Kapya, also spelled Capia, was derived from the Spanish pepper known as Capia Rojos. Capia generally translates to mean pepper and was a simple name that was approved in customs for sale in other European countries, especially in Germany. In Turkey, the most famous name associated with Kapya peppers is the regionally specific moniker Yenice Kapya peppers. These types of peppers are considered the most valuable of the Kapya peppers grown in the country. The Yenice region is known for its rich terroir, producing the most flavorful peppers, and in 2021, Kapya peppers grown in Yenice were awarded a Geographical Indication.


Geography/History

Kapya peppers are native to Turkey and were initially bred as an ingredient for processed canned tomato pastes. The exact date of origin is unknown, but since their release, Kapya peppers have expanded beyond their use in pastes and are currently being grown for fresh purposes. Several economic reports have mentioned that the variety has seen a surge in popularity within the last decade, and much of the pepper's expansion is due to Turkey switching from a country that primarily imports its food to a country that mainly exports in 2004. Originally, Kapya peppers were only grown in open fields for processing, but as the demand shifted to fresh market sales, Kapya peppers were planted in greenhouses to create more aesthetically attractive, flavorful peppers. The peppers also increased in production as an export item, shipping green and red Kapya peppers to countries throughout Europe. The highest production of Kapya peppers in open fields is found in the city of Canakkale within the Marmara region. Greenhouse production occurs mainly along Turkey's Mediterranean coastline in the Demre district of Antalya. Kapya peppers are also produced in the Amik Valley of Hatay, Kilis, in the Bafra Plain in Samsun, Antalya, Manisa, Adana, Burse, and Sanliurfa, Turkey. Today Kapya peppers are grown for domestic production and are sold fresh and processed. The variety is exported fresh to Germany, Austria, Romania, Netherlands, Greece, Bulgaria, and other regions of Europe, Russia, and the Middle East. Processed goods with Kapya peppers are mostly sold throughout Europe and are occasionally sent to the United States.