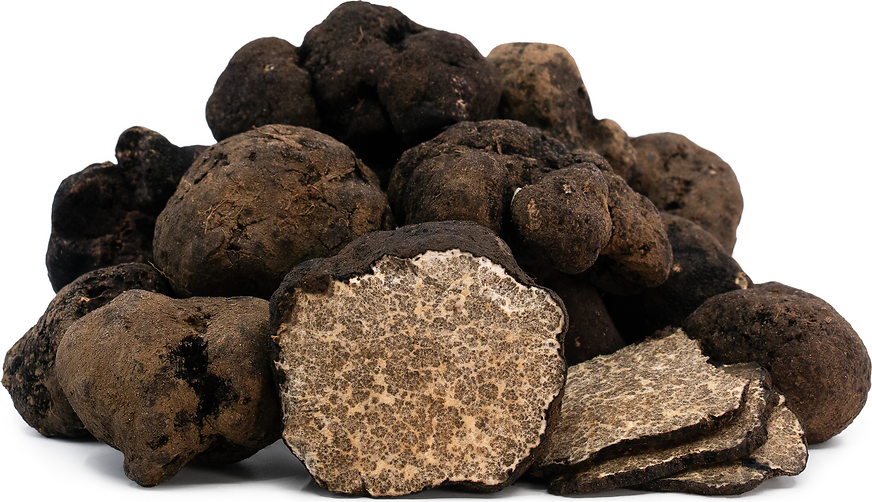 Oregon Black Truffles
Inventory, oz : 0
Description/Taste
Oregon Black truffles widely vary in size and shape, depending on growing conditions, and each truffle will have a unique appearance. The truffles are generally larger than Oregon white truffles, averaging 1 to 2 ounces in weight, and are typically molded by stones in the soil, creating a roughly spherical, lumpy, and lopsided exterior. The rough surface of the skin ranges in color from brown-black, dark brown to gray-black and is thin and textured, covered in many small protrusions, bumps, and crevices. The skin will also turn a grey-green hue when the truffle has become overly mature. Underneath the surface, the flesh is spongy and smooth with a dense, chewy consistency and showcases grey-brown hues marbled with white webbing. Oregon Black truffles bear a pungent, musky aroma with distinct tropical fruity notes of pineapple, bananas, and apples. As the truffle ages, the scent will develop more savory, nutty, chocolatey, and cheese-like nuances. The truffle's flesh contains a delicate taste with mild and earthy flavors.
Seasons/Availability
Oregon Black truffles are available in the fall through mid-spring, with a peak season in the winter.
Current Facts
Oregon Black truffles, botanically classified as Leucangium carthusianum, are a North American truffle variety belonging to the Morchellaceae family. The fragrant truffles are relatively unknown compared to the famous European black truffles, but as the demand for umami flavors in culinary dishes increases each season, Oregon Black truffles are gaining national recognition for their unique fruity aroma. Oregon Black truffles are grown, harvested, and prepared similarly to European truffle varieties. The truffles have been extensively studied through Oregon University professors, researchers, and breeders, and the elusive fungi are harvested naturally from damp forests, utilized for culinary use in both sweet and savory preparations. Oregon Black truffles impart a distinctly fruity, floral, and tropical aroma that chefs seasonally incorporate to add a unique flavor layer to dishes.
Nutritional Value
Oregon Black truffles, like other black truffle varieties, are a source of vitamin C to reduce inflammation, boost collagen production, and strengthen the immune system. The truffles also contain calcium and phosphorus to protect bones and teeth, fiber to regulate the digestive tract, antioxidants to protect cells against free radical damage, and lower amounts of magnesium, zinc, manganese, and iron.
Applications
Oregon Black truffles have a robust, musky aroma and a mild flavor well suited for both raw and lightly cooked preparations. The truffles are typically shaved, grated, slivered, or thinly sliced and are used as a finishing element or infused into dishes for added depth. Oregon Black truffles should be cleaned before use, and it is recommended to brush or wipe the surface rather than rinsing under water as moisture will cause the fungus to rot. Once cleaned, Oregon Black truffles can be shaved fresh over pasta, pizza, and risotto, or they can be grated over roasted meats, soups, or root vegetables. The earthy flavor of the truffle complements potato dishes such as gratins and mashed potatoes, and the strong aroma infuses quickly into casseroles, macaroni and cheese, and cream-based sauces. Oregon Black truffles can also be folded into butter, cooked with sugar and frozen into ice cream, or combined into oils and honey. It is important to note that the truffle's flavor and aroma absorb well into dishes with fatty, rich elements, wine or cream-based sauces, oils, and neutral ingredients such as potatoes, rice, and pasta. Eggs, butter, or cheese can also be stored with truffles to impart a rich, savory scent. Beyond conventionally shaving the truffles, the fruiting bodies can be used to flavor desserts or incorporated into foam as a unique garnish. The truffles can also be infused into vodka-based cocktails such as martinis. Oregon Black truffles pair well with seafood such as lobster, crab, and fish, meats including poultry, turkey, pork, and beef, aromatics such as garlic, shallots, and onions, soft and aged hard cheeses, mushrooms, cauliflower, winter squash, and nuts such as hazelnuts, pistachios, and almonds. Fresh Oregon Black truffles will keep up to one week when wrapped in a paper towel or moisture absorbent cloth and stored in a sealed container in the refrigerator's crisper drawer. The truffle should remain dry for the best quality and flavor. If keeping for more than three days, replace the paper towel regularly to prevent moisture build-up as the fungus will naturally release moisture as it is stored. Oregon Black truffles will last between 3 to 6 days.
Ethnic/Cultural Info
Oregon Black truffles are annually featured at the Oregon Truffle Festival in the Willamette Valley, Oregon. The festival was established in 2006 to promote the unique North American truffle cultivars and develop a synergy between chefs, truffle hunters, scientists, and the public. Experts have reported that there are over three hundred different species of truffles in Oregon, but there are only four main varieties selected for culinary use. The four recognized native varieties include Oregon spring white truffle, Oregon winter white truffle, Oregon Black truffle, and Oregon brown truffle. During the truffle festival, events are held throughout Oregon's wine country, and restaurants create special menus with truffles at the heart of each dish. There are also educational talks, a marketplace where truffle-infused goods are sold, truffle dog hunting classes, and cooking demonstrations. One of the more unusual events is the Joriad North American Truffle Dog Championship. This annual competition allows truffle hunters and their dogs to compete by running a course to find hidden truffle-scented objects. The competition has historically been one of the most popular events and delights guests of all ages.
Geography/History
Oregon Black truffles are native to North America and are typically found at the base of Douglas Fir trees. The truffles have been growing wild since ancient times and thrive in damp forests spanning from Northern California, the Pacific Northwest, to British Columbia. The truffles are found approximately 15 to 30 centimeters below the soil's surface and survive off a symbiotic relationship with the roots of the trees. Oregon Black truffles, if harvested sustainably, will reappear in the same location and are detected using trained truffle dogs. When in season, Oregon Black truffles are available through specialty distributors, online retailers, and local markets in the Pacific Northwest.
Recipe Ideas
Recipes that include Oregon Black Truffles. One

is easiest, three is harder.