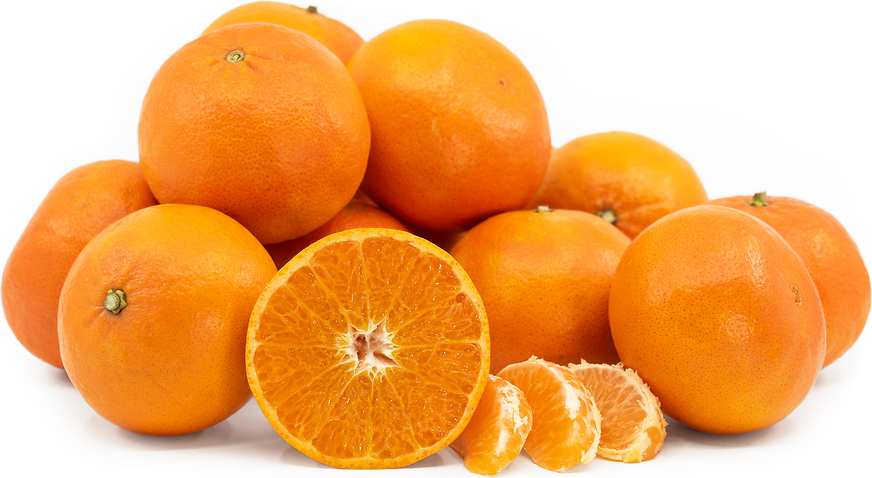 Shasta Gold Tangerine
Inventory, lb : 0
Description/Taste

Shasta Gold tangerines are a large varietal, averaging 7 to 8 centimeters in diameter, and have a round to oblate appearance with flattened poles and a broad, curved middle. The tangerines have no neck, and the semi-thin rind varies in texture depending on the tree's age and crop size. Older trees with a larger crop tend to produce fruits with depressed oil glands, creating a pitted surface with a glossy, lightly pebbled texture. Trees with a smaller crop often produce fruits that have a rougher feel with a bumpy, leathery nature. The rind showcases a dark orange to orange-red hue when ripe, and the skin is moderately adhered to the flesh, still fairly easy to remove. Underneath the rind, the saturated orange flesh is divided into 11 to 12 segments by thin membranes and is mostly seedless, sometimes containing a few seeds depending on pollination. The flesh has a tender, aqueous, and succulent nature, and the pulp vesicles are large, creating a fine texture. Shasta Gold tangerines should feel heavy for their size, and the average fruit weighs around 6.5 ounces. The flesh is high in sugar and acidity, creating a rich, sweet, and tart flavor with tropical, subtly pineapple-like nuances. It is important to note that Shasta Gold tangerines will become sweeter throughout their season.


Seasons/Availability

Shasta Gold tangerines are available from the mid-winter through the spring.


Current Facts

Shasta Gold tangerines, botanically classified as Citrus reticulata, are a triploid hybrid variety belonging to the Rutaceae family. The specialty tangerines were created from a complex cross between a Temple tangor and Dancy mandarin, and the product of that cross was pollinated with an Encore mandarin. After years of extensive research and evaluations, the new variety was commercially released in 2002. Shasta Gold tangerines are also known as Shasta Gold mandarins, and the variety is sometimes labeled as TDE 2, a descriptor of its pedigree: Temple, Dancy, and Encore. Shasta Gold tangerines also have two sibling varieties created from the same parentage. TDE 3, or Tahoe Gold, and TDE 4, Yosemite Gold, were released commercially at the same time as Shasta Gold, and despite their shared lineage, all three varieties carry distinct qualities. Shasta Gold tangerines are the largest of the three and have a distinct, almost tropical flavor. The variety is also more oblate than Tahoe Gold and paler in color than Yosemite Gold. Since their release, Shasta Gold tangerines have become a successful commercial cultivar as they are a late-season variety arriving in markets from February through April, a season when mandarins are scarce or low in availability. The variety is also high yielding, seedless, and holds well on the tree, allowing growers to extend their harvest without compromising flavor.


Nutritional Value

Shasta Gold tangerines are a source of vitamin C to strengthen the immune system while reducing inflammation, fiber to regulate the digestive tract, and vitamin A to maintain healthy organ functioning. The tangerines also provide antioxidants to protect the cells against the damage caused by free radicals, calcium to build strong bones and teeth, potassium to balance fluid levels within the body, and other nutrients, including folate, thiamine, copper, phosphorus, niacin, manganese, riboflavin, and iron.


Applications

Shasta Gold tangerines have a sweet and tangy taste suited for fresh and cooked preparations. The variety is primarily eaten straight out of hand, as its seedless nature and fairly easy-to-remove rind allows for the fruits to be eaten as a quick snack. Shasta Gold tangerines can also be segmented and served on fruit platters, tossed into salads, dipped into chocolate, or added to grain bowls, ceviche, salsas, and relishes. The variety's aqueous nature lends itself well to infusing juice into salad dressings, marinades, and sauces, or the juice can be cooked into jams, jellies, glazes, and syrups for sweet and savory dishes. Shasta Gold tangerines can also be used as a fresh topping over yogurt and parfaits, layered as decoration on cakes and tarts, or used to garnish pancakes and waffles. In addition to raw preparations, Shasta Gold tangerines can be incorporated into sauces for roasted meats, served with stir-fries, or baked into cakes, bread, muffins, and scones. The tangerines can also be used as a refreshing element in crème brulee, cheesecake, cupcakes, crisps, or other fillings for pasties. Shasta Gold tangerines pair well with meats such as pork, beef, and poultry, seafood including shrimp, crab, or white fish, herbs such as cilantro, parsley, rosemary, and mint, vanilla, chocolate, and spices such as cinnamon, ginger, and cardamom. Whole, unpeeled Shasta Gold tangerines will keep for a few days at room temperature and 1 to 2 weeks when stored in the refrigerator's crisper drawer


Ethnic/Cultural Info

Shasta Gold tangerines were named after Mt. Shasta in Northern California. All three of the tangerine varieties released from the same parentage, TDE2, TDE3, and TDE4, were named after famous California landmarks, and the chosen attractions include Mt. Shasta, Tahoe, and Yosemite. Mt. Shasta is one of the most recognizable peaks in California and is the fifth-highest peak in the state, reaching 4,322 meters in height. There are seven glaciers present on the mountain, including the Whitney glacier, which is the longest glacier in California, and the mountain is comprised of four overlapping volcanic cones, giving the landmark its unique shape. Mt. Shasta has been mentioned in the literary works of John Muir and Joaquin Miller, and geologists, historians, and botanists have used the mountain for research for centuries. The mountain has also been the central location for several myths and legends throughout history, most notably featured in the stories of the Klamath Nation. The Klamath Nation consists of three neighboring tribes: the Modoc, Klamath, and Yahooskin peoples. In Modoc folklore, G'mokumk, the creator, resides on Mt. Shasta. Matah kagmi, or bigfoot, also lives on the mountain, and the mythical creature is thought to protect the woods. The Klamath people, like the Modoc, believe their creator, the spirit of Chief Skell, descended from heaven to the mountain to defeat Llao, the spirit of the below world. In the 1850s, European-Americans settled in the region to mine for gold, and after their arrival, claims of an underground civilization arose. Legend has it that there is an underground city known as Telos that resides under the mountain. The city is also known as the "City of Light," and its inhabitants are referred to as Lemurians, seven-foot-tall people with long, flowing hair. There have been several accounts from various witnesses claiming to have seen these giants in the woods of Mt. Shasta, and the civilization is said to have been the surviving people group from the lost continent of Lemuria.


Geography/History

Shasta Gold tangerines were developed at the University of California Riverside Citrus Breeding Program in Riverside, California. In 1973, breeders took pollen from an Encore mandarin and applied it to the stigmas of a tetraploid hybrid, a variety created from a cross between Dancy and Temple mandarins. The fruits from this experiment were harvested in 1974, and the seeds were taken from the mandarins and grown into seedlings. The seedlings were planted in fields in Riverside in 1976 and were studied for several years, evaluated for the tree's vigor and yields, and the fruit's flavor, color, and appearance. In 1985, five trees were selected from the grouping and were propagated for potential commercial use, and three of these trees were chosen: TDE 2, TDE 3, and TDE 4. Two trees of TDE 2 mandarins were planted in Riverside in 1987 and were studied for several years. Between 1993 and 1996, TDE 2 trees were planted throughout California in San Diego County, Ojai, Coachella Valley, Ventura County, Valley Center, and Santa Paula. After years of evaluations, tests, and studies, TDE 2 was renamed Shasta Gold and released to commercial markets in 2002, along with its two sibling varieties, Tahoe Gold (TDE 3) and Yosemite Gold (TDE 4). Today Shasta Gold tangerines are a specialty variety commercially grown in the United States, especially in Southern California and the San Joaquin Valley. When in season, the variety is offered through grocers, distributors, and farmer's markets. Shasta Gold tangerines are also cultivated in Australia.