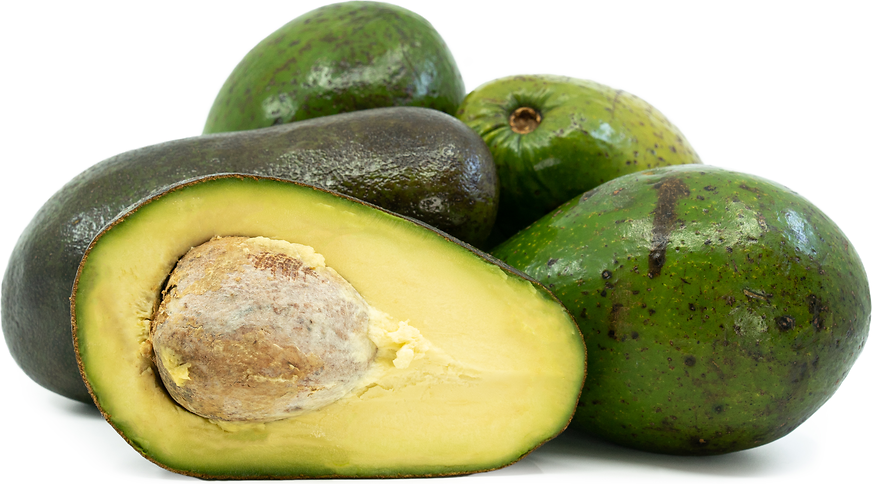 Dominican Avocados
Inventory, 48 ct : 0
Description/Taste

Dominican avocados vary in size, depending on the variety, but are generally very large varietals, sometimes weighing up to several pounds. The avocados range in shape from pyriform to oval and are bulbous with a wide base, curved edges, and a thick neck. The skin is glossy and smooth, sometimes lightly pebbled, giving the surface a bumpy feel, and is mainly found in shades of green to forest green, sometimes darkening into a brown-green at maturity, depending on the variety. The thin to semi-thick skin is easy-to-peel, revealing a yellow-green flesh encasing a tightly fitted, oval to teardrop-shaped, light brown woody pit. The flesh holds its shape well, being slightly firmer and denser than Mexican avocado varieties, but the flesh still retains a creamy and thick consistency. Dominican avocados mostly contain a low to medium oil content, creating a somewhat watery, smooth texture that yields to gentle pressure when ripe. The varieties will differ in flavor, but typically they share a mild flavor combined with herbal, grassy, subtly sweet, and nutty nuances.


Seasons/Availability

Dominican avocados are available year-round, with different varieties in season at various points throughout the year. The island's peak season spans from the early summer through the early winter, producing around 70% of the harvest, followed by the second most productive season in the winter through early spring, accounting for 26% of the total production. The spring through early summer is considered the slowest season, with only 4% of the total annual avocado crop harvested during this time.


Current Facts

Dominican avocados, botanically classified as Persea americana, are tropical fruits belonging to the Lauraceae family. Avocados have been present in the Dominican Republic for centuries, but the fruits were initially a home garden crop, mostly grown for personal use. As global market demand rose for avocados in the 19th and 20th centuries, avocado production became one of the leading agricultural focuses of the island. The Dominican Republic currently ranks as the second-highest avocado producer worldwide, just behind Mexico. This drastic increase in production can be traced to the island's introduction of several varieties of green-skinned avocados that are West Indian or West Indian x Guatemalan-type hybrids. West Indian and hybrid avocados thrive in the Dominican Republic's tropical climate, allowing for year-round production. The name Dominican avocado is a general descriptor for over twenty different varieties grown on the island, including Semil 34, Hass, Pollock, Popenoe, Simmonds, Carla, Choquette, Lula, Criollos, Beneke, Doctor Dupoi, and Purple avocados. Semil 34 is the most widely grown, accounting for around 70% of the avocados produced annually. Dominican avocados are sometimes known as Tropical avocados, and many of these varieties contain a lower oil content, marketed as "light" avocados. In the modern-day, Dominican avocados are favored by growers for their ease of cultivation, large size, easy to peel nature, and green skin. Most of the avocados cultivated in the Dominican Republic are exported to the United States.


Nutritional Value

Dominican avocados are unique from other avocado varieties, such as hass, as they have a lower fat content, which reduces their overall caloric value. The avocados still retain a somewhat creamy texture and are a good source of fiber to regulate the digestive tract, vitamin C to strengthen the immune system, and vitamin E to protect the cells against external environmental damage. The fruits also provide minerals such as potassium to balance fluid levels within the body, calcium to build strong bones and teeth, and contain other nutrients, including iron, folate, vitamin K, manganese, copper, magnesium, zinc, and vitamin D. Beyond vitamins and minerals, Dominican avocados are a source of heart-healthy monounsaturated fatty acids, primarily oleic acid, and antioxidants to provide anti-inflammatory properties.


Applications

Dominican avocados have a mild, grassy, herbal, and subtly nutty flavor well suited for fresh and lightly cooked preparations. The tropical varieties are slow to oxidize when sliced, making them popular for salads, mashed on toast, chopped into salsa, or blended into dips. The fruits can also be pureed into salad dressings, layered onto sandwiches and in wraps, used as a taco topping, or mixed into ceviche. In addition to incorporating the avocado flesh into raw preparations, the fresh fruits can be stirred into soups and curries as a topping, holding their shape well when diced. Dominican avocadoes can be lightly grilled, cooked into egg-based dishes, or combined into noodle dishes and grain bowls. They can also be integrated into rice, sliced and fried as a side dish, or baked into bread. In the Dominican Republic, Dominican avocados are favored as a fresh side dish, often combined with red onion, spices, and citrus juice and served with fresh fish, rice dishes, and sancocho, a traditional beef stew. The avocados are also blended into smoothies, sliced over tostones or fried plantains, or served with a sprinkle of salt and eaten with plain bread. Dominican avocados pair well with tropical fruits such as pineapple, coconut, banana, mangoes, and guava, meats including beef, pork, and poultry, seafood such as white fish, shrimp, and crab, herbs including cilantro, oregano, and parsley, and spices such as cumin, paprika, and chile pepper powder. Whole, unpeeled Dominican avocados can be ripened at room temperature away from direct sunlight. Once ripe, the avocados can be stored in the refrigerator's crisper drawer for 1 to 3 days. It is best to use the ripe avocados immediately for the best quality, texture, and flavor.


Ethnic/Cultural Info

Dominican avocados were imported into Florida, notably in 1992 when a hurricane destroyed the Florida green skin avocado crop. WP Produce, a family-owned and operated company based in Miami, Florida, was one of the first companies to import Dominican avocados and saw potential in developing lasting relationships with growers to market the avocados in the United States. The company even gave the Dominican avocados a new marketing name of Desbry, a moniker created from combining the names of owner Willy Pardo's children Bryan and Desiree. The Desbry brand name proved to be a successful endeavor for WP Produce, and the company continued to import the avocados as well as grow their own tropical varieties. WP Produce also constructed a packing facility in the Dominican Republic to source and ship avocados year-round. Desbry avocados are shipped to Canada, across the United States, and to the Caribbean. The avocados are also shipped from the packing facility in the Dominican Republic to Europe.


Geography/History

Avocados have been naturally growing in Central America and Mexico for thousands of years and were eventually introduced into the West Indies and the Caribbean. The first written record of avocados in the Caribbean was documented in 1696 when Hans Sloane referenced avocados in his index of Jamaican plants. The Dominican Republic has an ideal climate for avocados, and there are different cultivation regions in various altitudes across the island, providing year-round production. The island also contains large quantities of volcanic soil, providing rich nutrients to nurture the trees. For many years, avocados went largely unnoticed on the island and were a common home garden fruit tree. In the 19th and 20th centuries, when avocado production transitioned into a major agricultural endeavor in the Dominican Republic, the Dominican Association of Exporters, or Adoexpo, was formed in 1972 to help facilitate the process. Dominican avocados were exported into the United States beginning in the late 20th century. In the spring of 2021, a collective brand of four avocado growers formed Dom Tropical Avocados, a company used to market Dominican Republic avocados in the United States. Today around 21,875 hectares of avocados are produced annually in the Dominican Republic, and the central cultivation regions include Elias Piña, Bani, San Cristobal, Montecristi, Moca, Duverge, Altamira, Ocoa, Mao, and La Romana. Dominican avocados are sold locally in fresh markets and are exported to the United States, Canada, Europe, and China, offered through distributors and select retailers.